Copenhagen, Denmark, 19 April 2011 - His Holiness the Dalai Lama departed Copenhagen for India this morning at the conclusion of His Holiness' three-country European visit. His Holiness was warmly received by all those attending the various engagements, public talks and meetings during the past eight days taking in six different cities and towns.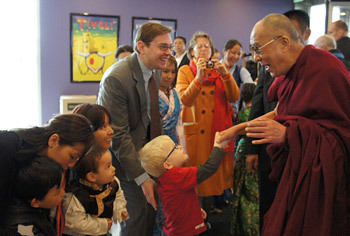 His Holiness the Dalai Lama is greeted by well-wishers on his arrival in Copenhagen, Denmark, on April 17th, 2011.
Photo/Tenzin Taklha/OHHDL
His Holiness' visit to Copenhagen was co-hosted by the following eight Denmark organisations: Being & Doing, CareTrade Aps, Centre for Wisdom and Compassion, In Touch, Phendeling Center for Tibetan Buddhism, Rangjung Yeshe Gomde, Tibetan Community in Denmark, Tibet Charity, and Osal Ling. His Holiness arrived in Copenhagen in the afternoon of 17 April via the roadbridge linking the Danish capital to the Swedish city of Malmo. A joint audience for representatives of the eight hosts organisations as well of the board members of the Danish Tibet Support Committee was held upon His Holiness' arrival in Copenhagen. His Holiness the Dalai Lama held two public engagements at the packed out Tivoli Congress Centre on 18 April; teaching on "7 Point Mind Training" in the morning followed by a public talk on "What Life is all About" in the afternoon.
His Holiness informed those attending the morning teachings that there are two levels of happiness, there is a happiness which comes about in dependence on outer objects and there is an inner happiness which is not dependent on outer objects but is an inner joy coming from faith, confidence and contentment. His Holiness further informed those attending that in the around 3000 years that religions have existed people have been praying for the things they wished for perhaps because they had no other resource except prayer and wishful thinking as a method to gain the things they wanted. However, during the last 3-400 years due to the development of science and technology, humanity has actually acquired many of the things they were wishing for. Thereby we have gaining a high level of comfort during the 20th century.
Lately, however, His Holiness said that people have started to feel increasing inner discomfort in the form of restlessness, stress, anxiety and so forth, making it necessary to take tranquilizers and so forth. His Holiness informed those attending that at the end of the 20th century medical science and in particular the science of neurology has demonstrated that peace of mind influences the brain as well as our general health in a positive way. His Holiness further spoke of how can we develop peace of mind, compassion and empathy explaining that in the theistic religions if one submits to god, this may reduce self centeredness and give an experience of infinite love. In the non-theistic religions such as Buddhism one sees that there is no "self" and that the world is created through causes and conditions, so understanding this may decrease self centeredness. His Holiness also added one can also seek to answer the question through common sense and science as a method to promote the inner values.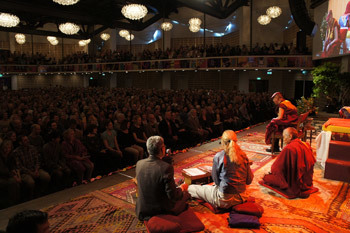 His Holiness the Dalai Lama speaking to the over 2,500 people attending his public talk in Copenhagen, Denmark, on April 18th, 2011. Photo/Tenzin Taklha/OHHDL
His Holiness concluded by saying that through mind training we understand that if we act with a self centered attitude we get more problems and if we act out of concern for others we will gain inner strength and a calm and peaceful mind, and that we should therefore we seek to develop altruism to benefit both others and ourselves.
In the afternoon public talk, His Holiness spoke about the necessity of respecting secularism, since it is not necessarily anti-religious. His Holiness also spoke about how we can see directly through our common sense that if we are kind to others it increases our own happiness and about how scientist are now able to prove that empathy and peace of mind strengthens the immune system, while suspicion and anxiety weakens the immune system. His Holiness also mentioned the experiments done at the University of Wisconsin, Emory University and Stanford University in the US show that just 2-3 weeks of mindfulness training reduces the level of stress and increases positive social interaction and that these inner values can be promoted by following such methods, whether one is a religious person or not.
At the conclusion of the public talk, His Holiness responded to questions from the audience as well those gathered from the wider Danish public on subjects as diverse as What advice do you have for the Danish people on how to maintain and enhance human values in a modern secular country? to How has China – officially and unofficially – reacted to your March 10 statement where you announce your intentions to devolve your formal political authority to an elected leader? How do the Tibetans react to this statement now – one month later?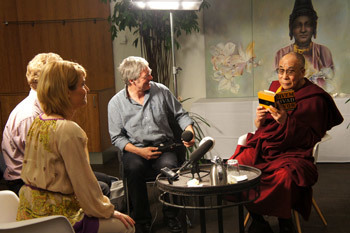 His Holiness the Dalai Lama meeting with three leading Danish media organizations in Copenhagen, Denmark, on April 18th, 2011. Photo/Tenzin Taklha/OHHDL
In the addition to the two public events, an audience for the Tibetan Community in Denmark was also held at the start of the day's programme in the morning of 18 April. His Holiness also gave interviews to three leading Danish media organisations in the morning as well as responding to questions from the wider Danish media at press meeting in the afternoon. A successful day's programme concluded with His Holiness' hour-long meeting with eleven Danish Parliamentarians from a number a different political parties all of whom were deeply appreciative of His Holiness' time and message.
Report by Office of Tibet, London (with contributions from Tibet Charity, Denmark)