Dundee, Scotland, 22 June 2012 - "Good morning, I feel very fresh today, last night I had enough sleep, a good nine hours! And today my blood pressure is good, which must be a blessing of being in Scotland. So I'm happy to be here on my fifth visit," was how His Holiness opened his remarks before a meeting of Members of the Scottish Parliament Cross Party Group on Tibet and members of the Tibetan community in Scotland in the Signet Library.
In today's interdependent world, to take care of ourselves we have to take care of everyone else too. Since significant material development began about three centuries ago, many people have been brought up in the context of material values with very little attention paid to inner values. We are biologically configured to respond and show others affection, so when we are subject to fear or strong anger our lives become unhappy. Promoting human happiness is one of His Holiness's commitments, while actively working to encouraging inter-religious harmony is another.
He clarified how last year he had finally devolved his political responsibilities to the elected leadership of the Tibetan community in exile, and, having been semi-retired since 2001, last year he fully retired. What's more he put an end to the political role of the institution of Dalai Lamas, which has prevailed since the Great Fifth Dalai Lama nearly 400 years ago. He mentioned that this had been an ambition since he was a child in Tibet, where he had tried to introduce reforms but had been obstructed by the Chinese who wanted any reforms that took place to be on their terms. After leaving Tibet in 1959, he made a commitment to democratize the Tibetan administration.
Asked about the current situation in Tibet, His Holiness conceded that from close-up it looks hopeless; there is immense oppression. And yet, despite what has happened over the last 50 or 60 years, the spirit of the younger Tibetans is still very strong.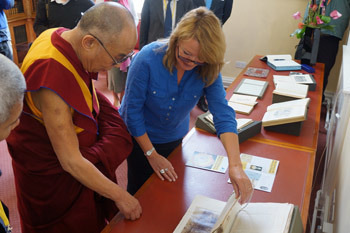 His Holiness the Dalai Lama is shown items related to Tibet during his visit to the National Library of Scotland in Edinburgh, Scotland, on June 22, 2012. Photo/Jeremy Russell/OHHDL
Walking down to the National Library of Scotland, His Holiness was welcomed by the Chairman and CEO and led to the archive section. Here he was shown material from the Library's Medical History of British India archive and other items related to Tibet, such as letters, books and photographs by the Victorian traveller Isabella Bird who journeyed extensively in the Far East, including two visits to Tibet.
From there he went to a meeting with members of the media, where after a short introductory talk he answered questions. To one about the Chinese Consulate having exerted pressure to curtail his visit, His Holiness replied that such behaviour had become routine, that it had been going on for nearly 40 years. In relation to Scottish independence, His Holiness said it is always important to take a long-term view, something he feels the members of the European Union, for example, have done. Regarding Tibet he noted that it had its own history, its own language, its own culture and so on, so on emotional grounds there are Tibetans who seek independence, but since 1974 his administration had been pursuing a Middle Way approach seeking meaningful autonomy, a status supported by the Chinese constitution. He recalled that in 1954, Chairman Mao Zedong had led him to believe that autonomy was an option.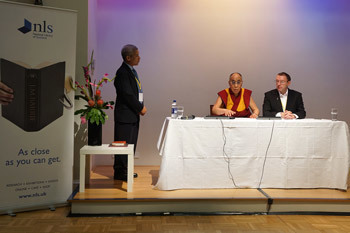 His Holiness the Dalai Lama meets with members of the press at the National Library of Scotland in Edinburgh, Scotland, on June 22, 2012. Photo/Jeremy Russell/OHHDL
Since much of his visit to the UK has focussed on young people, His Holiness was asked what they can hope to do in the present difficult circumstances. He once more reiterated his belief that young people today represent hope for a better world in the future. We have to find ways to encourage non-violence, compassion and respect for others' rights to achieve this.
"When I speak to people as just another human being, there is no barrier between us. Very young children are like this too, they don't care about their playmates' religious beliefs or social background, they accept each other as they are. As adults we tend to be too calculating. Therefore, if we are to leave the last century of bloodshed behind and make this a century of dialogue we need to find ways to promote a greater awareness of the oneness of humanity; and those who are young today can participate in doing that."
Moving on to Edinburgh's Usher Hall His Holiness began by voicing his appreciation of the array of blue Himalayan poppies on the stage, which he said reminded him of his homeland, Tibet. Asserting that many of the problems we face today are of our own creation, he said we need to find ways to use our unique human intelligence in a more constructive way. We need to cultivate a sense of concern for other beings and their well-being. The key is to cultivate a positive motivation.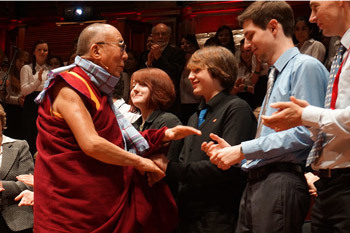 His Holiness the Dalai Lama greeting members of the audience after his talk "Beyond Religion: Ethics for a Whole World" at Usher Hall in Edinburgh, Scotland, on June 22, 2012. Photo/Jeremy Russell/OHHDL
A number of thoughtful and challenging questions were asked after the talk. Among them was, "In a tough competitive world, why should I be ethical when others are not?" His Holiness related the story of a student he met in Jodhpur, India last year who told him that he was studying, but that when he embarked on his working life he expected to pay bribes if he were to have any prospects. His Holiness commented,
"It is shocking that bribery and corruption appear to be necessary; if you simply accept such conditions and go along with them they cannot be cured. If, on the other hand, you live your life according to clear principles, you will influence others. That's the way to change society. When Gandhi and Mandela first took up their campaigns of non-violence, they had few followers and many regarded their principled stand as a sign of weakness. And yet in India and South Africa they were ultimately successful."
Euan McGrory, Deputy Editor of the Edinburgh Evening News, a co-supporter of the event, requested His Holiness to present the newly instituted Edinburgh Compassion Award for Young People to this year's winner Heather Mann for her exceptional efforts on behalf of others. The event then concluded with Martin Aelred and the St George's School Choir singing the finale from the World Opera for Peace and Victor Spence, the principal organizer, presenting His Holiness with a scarf in the Tartan for Peace.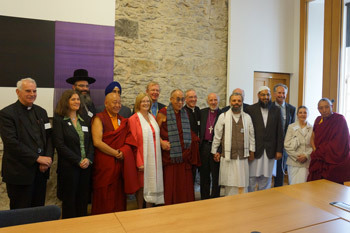 His Holiness the Dalai Lama with Christian, Sikh, Muslim, Jewish, Hindu and Buddhist leaders in Edinburgh, Scotland, on June 22, 2012. Photo/Jeremy Russell/OHHDL
His Holiness was invited to lunch by the Presiding Officer of the Scottish Parliament, Tricia Marwick, following which she had convened an inter-religious gathering of Christian, Sikh, Muslim, Jewish, Hindu and Buddhist leaders. His Holiness elaborated on the various approaches he has adopted to promote religious harmony. The Right Rev Albert Bogle responded by thanking him for his example in "letting the joy out", for showing that people of faith can bring joy, can laugh and smile.
Arriving in Dundee to speak at the University, His Holiness was received by the Principal of the University, the Lord Provost and the Chaplain. He was led into the Caird Hall where he spoke about Education of the Heart and answered questions to loud acclaim. The event was concluded once more by Martin Aelred singing, this time accompanied silently by children of the Sign Language Choir.
Tomorrow, His Holiness will drive to Inverness, where he is to speak on the theme, Be the Change.