Leh, Ladakh, J&K, India, 18 July 2012 (Press Trust of India) - Tibetan spiritual leader the Dalai Lama arrived here today on a 20-day visit to the region, during which he is scheduled to Zanskar, Durbuk and other places.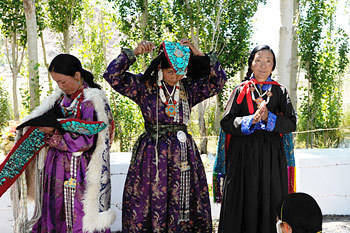 Women in traditional dress waiting to welcome His Holiness the Dalai Lama on his arrival in Ladakh, India, on July 18, 2012. Photo/Phuntsog/NAVA
The Dalai Lama, who was accompanied by state tourism minister Nawang Rigzin Jora, was received by senior officials of Ladakh Autonomous Hill Development Council (LAHDC) Leh at the airport. Religious heads of the region, MLCs and other dignitaries were also present at the airport.
From the airport, the Dalai Lama directly headed to Choglamsar, 10 km from Leh, where he is likely to stay for four to five days. According to officials, a gathering of over 35,000 people flocked to the airport to catch a glimpse of the Dalai Lama.