Srinagar, J&K, India, 12 July 2012 (Press Trust of India) - Tibetan spiritual leader the Dalai Lama arrived here today on his maiden private visit to Kashmir during which he is scheduled to meet Tibetan refugees living in the Valley.
The Dalai Lama, who will be a state guest during his six-day stay in the Valley, was received at the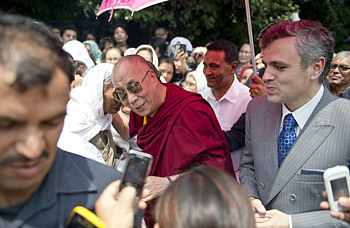 An elderly Tibetan Muslim woman in conversation with His Holiness the Dalai Lama on arrival at the Nehru State Guest House in Srinagar on 12 July 2012. Also in the photo is Jammu & Kashmir State Chief Minister Mr. Omar Abdullah. (Photo by Tenzin Choejor/OHHDL)
airport by Chief Minister Omar Abdullah.
"The Chief Minister welcomed the (Buddhist) religious leader and conveyed his good wishes to him. Omar also enquired about the health of the Dalai Lama," an official spokesman said.
He said the Dalai Lama reciprocated the good wishes and prayed for peace, prosperity and development of the state.
This is the first visit of the Dalai Lama to Kashmir Valley. The spiritual leader, who recently retired from active politics, however, had visited Ladakh region of the state last year.
There are no public engagements for the Dalai Lama for Friday and Saturday, but he will meet the Tibetan refugees living in Kashmir on Sunday, officials said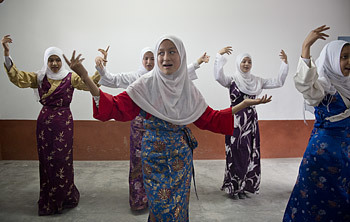 A group of Tibetan Muslim girls rehearsing a dance to be performed during His Holiness the Dalai Lama's planned visit to the Tibetan Muslim community. (Photo by Tenzin Choejor/OHHDL)
"The Dalai Lama will visit a Tibetan school and Tibetan colony here on Sunday, while Monday and Tuesday have been marked as rest days for the Tibetan leader," sources said.
The Dalai Lama has also expressed his desire to visit some tourist places like Gulmarg health resort during his stay in the Valley, the sources added.
(OHHDL Clarification: His Holiness the Dalai Lama has visited Srinagar before. His last visit to Srinagar was in 1988)