Srinagar, J&K, India, 17 July 2012 (Press Trust of India) - The Buddhist spiritual leader, the Dalai Lama, on a six-day visit to Kashmir Valley, today paid obeisance at religious places of different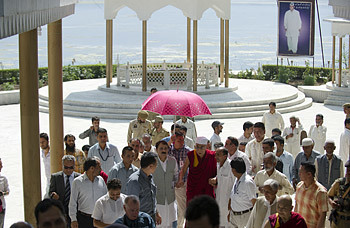 His Holiness the Dalai Lama leaving the mausoleum of Sheikh Mohammad Abdullah, the founder of the National Conference and the grandfather of Chief Minister Omar Abdullah in Srinagar, J&K State, India, on July 17, 2012. Photo/OHHDL/Tenzin Choejor
faiths in the city. The Dalai Lama also visited the mausoleum of Shiekh Mohammad Abdullah, the founder of the National Conference and the grandfather of Chief Minister Omar Abdullah.
He visited Hazaratbal shrine, Gupt-Ganga Shiva temple and gurdawara Chatti Padshahi in the city, an official spokesman said. The spiritual leader prayed for peace and prosperity in the world, especially in the state, he said. State's Tourism and Culture Minister Nawang Rigzin Jora accompanied the Dalai Lama to the religious places.
At Abdullah's mausoleum, the Dalai Lama said the Kashmiri leader had shown "genuine concern" for the Tibetan cause. "Late Sheikh Mohammad Abdullah was a close friend of mine. I met the late leader several times. He always showed genuine concern for my cause," the Dalai Lama said.
The Dalai Lama appreciated the people of Kashmir for their hospitality. "I will always remember the warm welcome and excellent hospitality of the people of Kashmir which they have extended to meduring the visit," he said.
He said all religions give the same message of brotherhood, communal harmony and amity. At Gurdwara Chatti Padshahi, the Dalai Lama was honoured with "saroopa by the grand Granthi", the spokesman said.