Milan, Italy, 26 June 2012 - Betty Williams, with her sister, daughter and grand-daughter, were ready to bid His Holiness farewell as he made an early departure from Matera this morning. Leaving behind the hot, dry land of the south, with its acres of olive and citrus trees, and heading for the greener, but also more industrialized north of Italy he flew to Milan. On arrival he drove directly to City Hall for a meeting with the Mayor of Milan Giuliani Pisapia, followed by an opportunity to address members of the City Council in the Council Chamber. He acknowledged those who spoke before him and greeted the Council: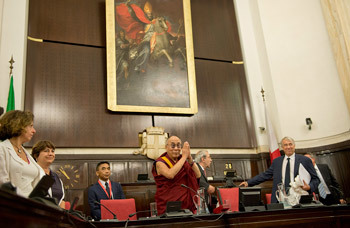 His Holiness the Dalai Lama greeting members of the city council on his arrival at the Council Chamber in the City Hall in Milan, Italy, on June 26, 2012. Photo/Tenzin Choejor/OHHDL
"Respected Mayor and President of the Council, brothers and sisters - I prefer brothers and sisters because while official ranks and titles only last a few years we remain brothers and sisters from birth until death. Thank you for the kind words with which you've welcomed me here.
"I've heard that people who are experiencing problems, particularly economic problems, are very gloomy about the future. I think that's a wrong approach. I believe that many of the changes that took place in the twentieth century give us grounds for hope."
He clarified that we are all fundamentally the same. Mentally, emotionally and physically we are the same. He went on to say,
"I am nothing special, just a human being like you, with the same potential to be good or bad. However, when anger develops I use my intelligence to disarm it. If I let it grow, it solves nothing, but spoils my physical and mental well-being. Understanding the advantages and drawbacks of particular emotions and applying our intelligence, we can transform our minds. Spreading awareness that the source of real happiness lies within ourselves is my life's first commitment. My second commitment is to foster understanding and respect among our various religious traditions."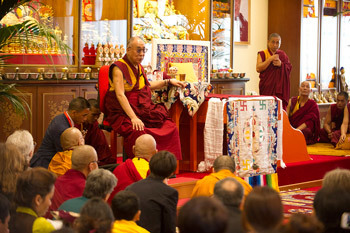 His Holiness the Dalai Lama speaking to members of Ghe Pel Ling Tibetan Buddhist Center in Milan, Italy, on June 26, 2012. Photo/Tenzin Choejor/OHHDL
From the City Council His Holiness went to visit Ghe Pel Ling, the Tibetan Buddhist Centre led by Thamthog Rinpoche, who also serves as Abbot of Namgyal Monastery in Dharamsala. Informed that members of the Centre have been studying philosophical tenets, His Holiness voiced his approval and commended the Indian tradition of studying not only the system of tenets to which you belong, but also those of other traditions. He said that whether you are studying tenets or the instructions of mind training, they both deal with the mind. Indeed the point is to transform the mind and it is helpful to remember that what is transformed is the mind, what executes the transformation is the mind and where the transformation takes place is the mind. He concluded,
"While that's true, now it's time for lunch!"
In the afternoon, His Holiness drove to the Dal Verme Theatre, a facility made available by the municipality, to address about 1500 university students. After making the point that as human beings we are all mentally, emotionally and physically the same, and that we all want to live a happy life free from problems, His Holiness said,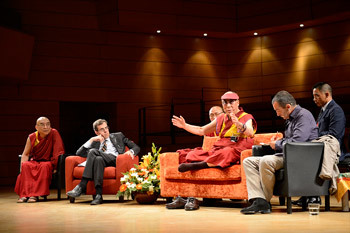 His Holiness the Dalai Lama speaking to a gathering of university students at the Dal Verme Theatre in Milan, Italy, on June 26, 2012. Photo/Tenzin Choejor/OHHDL
"However, in my own experience the happiest period of my own life was when I was a teenager primarily concerned with playing. Then at 16 I lost my freedom and at 24 I lost my country. When I was born in 1935, the Sino-Japanese war had begun, followed by the Second World War, the Chinese Civil War, the Korean War, the Vietnam War and so on. For most of my life, I've witnessed war and violence taking place somewhere on this planet. However, looked at as a whole, I believe a positive change took place in the twentieth century. At the time of the First World War, people thought the only way to solve problems was through the use of force and men had no hesitation in joining up to fight for their country. By the end of the century though, people had become thoroughly fed up with violence and there were strong movements for peace. Throughout Europe, people who had previously considered each other as historical enemies, now view each other simply as neighbours."
Likewise, towards the end of the twentieth century, many scientists began to appreciate the importance of the mind. They began to recognise the role the mind has in our physical and mental well-being. Although our modern world has tended to look to materialist goals for satisfaction, there is a growing appreciation of the need to pay greater attention to our inner values, within the context of secular ethics. His Holiness appealed to those who are young today, those who genuinely belong to the twenty-first century, and who will shape its development, to engage in making it a century of peace. He said this will require cultivating a much greater concern for others' welfare, while acknowledging the oneness of humanity, cultivating respect for others' rights, while approaching problems and conflicts of interest in the spirit of dialogue.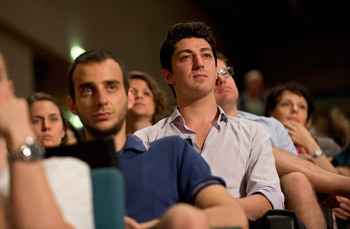 Some of the 1500 university students attending His Holiness the Dalai Lama's talk at the Dal Verme Theatre in Milan, Italy, on June 26, 2012. Photo/Tenzin Choejor/OHHDL
"It will be you, members of our present younger generation who will see this new world, those of us who are older now will not live to see it, but as I jokingly say, wherever we are then, whether in heaven or hell, we'll be keeping an eye on how you get on!"
While answering questions from the students in the audience His Holiness warned that young people often have a well-developed sense of good human qualities, but as they grow up these qualities become dulled and diminished as they develop greed, suspicion and distrust of others in the rough and tumble of adult life. We have to change this by nurturing and strengthening our natural good qualities from an early age. He also warned against thinking that individuals cannot make a difference, citing the example of Gandhi's launching his non-violent struggle for freedom in India. He began by himself and gradually attracted followers, who grew into a mass movement that changed the character of the twentieth century.
Tomorrow, His Holiness will remain in Milan where he will be giving an explanation of Je Tsongkhapa's Three Principal Aspects of the Path.