Leh, Ladakh, J&K, India, 4 August, 2012 - Following his return from Zanskar, in the morning of 2nd August, His Holiness the Dalai Lama inaugurated a 4-day conference on Madhyamika Philosophical Systems of the Four Major Tibetan Buddhist Traditions organized by the Central Institute of Buddhist Studies, Leh. He said,
"The four traditional schools of Buddhism in Tibet may superficially seem to differ in the way they explain the view, but ultimately what they refer to is the same. As Panchen Lobsang Chökyi Gyaltsen said, 'When these views are examined by an experienced yogi, the import of them all comes to the same point."
Members of the audience standing in the rain at the Shiwatsel Ground as His Holiness the Dalai Lama arrives to begin four days of teaching in Leh, Ladakh, J&K, India, on August 4, 2012. Photo/Jeremy Russell/OHHDL
He reiterated that some of the important subtle philosophical views are not essentially different even if the ways in which they are expressed is different, because they are all the outcome of highly developed intellectual insight.
In the morning of 3rd August His Holiness went to the local TCV school to address the local Tibetan community. In the course of his talk he reviewed the whole process of democratising the Tibetan community from the aspirations he had during his youth in Tibet, through coming into exile and the establishment of the Tibetan Parliament-in-exile. He also gave an assessment of the practical aspects of the Middle Way approach and how a campaign for independence may seem immediately attractive, but, under the present circumstances, is ultimately not feasible in the long run. He remarked that the moment even a developed and economically significant country like Taiwan begins to talk of independence international support withers away. He also explained the changes he has made in relation to the Ganden Phodrang and other recent crucial developments.
He was invited to an official lunch hosted by the Ladakh Autonomous Hill Development Council. In his words of appreciation he spoke of the importance of maintaining the Ladakhi identity, stressing that he was not referring only to the clothes Ladakhis wear, but also to preserving values and ways of thinking. He advised them to work hard and to guard against letting corruption creep into their affairs.
4th August dawned under overcast grey skies following a storm during the night, but even as it began to drizzle, the weather did not seem to dampen the enthusiasm of the nearly 40,000 people who had come to hear His Holiness teach at the Shiwatsel Ground in Choglamsar, Leh. They included people from all over Ladakh, among them many who have come down from nomadic regions like the Chang Thang, Tibetans living in Leh and visiting foreigners. He began by saying,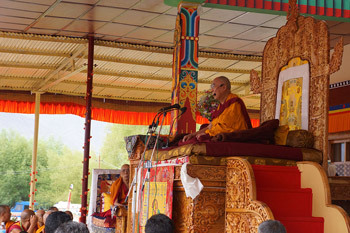 His Holiness the Dalai Lama begins four days of teachings in Leh, Ladakh, J&K, India, on August 4, 2012. Photo/Jeremy Russell/OHHDL
"When listening to religious teaching, your motivation is very important. In fact, if I may speak frankly, if you make the Dharma part of your livelihood, you are unlikely to be successful.
"Wherever I teach, I stress that the teaching should be authentic. The teaching we share was originally brought from Nalanda University by Shantarakshita. One of the points that was emphasised was the strict observance of Vinaya or monastic discipline. For example, it is quite clear that monks are not supposed to wear long sleeves and lay tantric practitioners should wear white robes. It is neither appropriate to dress up in monk's robes just to attend a teaching, nor to wear monastic robes, but to keep long hair."
He noted that there were foreigners from non-Buddhist countries in the audience and repeated the advice he often gives that it is generally better and safer to stick with the religion you are born to. However, whether you take an interest in Buddhism or not is completely up to the individual, it's a personal choice. There is never a case for insisting that anyone adopt the Buddha's teaching. In fact the Buddha counselled his followers to examine what he taught and to adopt it only if they felt it was worthwhile, not simply out of respect for him. Similarly, he advised his Ladakhi listeners that although there are also Muslims and Christians in Ladakh, Ladakhi culture is largely a Buddhist culture and something worth preserving.
Recalling his interest in science since childhood, when he was curious to know how things worked, he spoke of the ongoing dialogue he has conducted with scientists for the last thirty years or so. He acknowledged the contribution science has made to solving many human problems in such fields as medicine and health, but warned that just because science has not been able to prove something, rebirth for example, does not mean it does not exist. In the past, people turned to religion because they were afraid of ghosts and spirits and to some extent science has allayed those fears. Now it is important to ask what is the benefit of religion in the 21st century. Is it just a custom that has been passed down for centuries that we are keeping alive or is it something that can contribute to our living happier lives today?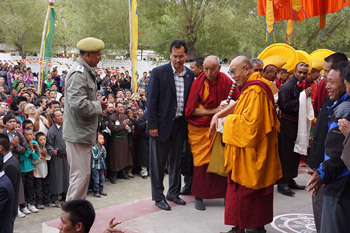 His Holiness the Dalai Lama greeting members of the public as he leaves the teaching ground at the end of the first day's teachings in Leh, Ladakh, J&K, India, August 4, 2012. Photo/Jeremy Russell/OHHDL
His Holiness told the story of his visit to Patna, capital of Bihar state at the invitation of the Chief Minister to inaugurate a newly established Buddhist park. After the Chief Minister had evoked the Buddha's blessings for the welfare and prosperity of Bihar, His Holiness said he could not resist pointing out that if Bihar's development depended on the blessings of the Buddha, it would have prospered long ago. He remarked that if the Buddha's blessings were a factor they would need to be channelled through the hands of a capable Chief Minister. Recalling that Tibetans had lost their country because too many people placed their trust in prayers and mantras instead of taking practical measures, he advised Ladakhis to insist instead on education and good government. A key part of the Buddha's teaching deals with the law of causality, the fact that our own actions are the causes for what happens to us.
Towards the end of his talk, His Holiness advised,
"Think about what I have said, and try to think about what Buddhism is. If you find it interesting and useful, make the effort to put it into effect."
He said the texts he is going to talk about are Dipankara Atisha's Lamp of the Path, which was requested by a King of Western Tibet and the transmission of which His Holiness received from Serkong Tsenshab Rinpoche, as well as Je Tsongkhapa's Three Principal Aspects of the Path, which he received from his tutors Tagdag Rinpoche, Ling Rinpoche and Trijang Rinpoche. He will continue the teaching tomorrow.