Leh, Ladakh, J&K, India, 26 July, 2012 - Today, His Holiness the Dalai Lama reached the Leh Jokhang Temple, which locals call the Gonpa Soma (New Temple), at 8 o'clock. He immediately began to conduct the ceremony to ordain fifty Ladakhi Shramaneras (novice monks) as Bhikshus (fully ordained monks), which took nearly 4 hours.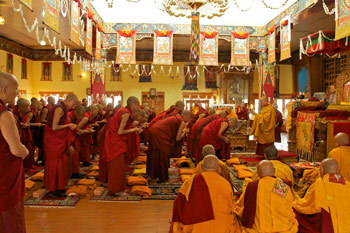 His Holiness the Dalai Lama giving Bhikshu ordination to a group of 50 Ladakhi monks at the Main Cathedral (Jokhang) in Leh Town, Ladakh, India, on July 26, 2012.
Photo/Rosemary Rawcliffe
His Holiness was assisted on this historic occasion by the 102nd Gaden Tripa (Throne Holder of the Gaden tradition), the very venerable Kyabje Rizong Rinpoche, the Abbot of Namgyal Monastery, Thomthok Rinpoche, Geshe Tseten Namgyal, the Abbot of Tashi Lhunpo Monastery and other Bhikshus.
After enjoying lunch with these senior Bhikshus, His Holiness visited the regional Head Quarters of the Indo-Tibetan Border Force (ITBF), where he planted a tree. He gave a short talk to about 300, mostly Ladakhi, members of ITBF.
His Holiness stressed the importance of relating to other people on a basic human level, considering other people to be human beings like ourselves, with the same kind of positive and negative emotions. He said that placing too much emphasis on secondary attributes like race, faith, social status, nationality and so on is a cause of division amongst human beings. Both religion and contemporary science recognize that destructive emotions cause us suffering, while positive emotions bring us happiness. And as human beings we have a marvellous intelligence that enables us to differentiate between them so we can cultivate our positive emotions and reduce our negative emotions.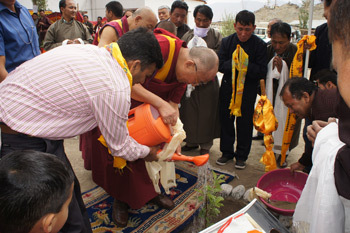 His Holiness the Dalai Lama during a tree-planting ceremony held at the Indo-Tibetan Border Force Campus where he delivered a talk to the officers andstaff arriving in Leh Town, Ladakh, India, on July 26, 2012. Photo/Tenzin Taklha/OHHDL)
His Holiness also pointed out that happiness does not come from money, power and social status alone. He said, "the ultimate source of happiness is here," as he touched his heart. Our sense of caring for the well-being and happiness of others hinges on our being able to cultivate peace of mind within ourselves.
His Holiness next went to visit Jamyang School, founded by Ladakhi Geshe Lobsang Samten, who presented a report of the school's progress over the last three years. His Holiness was pleased and told the story of his connection with the school and his wish to help people in the remote regions of the Himalayas.
"There was a couple I met who used to visit Dharamsala. I came across them again when I gave the Kalachakra Empowerment in Kalpa, Kinnaur in Himachal Pradesh. I asked where they were from and discovered that they came from the remote and undeveloped region of Dahanu in Ladakh. We talked about the need for a school and with Geshe Lobsang Samten's assistance we were able gradually improve the standards of education in such remote places."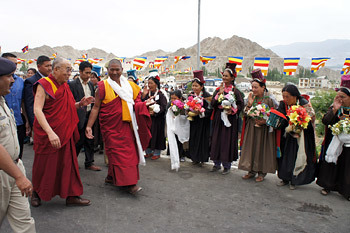 His Holiness the Dalai Lama on arrival at Jamyang School in Leh where he addressed the student body who come from the Dahanu region of Ladakh, a small Indo-Aryan community of Buddhists in Ladakh, India, on July 26, 2012. Photo/Tenzin Taklha/OHHDL
The initial funds to establish Jamyang School were given by His Holiness. On this occasion, he advised the students to take full advantage of the opportunity and study well. He said,
"I am particularly pleased to know that the school has begun to employ traditional logic and debate from class five onwards, because it helps us sharpen our intelligence and develop a more penetrative understanding of whatever we are studying. We don't need to restrict our use of dialectics and debate to traditional Buddhist topics of study, but can also apply it beneficially to the study of modern subjects like science."
"Wisdom and intelligence don't come about merely by reciting Manjushri's mantra and other prayers, although they may help. Real wisdom and understanding comes about through study and analysis of what you have learned from teachers or read in books. And you will deepen your understanding by thinking it over again and again, and examining it with reason."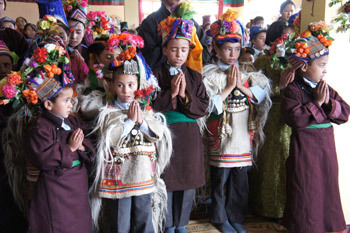 Students chanting a prayer during the visit of His Holiness the Dalai Lama to Jamyang School in Leh where he addressed the student body who come from the Dahanu region of Ladakh, J&K, India, on July 26, 2012. Photo/Tenzin Taklha/OHHDL
His Holiness remarked that Tibetans follow the tradition of Nalanda University, which emphasizes the use of reasoning. He reminded the students that Abbot Shantarakshita, the master who introduced Buddhism to Tibet, was both a great philosopher and logician. He said that the Nalanda tradition is being preserved in the Tibetan monastic institutions re-established in India and interested students were welcome to join them. Commending the recent announcement that, after rigorously studying Buddhist philosophy for 17 years, nuns in the Tibetan Buddhist tradition will be awarded the Geshema degree, His Holiness suggested that now children from places like Dahanu, who wear sheep skins in their early years, have the opportunity to become fully educated Buddhist monks and nuns, and even teachers themselves, when they grow up. Finally, His Holiness thanked everyone, whether staff or sponsors, for their contribution to the success of Jamyang School.
Later, he met a group of Czech supporters and sponsors of the Springdale School in Mulbek, Kargil District, in the Jamyang School library. He told them it has long been his cherished wish to promote secular education as a way of deepening our awareness of reality. He pointed out that caring for the well-being of others is a natural human tendency, for which he has observed Czechs have a special affinity because of their own history and experience. Voluntarily helping others introduces a greater sense of compassion into society that ensures a greater sense of trust, which in turn, rooted in honesty, transparency and self-confidence, leads to a friendlier, more co-operative community.