Vienna, Austria, 27 May 2012 - On the concluding day of His Holiness's visit to Austria, he met Mr Sebastian Kurz, Secretary of State (Deputy Minister) for the Interior and had a cordial conversation with him. Shortly afterwards, Cardinal Schönborn came to meet him again and His Holiness immediately expressed a wish to visit St Stephen's Cathedral. He explained that since 1975, as part of his commitment to work to promote religious harmony, he has adopted a practice of making a pilgrimage to the places of worship of other faiths whenever he can. He told the Cardinal how on several occasions in the course of silent prayer in Lourdes and Fatima, for example, and when visiting Christian monasteries, he has been very moved by the thought of the thousands of millions of individuals who have found immense benefit in the teachings of Jesus Christ.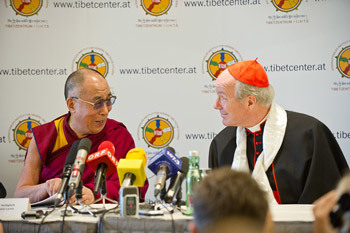 His Holiness the Dalai Lama and Cardinal Schönborn meeting members of the press in Vienna, Austria, on May 27, 2012. Photo/Tenzin Choejor/OHHDL
The two spiritual leaders discussed various aspects of monastic life, such as the great silence according to which Christian monks either keep total silence or speak only for a brief stipulated period once a day. They then went together to meet the press.
His Holiness explained again to the press that one of his lifelong commitments is the promotion of inter-religious harmony. He spoke of how, soon after coming to India he had been impressed by the religious tolerance and harmony he found there, how many of the world's major religions, as well as many that originated in India, live together side by side. He expressed his bewilderment that Catholics and Protestants in places like Northern Ireland, and Shia and Sunni Moslems elsewhere, people who follow the same God and the same teacher, could quarrel so bitterly with one another. Since all religions, despite their philosophical differences, convey similar messages of love and compassion it is contradictory for there to be conflict between them.
The venerable Cardinal publicly addressed His Holiness, "It is a great joy for us in Austria to receive your visit. You have shown great love for our country and I hope we have also shown our great love for you. You have spoken of your conviction that we must work to foster inter-religious harmony. I am a Dominican monk, just as you are a monk, and I believe we both find common human ground in religious life. The conflict you speak of relates to our need for a change of heart. I believe the religious call is to everyone's need to change their heart of stone to a heart of flesh and love."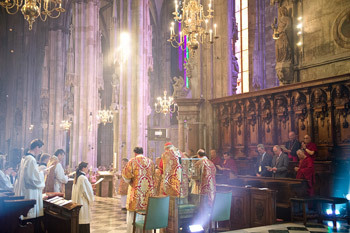 His Holiness the Dalai Lama attending Mass at St Stephen's Cathedral in Vienna, Austria, on May 27, 2012. Photo/Tenzin Choejor/OHHDL
His Holiness and the Cardinal answered several questions from the press relating to the current lost generation in Europe and the indications and meanings of faith before leaving for the short drive to the Cathedral. They arrived to find pews filled with people awaiting the start of the Mass on this Sunday of Pentecost. The Cardinal briskly escorted His Holiness around the Cathedral, explaining the history and significance of various chapels and images on the way. He invited His Holiness to attend the Mass, which he readily accepted and was escorted to a seat in the choir.
In his opening words to the congregation, the Cardinal explained that he was pleased to announce the presence among them of a special guest, His Holiness the Dalai Lama, a man he described as having deep respect for people of every faith. The Cathedral was then filled with the sublime music of Schubert's Missa Solemnis sung and played by choir and orchestra. As he left the Cathedral, beaming with joy, His Holiness's words were, "Wonderful, wonderful."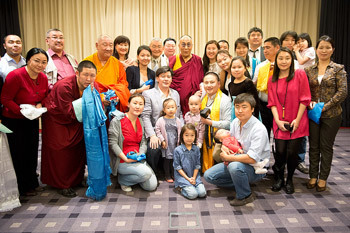 His Holiness the Dalai Lama with the Mongolian Ambassador to Austria, staff and friends, after their brief meeting in Vienna, Austria, on May 27, 2012. Photo/Tenzin Choejor/OHHDL
During a brief audience for the Mongolian Ambassador to Austria, his staff and friends, His Holiness told them he regarded Tibetans and Mongolians as twin brothers and sisters. "Our relationship is a thousand years old," he said, "we share the same Buddhist traditions, and we have both suffered severely under totalitarian oppression. You have got your freedom; we haven't yet." He referred to the Nalanda tradition that is the source of Tibetan and Mongolian Buddhism, stressing that one of its prime qualities was the need to study, to apply logic and investigation. He said that Mongolian Buddhists need to study, learn and practice, that will be the real measure of the vigour of their religious tradition.
Finally, His Holiness met a large group of Save Tibet sponsors, greeting them as friends, brothers and sisters of the Tibetan people, he said, "You are really committed to sharing the Tibetan problem with your help to our community. We in exile are the few who are able to inform the world about what is happening in Tibet. In our country there is no freedom."
He gave a short survey of the history and development of the Tibetan community in exile, the importance given to education right from the start, with the generous support of the Government of India. As a result Tibetan children have received a sound education and substantial efforts have been made to restore the curriculum of the monastic universities and preserve Tibetan Buddhist culture. He acknowledged a special warmth he has felt towards Tibetans in Austria since his first visit in 1973. He attributes this particularly to his friendship with Heinrich Harrer and Peter Aufschnaiter and Harrer's subsequent efforts to inform people about Tibet. He said that in the past few days that he had been in Austria, people had once again only shown him friendship.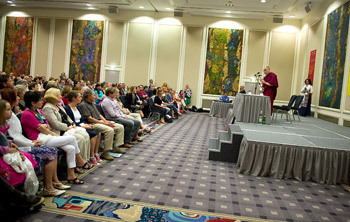 His Holiness the Dalai Lama addressing Save Tibet supporters in Vienna, Austria, on May 27, 2012. Photo/Tenzin Choejor/OHHDL
In conclusion, he observed, "I often say that the trouble in Tibet is not because some natural disaster has taken place there, or civil war has broken out among Tibetans, but because an uninvited guest has arrived with a gun to interfere with how we eat and even how we walk. They treat Tibetans as a backward, undeveloped people. However, China has already undergone huge change and while the world trend is inexorably towards democracy and freedom, China will have to follow this trend, it's only a matter of time.
"Meanwhile in Tibet, there is a fierce sense of unity and tremendous spirit to fulfil the Tibetan cause – we have the Chinese communists to thank for this.
"As far as working towards democracy is concerned, we are far ahead of China. I have retired from my political responsibilities and ended the Dalai Lamas' nearly 400 year old role in temporal affairs. We have a young elected leader who was born in India, went to school in India and completed his education at Harvard University, and a similarly capable speaker of our Assembly of Deputies too. Whether I am there or not, our struggle will carry on. Your contribution has been extremely important. Our boss is the people of Tibet and on behalf of them I say, 'Thank you, thank you.'"
Later today, His Holiness flies from Vienna back to India and will return to his residence in Dharamsala in the morning.