Tokyo, Japan, 13 November 2012 – His Holiness the Dalai Lama made a historic visit to the Japanese Parliament building in the morning where he addressed a gathering of over 140 Japanese lawmakers from a cross-section of political parties.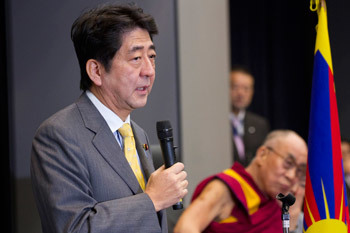 Former Japanese Prime Minister Shinzo Abe welcomes His Holiness the Dalai Lama to the Japanese Parliament building to address a gathering of parliamentarians in Tokyo, Japan, on November 13, 2102. Photo/Office of Tibet Japan
Long-time Tibet supporter, the Honorable Seishu Makino, MP welcomed the gathering and informed His Holiness that a large number of Japanese parliamentarians were interested in listening to his words.
The former Prime Minister of Japan and present Leader of the Opposition and President of the Liberal Democratic Party, the Honorable Shinzo Abe, MP thanked His Holiness for coming and welcomed him on behalf of all the Parliamentarians and the Liberal Democratic Party. He emphasized the importance of human rights and said that everyone should make efforts to protect the rights of the Tibetans inside Tibet. He referred to his meeting with Sikyong Lobsang Sangay and applauded the efforts of our democratization process.
In his talk to the lawmakers, His Holiness gave an elaborate introduction on his two life-long commitments.
He expanded on his commitment of promoting human values by talking about the oneness of our human family and the need to develop a big "we". This would lead to a sense of concern of others that builds our self-confidence and inner strength. We can do this without talking about religion but remaining secular.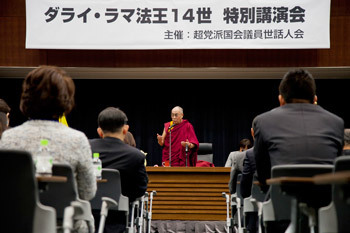 His Holiness the Dalai Lama speaking to a gathering of parliamentarians at the Japanese Parliament building in Tokyo, Japan, on November 13, 2102. Photo/Office of Tibet Japan
While explaining his promotion of religious harmony, His Holiness referred to the unfortunate violence that recently took place in Burma as well as Bangladesh between the Buddhists and Muslims. He emphasized that all major religions have the common message of love, compassion, forgiveness, tolerance and self-discipline. He felt that the conflict between these two communities was not caused by religious reasons but probably by other causes such as economic reasons.
His Holiness advised the gathering, "We should not be like other animals. We are humans and have the intelligence to distinguish between destructive and positive emotions."
His Holiness thanked the parliamentarians for forming a Parliamentary group for Tibet. His Holiness talked about two aspects of the Tibetan issue, the environmental and the Tibetan Buddhist culture.
"Tibet has been referred to by Chinese scientists as the Third Pole since the effect on global warming is as much from the Tibetan plateau as from the North and South Poles. Then the major rivers that cover most of Asia, from Pakistan to China, all have their source in Tibet. More than one billion people's lives depend on these rivers. So special care must be made to protect the Tibetan environment."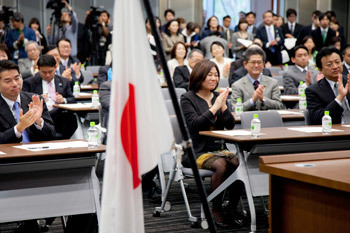 Members of the Japanese Parliament applaud His Holiness the Dalai Lama after his address to their gathering at the Japanese Parliament building in Tokyo, Japan, on November 13, 2012. Photo/Office of Tibet Japan
"Concerning the Tibetan Buddhist culture, I do not want to sound presumptuous on my part, but many scholars and scientists feel that Tibetan Buddhism is very helpful. It can help to contribute to a more peaceful state of mind. Even for China, according to some Chinese friends there are more than 400 million Chinese Buddhists. By protecting the Tibetan Buddhist culture one can help them."
As far as the political side was concerned, His Holiness stated that since March 2011, he had completely retired from political responsibility.
In a statement read out at the end of the program, the Japanese lawmakers said that they "sincerely wish that, not only the parliamentarians but also all the Japanese people and peoples outside Japan would make use of this opportunity of His Holiness the Dalai Lama's visit to Japan to deepen their understanding on the ruthless repression of human rights in Tibet. They also need to better understand the Tibetan people's legitimate claim towards genuine autonomy and democracy. In order to achieve such objectives, we are ready to go beyond our party affiliation and strongly urge the Chinese government to immediately stop the unlawful suppression of the Tibetans, Uighurs, and other people's human rights and improve the situation. We are also ready to send such a message to the international community without any hesitation."
* * *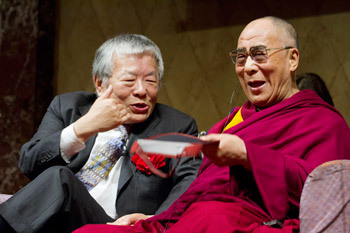 His Holiness the Dalai Lama and Dr Susumu Tonegawa during their discussion in Tokyo, Japan, on November 13, 2012. Photo/Office of Tibet Japan
In the afternoon, His Holiness participated in a panel discussion on Healing and Wisdom: Balancing Body and Mind organized by the Human Values Institute. In a packed hall seating over 1500 people, the program brought together two Nobel Laureates, His Holiness and Dr. Susumu Tonegawa of MIT.
In his remarks, His Holiness said that these kinds of meetings served two purposes: the first was to expand our knowledge and the second was to highlight to the general public the importance of our inner values backed by the latest scientific evidence.
Dr. Susumu Tonegawa presented his remarks on his research on gene manipulation to unravel the molecular, cellular and neural circuit mechanisms that underlie learning and memory.
* * *
His Holiness the Dalai Lama returns to India tomorrow after a twelve-day visit to Japan that took him to Yokohama, Tokyo, Kanazawa, Okinawa and back to Tokyo. He returns to Dharamsala on November 15.