London, UK, 13 May 2012 - His Holiness the Dalai Lama arrived in Britain in bright sunshine shortly after midday and was met directly off the plane at Heathrow airport by Mr & Mrs David Cassidy on behalf of the Templeton Foundation and Representative Thubten Samdup of the Office of Tibet in London. Representatives from the Indian High Commission were also there to greet him. His Holiness enjoyed a brief conversation with them before leaving for his hotel in London's West End.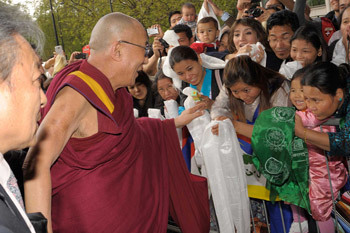 His Holiness the Dalai Lama greeting well-wishers on his arrival at his hotel in London, UK, on May 13, 2012.
Photo/Karen Marshall
The Tibetan community in Britain, ordained and lay-people dressed in traditional Tibetan attire, the Tibetan flag flying above them, offered His Holiness a traditional Tibetan greeting at the entrance to the hotel. They were joined by Buddhists from the Mongolian and Nepalese communities. His Holiness smiled, waved and shook hands with many of those there to welcome him.
On this occasion His Holiness is in London to receive the Templeton Prize, which he has said he is honoured to have been awarded, he feels, in recognition of his small service to humanity in promoting non-violence, respect and harmony among the world's different religious traditions and encouraging greater understanding between modern science and Buddhist science. The prize of $1.8 million will be given to His Holiness at a special ceremony tomorrow, 14th May, at St Paul's Cathedral, seat of the Bishop of London and one of London's most recognisable and most loved landmarks.
When he leaves London on Tuesday morning, His Holiness will be going on to visit Slovenia, Austria, Italy and Belgium.