Thiruvananthapuram (Trivandrum), Kerala, India, 23 November 2012 - After flying from Delhi via Mumbai this morning, His Holiness the Dalai Lama was welcomed at Trivandrum Airport by a delegation of religious leaders that included Bh. Shree Rithambharananda Swamikal, General Secretary of the Sree Narayana Dharma Sangham Trust, who offered him a ceremonial shawl and Swami Guruprasad of the Sivagiri Mutt.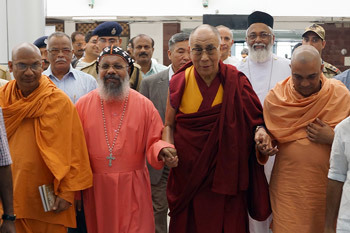 HIs Holiness the Dalai Lama is welcomed by religious leaders on his arrival at airport in Trivandrum, Kerala, on November 23, 2012. Photo/Jeremy Russell/OHHDL
Also welcoming him were Dr Gabriel Mar Gregorios, Metropolitan of the Diocese of Thiruvananthapuram of the Indian (Malankara) Orthodox Church and Rev. Fr. M. Alexander Vaidyan, accompanied by Prof. Jacob John and Mr Babu Parayil members of the Church Committee. Mr Joseph M Pudhiser, a former MLA, was also among the well-wishers.
Arriving at his hotel, His Holiness was invited by the General Managerto light a ceremonial lamp. Before retiring for the day, he met Mr V. S. Sivakumar, Minister for Health, Family Welfare and Devaswom (Temples), who presented him with a memento on behalf of the Kerala State Government and requested him to release a logo as part of celebrations of the 150th birth anniversary of Swami Vivekananda.
Tomorrow, His Holiness will attend the inauguration of the 80th Sivagiri Annual Pilgrimage at the Sivagiri Mutt in Varkala and the following day will attend Centenary Celebrations of the Malankara Orthodox Syrian Church in Kochi.