Charlottesville, VA, USA, 11 October 2012 - Under bright sunshine and open blue skies, His Holiness the Dalai Lama drove this morning from the second oldest university in the United States through rich forest to the campus of perhaps the most beautiful university in the country, the University of Virginia, Charlottesville. Tibetans lined the street to greet him and he was met at the door of the Paramount Theatre by young Tibetans offering a traditional welcome. He was received by Mayor Satyendra Huja.
In the auditorium, His Holiness joined Prof. George Beller, UVA School of Medicine, Prof. Leslie Blackhall, Director, UVA Medical Center Palliative Care Center, Prof. Dorrie K. Fontaine, UVA School of Nursing, Prof. Richard Guerrant, Director, Center for Global Health, UVA School of Medicine, Prof. Thomas H. Hunter, International Medicine in the Division of Infectious Diseases and International Health, Prof. James P. Nataro, Clinical Professor and Chair, Dept. of Pediatrics, UVA School of Medicine to discuss Compassionate Care in 21st Century Medicine.
Asked, to begin with, how we can bring more peace into our lives, His Holiness greeted his "respected brothers and sisters," and expressed his happiness to be among them. He said that not being a physician he had little experience of medical care, other than to take medicine, which raised a laugh among the audience of about 1100. He observed that when any of us consults a doctor, if the physician has a kind manner we feel more confident and secure. He went on to say that physical health is related to mental health. When you have a calm and healthy mind, a positive outlook, you keep in better health and when ill recover more quickly. He acknowledged the great benefits of cultivating mindfulness.
In describing a Compassionate Care Initiative in the School of Nursing, Prof. Dorrie K. Fontaine, mentioned one of their initiatives. On those occasions when a patient dies while the medical team are striving to save his or her life, they have introduced a pause of 45 seconds when they stop and gather their attention. His Holiness picked up on this saying it reminded him of a similar Buddhist practice. It is said that when the mind is overwhelmed by anger, attachment or distress, it is difficult to switch it immediately to a more positive state. At that time it is helpful to conduct a nine round breathing exercise, observing the breath, inhaling through the right nostril and exhaling through the left. This is done three times, repeated with inhalation through the left nostril and exhalation through the right three times and finally inhaling and exhaling through both three times. He said,
"If you find this useful, fine, but if you don't, then just forget it."
Regarding attitudes to death, His Holiness said,
His Holiness the Dalai Lama and health care experts from the University of Virginia discussing Compassionate Care in 21st Century Medicine in Charlottesvile, VA, on October 11, 2012. Photo/OHHDL
"I believe it's helpful to recognise death as part of our life. If we are familiar with the idea, when it actually takes place, it may be less disturbing. People's attitudes vary. For some the idea that death is a final end is frightening and the prospect of future lives is comforting, and for others the opposite is true. However, it does seem that if the dying person has lived a meaningful life, he or she can die happily."
He said that the moment of death is crucial and that it is common sense that a peaceful death is better than to die in distress. He confirmed that if the mind is positive at the moment of death, it is almost certain that the next life will be good.
"There seems to be a unanimous view that compassionate care is important. What we need is more research about how to promote it. We need to find ways to address gaps in the current system. Here in the world's greatest democratic country, we need to find innovative ways to change current procedures," His Holiness said, adding that he believes it is helpful for patients to be able to form a bond with their carers. It is better if there are not too many of them and that they do not change too often. He concluded,
"Honest concern for others is the key factor in improving our day to day lives. When you are warm-hearted, there is no room for anger, jealousy or insecurity. A calm mind and self-confidence are the basis for happy and peaceful relations with each other. Healthy, happy families and a healthy peaceful nation are dependent on warm-heartedness. Some scientists have observed that constant anger and fear eat away at our immune system, whereas a calm mind strengthens it."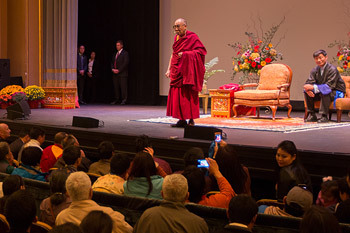 His Holiness the Dalai Lama, with Dr Lobsang Sangay, addressing the Tibetan community gathering in Charlottesvile, VA, on October 11, 2012. Photo/OHHDL
Following lunch, His Holiness and the elected Tibetan political leader Sikyong Dr Lobsang Sangay addressed a gathering of Tibetans living in this part of the country. They clarified recent changes in the Tibetan leadership, discussed the current situation in Tibet and talked about prospects for the future.
Next His Holiness drove a short way to the Charlottesville Pavilion, where 3500 people eagerly waited to hear him speak about Ethics for a Whole World. Mayor Huja made a proclamation declaring 11th October a day of peace in His Holiness's honour and offering him the keys of the city. A Native American chief offered His Holiness a necklace. Emeritus Professor of Tibetan and Buddhist Studies at the University of Virginia, Jeffrey Hopkins, spoke about how His Holiness's name has become synonymous with the idea of compassion. He has long recommended dialogue and several to do with medicine, religion and politics began here at Charlottesville that was among the places he visited on his first trip to the USA more than thirty years ago. Prof. Hopkins referred to the more than 50 people in Tibet who have tried to burn themselves to death out of compassion, rather than harm someone else, to draw attention to their desperate situation. He observed that in Vietnam it took two such deaths and the world was aroused; sadly there have been more than 50 in Tibet and the world is not yet aroused.
His Holiness addressed his audience, "Dear brothers and sisters," saying,
"I always refer to people who come to listen to me this way because we need to think of the entire 7 billion people in the world as brothers and sisters. We need to realise the oneness of humanity, that we are mentally, physically and emotionally the same. You want a happy life and that's what I want too. We all have a right to achieve it."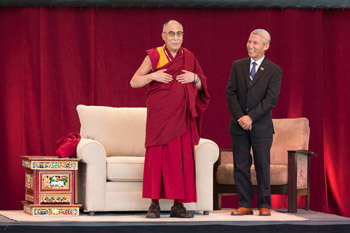 His Holiness the Dalai Lama, with his translator Thupten Jinpa, speaking about Ethics for a Whole World at the Charlottesville Pavilion in Charlottesville, VA, on October 11, 2012.
Photo/OHHDL
He spoke about how about 200 years ago we began to depend on science and technology because of the immediate and practical benefits they bring. However, one of the results is that we have become more materialistic and have tended to neglect our inner values. Consequently, he meets many people, some of them wealthy and powerful, who materially have all they need, and yet they remain unhappy. In the late twentieth and early twenty-first centuries this has led more and more people to develop an interest in the workings of the mind and emotions. Religious teachers of the past taught that a compassionate mind brings inner peace. Nowadays, however, many people lack an understanding of such basic values. His Holiness said,
"We need ways to promote these inner values without necessarily relying on religious ideas or structures. This is why I talk about a need for secular ethics, using the word secular not to decry religion, but out of respect for all religions."
He said human beings are social animals with a sense of community and need to help each other. As infants we need care to survive. Our nature, our biology equips us to need and to cultivate affection. We are all born from a mother and generally receive care and affection from her. Being enveloped by such affection we tend to be more relaxed, less anxious and stressed.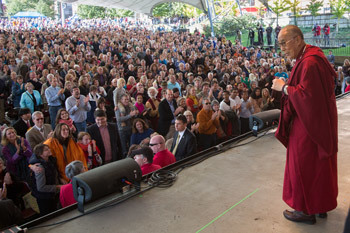 The audience at the Charlottesville Pavilion applauding His Holiness the Dalai Lama at the conclusion of his talk in Charlottesville, VA, on October 11, 2012. Photo/OHHDL
"We have to think and see how we can fundamentally change our education system so that we can train people to develop warm-heartedness early on in order to create a healthier society. I don't mean we need to change the whole system, just improve it. We need to encourage an understanding that inner peace comes from relying on human values like, love, compassion, tolerance and honesty, and that peace in the world relies on individuals finding inner peace."
Asked whether there is hope for the world, His Holiness replied,
"Comparing the twentieth century to now there are many hopeful signs. Look at the way people view war. These days many people challenge the need for it, they question why we have to resort to it. In the early twentieth century there was no talk about protecting the environment, yet now everyone is aware of it. Our perceptions are coming closer to reality; humanity is becoming more mature. We should not worry that our world is doomed; I am optimistic."