Kochi, Kerala, India 25 November 2012 - Sethu Das, founder of the Friends of Tibet, a people's movement to keep the issue of Tibet alive through direct action, escorted His Holiness the Dalai Lama through a small exhibition of photographs and artifacts related to Tibet in Kochi this morning. Then, before an assembly of friends of Tibet and patients who have benefited from Tibetan medical camps, he gave him a fulsome welcome. He described the development of medical camps providing people with access to the Tibetan Medical Tradition, which have since grown into a programme called Wellbeing. He said,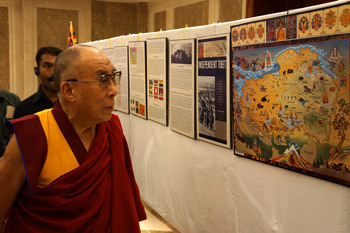 His Holiness the Dalai Lama looking at an exhibition related to Tibet put on by the Friends of Tibet in Kochi, Kerala, on November 25, 2012. Photo/Jeremy Russell/OHHDL
"It is the tragedy that has befallen Tibet that has brought this ancient medical tradition to the notice and benefit of people in India, as it has indeed brought His Holiness's blessed presence among us today."
Dr Dorje Rabten Neshar read a report explaining that since they began in 2010, the Tibetan medical camps have acquired 2000 registered patients who are served by two Tibetan physicians. These patients have all been alerted by word of mouth alone. Many of them with chronic ailments have made a remarkable improvement and there is a demand for more Wellbeing camps in other towns.
His Holiness responded that he was happy to address the gathering and particularly happy to know of the success of the Tibetan medical facilities being offered. He said it is symptomatic of Tibetan culture, which is a culture of peace, non-violence and compassion. He added that since the arrival in Tibet of the message of the Buddha, with its logically presented philosophical views, Tibetan society as a whole became more compassionate. He admitted that he too is someone who regularly takes Tibetan medicine and recalled that after an international medical conference convened in Tibet by King Trisong Detsen in the 8th century CE, Tibetan medicine had become much more effective, adding that there is still room for improvement.
Referring to Tibet's culture of peace and compassion, he said, "It's like a medication ensuring peace of mind. Sadly, narrow minded and short sighted communist officials in Tibet today only consider the power of the gun; they don't even recognise the power of peace of mind."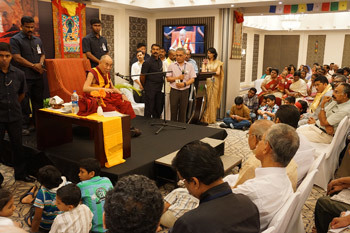 His Holiness the Dalai Lama speaking to a gathering of Friends of Tibet in Kochi, Kerala, on November 25, 2012. Photo/Jeremy Russell/OHHDL
"As far as the Buddhadharma is concerned, the tradition we Tibetans preserve is the richest anywhere and as such is a world treasure. Although Buddhist doctrine is really only of interest to Buddhists, there are aspects of Buddhist cultural that can be applied by anyone, whatever their own faith."
Talking about the difficulties that prevail in Tibet, His Holiness remarked that China maintains such huge forces there that their internal security budget exceeds their defence spending. He said that pursuing the Middle Way approach is not to deny Tibet's past status and recalled a Chinese archaeologist telling him in 1979 of evidence that Tibetan civilization had evolved from its own roots, quite distinct from China. He concluded that supporting Tibet is in India's interest and expressed his appreciation for the Friends of Tibet's dedicated efforts.
During an interview with Indiavision News that followed this meeting, His Holiness confirmed that the situation in Tibet had deteriorated since the harsh Chinese clampdown following protests across Tibetan areas in 2008. It is this, he asserted, that is provoking Tibetans to shorten their lives. Following which the Chinese authorities choose only to apply yet more force and try to blame him and the exile community. As Deng advised, they should instead seek truth from facts and try to discover the real cause of Tibetan dissatisfaction.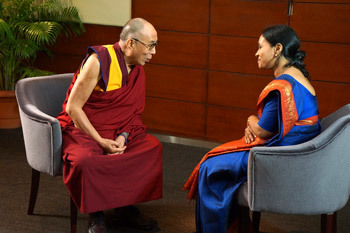 His Holiness the Dalai Lama during an interview with Indiavision News in Kochi, Kerala, on November 25, 2012. Photo/Jeremy Russell/OHHDL

"China is the most populous nation, it is economically and militarily powerful, but if it is to exercise a positive influence in the world, it needs to earn the world's trust. The world trend is towards greater democracy, freedom and the rule of law and even China cannot buck the trend, but must find a more realistic approach. The new leadership would do well to pay attention to China's intellectuals. I hope they will."
He expressed satisfaction with international support for Tibet, acknowledging that that it is not easy. However, he feels that the Government of India has given maximum help wherever they can. Questioned about whether it had been too early for him to retire from political responsibility, given the gravity of the situation, His Holiness replied that the Tibetan cause is not a one man issue; it is a people's struggle. His retirement, and the retirement of the institution of Dalai Lamas from temporal power, is one aspect of reforms he tried to implement in the early 50s, only to be thwarted by the Chinese, who wanted any reform to be done their way. Challenged to say whether he really believes in science he retorted,
"Of course, it's based on facts. My advice to Buddhists is that we should be realistic and accept reality."
After lunch, His Holiness drove to attend the Malankara Orthodox Syrian Church's Centenary Celebrations of the establishment of the Catholicate of the East. As he arrived at the venue, a naval helicopter scattered rose petals from above and the huge crowd of 100,000 people roared its welcome. Everyone stood for a prayer and the singing of the national anthem.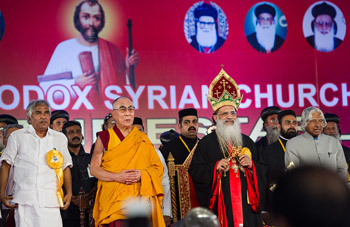 His Holiness the Dalai Lama joins in prayer at the opening of the Malankara Orthodox Syrian Church's Centenary Celebrations in Kochi, Kerala, on November 25, 2012. Photo/Tenzin Choejor/OHHDL
In his Presidential address and declaration of the Centenary Charity Project, H.H. Baselios Mar Thoma Paulose II confirmed that the doctrine of Christianity arrived here in Kochi 1960 years ago. The church's Indian status, free of any foreign involvement, was marked by the establishment of the Catholicate of the East 100 years ago in 1912. He particularly welcomed the presence at this occasion of His Holiness the Dalai Lama and former President APJ Abdul Kalam.
His Holiness was invited to light the inaugural lamp and encouraged Dr Abdul Kalam and Kerala Chief Minister Oommen Chandy to join him in doing so. Then after reciting some words of homage, he began his address.
"Respected spiritual leaders and former President of this great nation, my good friend and great scientist, Dr Abdul Kalam, brothers and sisters, I am very happy and it is a great honour to participate in this mass gathering to celebrate this church. I have no doubt that down the centuries this church has brought significant benefit to its members and the people of India in general.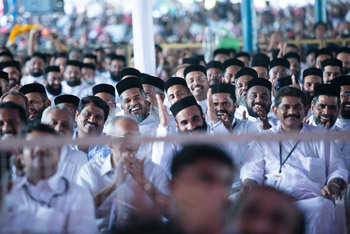 Some of the thousands of people listening to His Holiness the Dalai Lama speak at the Malankara Orthodox Syrian Church's Centenary Celebrations in Kochi, Kerala, on November 25, 2012. Photo/Tenzin Choejorl/OHHDL
"India is a living example of how religious traditions can live together in friendship and harmony. Today, in some parts of the world, religion continues to divide people and to lead to conflict, therefore India's example is very relevant here and now."
He said that everywhere people concern themselves with money and material values which do provide us with physical comfort, but not with mental peace. India has the potential to show the world how to combine prosperity with inner values. This will give rise to healthy minds, which in turn are a source of better physical health.
"By implementing the practice of love and compassion, we will naturally live a non-violent way of life. Helping others and not harming them is the work of non-violence. We need to develop love, compassion and forgiveness to develop inner peace and that naturally gives rise to non-violent conduct. I have no doubt you followers of this Christian tradition are capable of making a significant contribution to the peace and happiness, not only of India, but also of the world at large. Thank you."