London, UK, 14 May 2012 - His Holiness the Dalai Lama's first engagement of the day was an interview with Sarah Montague of the BBC which will be broadcast later today and tomorrow. Among the topics they discussed were what His Holiness felt when he heard he'd won the Templeton Prize and what he was going to do with it. When asked whether he still thought Tibet might be free in his lifetime he replied "Yes", explaining that China has already seen great changes and that the spread of human values like democracy, freedom of thought and freedom of the individual were changes that cannot be stopped. He remarked that when people, including Chinese, understand the reality in Tibet, they are very sympathetic. To a question about whether he feels angry towards the Chinese authorities, he replied, "No, no use!" He clarified, "If I get angry it doesn't hurt them, but it upsets me." Instead he says he applies the Buddhist practice of giving and taking in which he visualises taking their anger and ruthlessness to himself and giving them his compassion and goodwill. In an aside His Holiness expressed his affection for the BBC, explaining that it is his prime source of information and that if he sometimes misses listening to it, there's something missing from his whole day.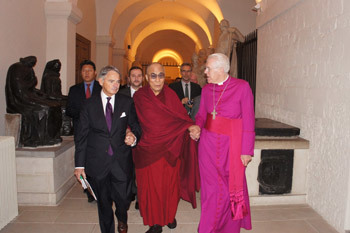 His Holiness the Dalai Lama walks with Rt. Rev. Michael Colcough at St. Paul's Cathedral in London, UK, on May 14, 2012. Photo/Tenzin Taklha/OHHDL
His Holiness drove to St Paul's Cathedral where he was received by the Rt. Rev. Michael Colcough, Canon Pastor of St Paul's. As they walked up the old steps together and through the pillared crypt to the Vestry, His Holiness said it reminded him of the steps and corridors in the Potala Palace; indeed both buildings date from the late 17th century. During a short meeting in the Vestry with Dr & Mrs Jack Templeton and their daughter, Dr Templeton told His Holiness that his father, John Templeton, who founded the Templeton Prize and who would have been 100 this year, would have been very pleased by this year's award. His Holiness recalled his own father, who he said was quite short tempered, and his mother from whom he had his first lessons in kindness and generosity. He also talked about how the source of a calm mind is within ourselves, our warm-heartedness, while education equips us to take a broader, more realistic view of our situation. Dr Templeton places great store by gratitude and asked how we can train to develop gratitude and compassion. His Holiness suggested that when people come to appreciate that cultivating such inner values has a positive effect on our physical health and well-being, while anger is bad for our health, people are much more ready to try to develop them
After being joined by Jonathan Dimbleby, who was to moderate a Meeting with the Press, the conversation turned to Tibetan medicine in which Dr & Mrs Templeton, as physicians, were interested. His Holiness explained that as a result of the Tibetan Emperor convening an international medical conference in the 8th century CE, Tibetan medicine had incorporated many influences. He added that its medications, made mostly from herbs and minerals are effective.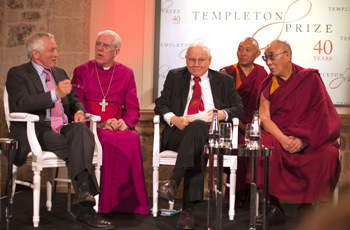 Jonathan Dimbleby, Right Reverend Michael Colclough, and His Holiness the Dalai Lama listen to Dr John M. Templeton speak during a press conference in St Paul's Cathedral before a ceremony to present His Holiness with the 2012 Templeton Prize in London, UK, on May 14, 2012. Photo/Clifford Shirley
Jonathan Dimbleby opened the Meeting with the Press by introducing Dr Jack Templeton, President and Chairman of the Templeton Foundation, who spoke of his father's wish to reward "entrepreneurs of the spirit" and his theme, "how little we know and are eager to learn." He explained that the judges had chosen to reward His Holiness because of his steadfast adherence to spiritual values and his conviction that compassion and kindness have the power to improve the world.
His Holiness in turn spoke of his commitment to sharing with others his experience that genuine inner peace comes from within, as well as his commitment to fostering harmony and respect among other faiths. He mentioned again his sense that the judges had awarded him the prize in acknowledgement of his small service to humanity. Dan Goleman, author of the best-selling book, Emotional Intelligence, and a founder member of the Mind & Life Institute, praised His Holiness's conviction that science and spirituality can both contribute to the relief of suffering and the furthering of compassion. Richie Davison, another Mind & Life veteran, commended His Holiness's persistently pointing out that compassion and kindness are part of everyone's emotional repertoire, an insight that has had a profound impact on modern science. In 2003, at a Mind & Life conference His Holiness pointed out that Buddhism has many methods for dealing with destructive emotions. He suggested that scientists explore their applications under laboratory conditions and if they proved useful make them available to others.
His Holiness answered several questions from the press. He then gave interviews separately to Arianna Huffington of the popular Huffington Post and Sky News. He attended a lunch with invited guests of the Templeton Foundation.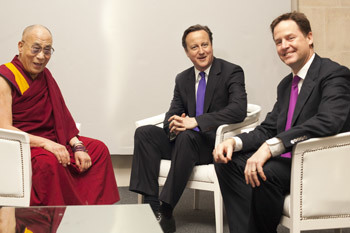 His Holiness the Dalai Lama with Prime Minister David Cameron and Deputy Prime Minister Nick Clegg at St. Paul's Cathedral in London, UK, on May 14, 2012. Photo/Clifford Shirl
In the Oculus, a historical viewing room under the Cathedral, His Holiness met Prime Minister David Cameron and Deputy Prime Minister Nick Clegg. Both leaders expressed concern for the situation in Tibet and interest in other developments in China. His Holiness advised them to stick to their principles without being deflected by short-term economic considerations. Shortly afterwards, His Holiness met Archbishop Rowan Williams, who has recently announced that he will retire at the end of this year.
His Holiness was driven to the front steps of St Paul's Cathedral where the ceremony to award the Templeton Prize was being held. He was welcomed by Tibetan Tashi Sholpa dancers and received by the Rt Rev and Rt Hon Richard Chartres, Bishop of London and the Rt Rev Michael Colclough, Canon Pastor at St Paul's Cathedral who led him through the Great West Doors. They walked in procession down the centre aisle as His Holiness greeted new and old friends alike on either side.
Rt Rev Michael Colclough welcomed everyone to St Paul's Cathedral a place where people have encountered hospitality, sharing prayer, concern and philosophy for more than 1400 years. He commended His Holiness the Dalai Lama as a man of peace and integrity, a man holy for his advocacy of compassion and tolerance.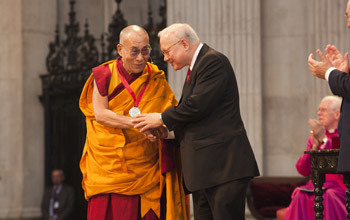 Dr. John M. Templeton Jr. presents the 2012 Templeton Prize to His Holiness the Dalai Lama at St. Paul's Cathedral in London on May 14, 2012. Photo/Clifford Shirley
Lord Brian Griffiths told the congregation about Sir John Templeton, his generous life and his optimism. Dr Jack Templeton's opening words were about his father who established the Templeton Foundation and the Templeton Prize, which is now in its 40th year. He said his father wanted human beings to be more open minded about the nature of reality. He said the prize seeks to identify entrepreneurs of the spirit, men and women who seek and provide wisdom. He expressed gratitude to everyone at St Paul's Cathedral for enabling the ceremony to take place there, referring to the Cathedral as embodying the spirit and might of the British people. He declared that the Templeton Prize judges had decided to make their award to His Holiness this year because of his steadfast spiritual values, the power of kindness and compassion.
In accepting the Templeton Prize, His Holiness said how happy he was to be in St Paul's this magnificent temple filled with smiling faces. He noted that among the several hundred people there, many belonged to different nations and races and yet all were fundamentally the same as human beings. Because of this sameness, he said, we have no reason to quarrel, but when we forget it and focus instead on secondary differences between us we tend to fall out with each other. He spoke of a calm mind as the source of genuine happiness and that a calm mind depends on self-confidence, because it reduces fear and anxiety. He spoke of his work to foster harmony and mutual respect among the world's religious traditions, his work to encourage cooperation in tackling our environmental problems and his work to promote the use of non-violence as a means to resolve problems and conflict. He referred to the twentieth century as a period of great development and achievement, but also as a period of bloodshed. He expressed his hope that the twenty-first century can become instead a period of peace and dialogue. He said that he considered his award of the Templeton Prize as recognition of the small contribution he has made to humanity in these fields.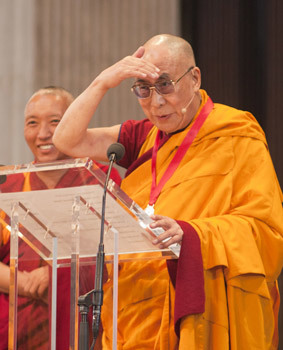 His Holiness the Dalai Lama during his acceptance speech after being presented the 2012 Templeton Prize at St. Paul's Cathedral in London, UK, on May 14, 2012. Photo/Clifford Shirley
Explaining what he intended to do with the prize money, His Holiness announced that he would give $1.5 million to Save the Children Fund specifically to address the problems of malnourishment among children in India. He said he had long had great admiration for the work of Save the Children and had personal experience of the support it had given Tibetans during their early years in exile. His hope is that if we educate and care for the children of the coming generation, the generation who carry the future on their shoulders, we can really change the world. He is also giving $200,000 to the Mind & Life Institute, an organization that has for nearly thirty years helped promote an important exchange of ideas and collaboration between science and spirituality. The remaining $75,000 will be used to support science education in the Tibetan monastic universities.
The congregation were uplifted by the singing of Jessye Norman's and the St Paul's Choir.
In his concluding benediction, the Rt Rev Michael Colclough, prayed that we may kindle in the hearts of all people the love of peace.
Greeting Tibetan children and well-wishers as he left the Cathedral, His Holiness returned to his hotel, where his final engagement of the day was a meeting with Robert Ford, the brave Englishman who had operated a radio station in Eastern Tibet in late 1950s.
Tomorrow, His Holiness departs London for Vienna, Austria, en route to Maribor, Slovenia.