Middlebury, VT, USA, 12 October 2012 - A short drive through the beautiful Virginia countryside brought His Holiness the Dalai Lama to the Charlottesville airport today.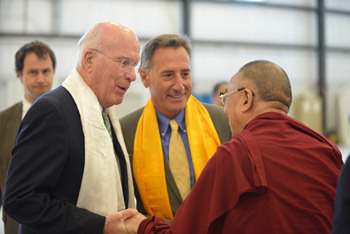 US Senator Patrick Leahy and Vermont Governor Peter Shumlin receive His Holiness the Dalai Lama on his arrival in Burlington, Vermont, on October 12, 2012. Photo/Brett Simison
From there he flew to Burlington, Vermont, where he was received by the Governor, Peter Shumlin and Senator Patrick Leahy. After lunch, he drove to the Nelson Arena, where he was met by Middlebury College President Ron Liebowitz and introduced to an eager crowd of 2800 students by Chaplain Laurie Jordan. This was his third visit to Middlebury having been here before in 1984 and 1990.
"Brothers and sisters, I'm very happy to be here again. I'm always happy to meet people and particularly the young, because you are our hope. People of my age belong to the twentieth century, which is already gone. While that was a period of marvellous achievements, some of them, like nuclear physics, became a cause of fear and anxiety."
His Holiness said that in addition, during the twentieth century more than 200 million people died in war and violence that ultimately brought no benefit. And even today, the violence in Syria is a result of past mistakes. However, the past is past, we record it in history books, but we can't change it. Yet the future is still open and we can shape it now. He said that while he hopes this will be a century of peace, that does not mean it will be without problems, but that we should approach them differently. Instead of force we should employ dialogue, taking a stance that respects the rights of others.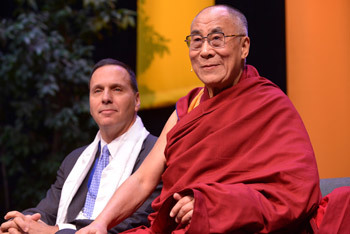 Middlebury College President Ron Liebowitz with His Holiness the Dalai Lama at the Nelson Arena in Middlebury, VT, on October 12, 2012. Photo/Brett Simison
Education, he said, is supposed to resolve the gap between appearance and reality. As far as the material side is concerned, what science has revealed has been marvellous. Regarding the mind and emotions, however, what modern education has to say is not adequate.
"The possibility of creating a more peaceful world is dependent on developing concern for others' well-being, another word for which is compassion. Compassion for some people is a sign of weakness, when actually the opposite is the case. Anger is a sign of weakness, while compassion is a sign of strength."
He gave an example of argument or debate; when we are in a winning position, we feel joy, confident and strong. It's when we are weak and losing that we might resort to anger.
Modern education is oriented towards material things, but material things do not provide the affection we all seek. We find affection where there is mind and emotions. He pointed out that we may be very proud of an expensive diamond ring, but it cannot show us affection. A cat or dog, on the other hand, responds with affection because it has a mind and makes an emotional response. People who are naturally affectionate are surrounded by genuine friends; not fair weather friends only interested in money and influence. We show interest in money and fame, when the key factor to being happy is warm-heartedness. It often happens that those people who have no interest in religious practice also neglect these kinds of values. This is why we need to educate the heart; when we educate both the brain and the heart we will be healthy and happy. This is also the way to change society and create a more peaceful, happier world.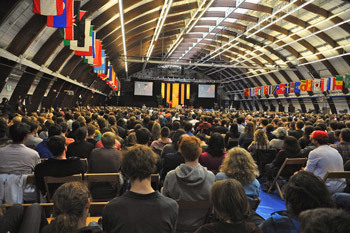 Middlebury College's Nelson Arena, venue for His Holiness the Dalai Lama's talk in Middlebury, VT, on October 12, 2012. Photo/Sonam Zoksang
"Compassion is based on biological factors; it can be employed without reference to religion, which is why I include it under the name secular ethics. Religion is a personal matter, while moral ethics concerns the whole world."
A Middlebury student asked if the idea of secular ethics might not be misinterpreted, compassion, for example, becoming a reason for simply being unwisely tolerant. His Holiness agreed,
"The practice of moral ethics should be entirely voluntary and implemented on a personal level. I often tell Buddhists, when I'm teaching, unless you practice with sincerity, there is a risk of religion becoming a cover for hypocrisy. There are people who pay lip service to religion, but seem to be praying, 'Please bless me in my mischief.'"
Another question asked what young people can do to contribute to peace in the world. His Holiness's answer was straightforward,
"Study. Become experts in different fields. Think more about society. And while you're studying think more holistically, take the bigger picture into account."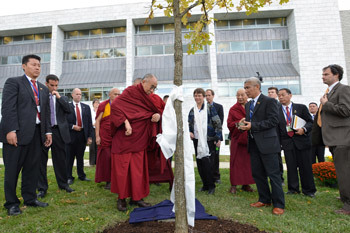 His Holiness the Dalai Lama reciting prayers at a tree planted on a previous visit in Middlebury, VT on October 12, 2012. Photo/Brett Simison
After his talk, which received loud and enthusiastic applause, His Holiness visited the Davis Family Library. He viewed an exhibition of modern art by young Tibetans and inspected a collection of Tibetan texts. Outside, the wind was cold and light sleet began to fall as he tied a silk scarf around a tree he had planted on a previous visit and recited an auspicious prayer. He remarked that trees have been the companions of human beings throughout history, and they remain important today. He concluded with words of hope,
"When this tree is fully grown, some years from now, may the world have become a happier more peaceful place."