Dehra Dun, India, 14 September 2012 - After spending the night at Mindrolling Monastery, in Clement Town, Dehra Dun, His Holiness the Dalai Lama's first engagement today was to visit the Drukpa Kagyu Dechen Choekhor Monastery nearby, where he paid his respects. Local Tibetans, young and old lined the streets, eager to catch a glimpse of His Holiness as he passed. From there he drove to Norling Park in the Dekyiling Tibetan Settlement where he was to teach the first chapter of Nagarjuna's Precious Garland. As His Holiness arrived it began to rain and the rainfall became so heavy that he invited the first row of monks, who were getting particularly wet, to join him on the platform around the throne.
"The reason I've come here is to share some knowledge of the Buddhist teachings with you and some thoughts about how to lead our lives. First of all I'll give you an general introduction, then we'll read the first chapter of Nagarjuna's Precious Garland and tomorrow we'll have an Avalokiteshvara empowerment. Don't think of the sight of me or the sound of my voice as some sort of blessing; listen to what I have to say.
"The Buddha wasn't like some sort of god. He taught about cause and effect and revealed it by his own example. He practised the path, attained enlightenment and then he taught others."
His Holiness explained that all of us don't want suffering, we want happiness, and there are many ways that human beings can employ to achieve it. In the last two or three centuries, people have begun to examine reality in a scientific way, investigating how things actually work. This has given rise to the development of science and technology, which has helped us overcome many kinds of problems. Medicine, for example, has made great progress. However, at the end of the twentieth century there seems to have been a renewed interest the mind's contribution to our happiness. Until recently, science has tended to focus on material things, but now scientists are beginning to pay more attention to the mind. They used to think the mind was merely a function of the brain, but now they are finding that it's influence is more significant. There is evidence that a contented mind aids physical recovery from sickness and after surgery. Meanwhile, scientists are finding evidence that if you live in constant fear, anxiety or anger it weakens the immune system, whereas being calm and relaxed strengthens it.
Ancient Indian texts and traditions are a treasure trove of knowledge about the mind and its workings. Many of them were translated into Tibetan. His Holiness stated that of all the Buddhist traditions in the world, Tibetan Buddhism seems to have the most thorough explanation of the mind, which makes it a good source if that's what you are interested in.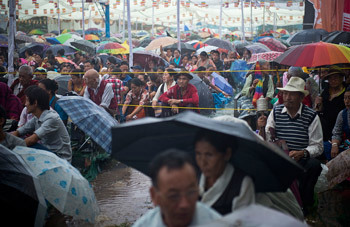 Members of the audience braving the rainy weather during teachings by His Holiness the Dalai Lama at Norling Park, Dekyiling Tibetan Settlement near Dehra Dun, India, on September 14, 2012. Photo/Tenzin Choejor/OHHDL
Expressing his appreciation of the Buddhist tradition from another angle, His Holiness said,
"I have the greatest respect for the world's various religious traditions, which have evidently been immensely helpful to many people, but by and large they depend on faith. In our tradition, the Buddha told us to test and verify his teaching, and that is what Nagarjuna and other Nalanda masters have done. One of the results of this is the classification of Buddhist teachings into those that are definitive and those that are interpretable. This is a unique feature of the Buddhist tradition, which a friend reported a Cambridge scientist recently admiring as quite scientific. I remember Chinese propaganda predicting that Buddhism would wither away as people's scientific knowledge grew. Fifty years on, the opposite seems to be true as scientists take an increasing interest in Buddhist science and philosophy.
"The important thing for us to know is how the mind works and how the emotions affect it; which ones disturb and which calm and assist the mind."
Turning to the Precious Garland, His Holiness explained that when he's teaching in Dharamsala and elsewhere, he chooses texts found in the Tengyur, the translated works of mostly Indian masters who came after the Buddha. He does this because he thinks it is important to go back to the original sources. He said he received this teaching from Serkhong Tsenshab Rinpoche, who in turn had received it from a master in Kham. Nagarjuna originally composed the text as a letter of advice to a king who was his friend. It consists of five chapters of which His Holiness is teaching the first. He read about 80 of the 100 verses and said he would read the rest along with the Avalokiteshvara empowerment tomorrow.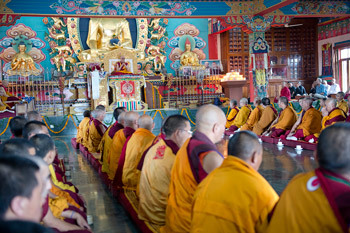 His Holiness the Dalai Lama speaking at Drikung Shedra in Dekyiling Tibetan Settlement near Dehra Dun, India, on September 14, 2012. Photo/Tenzin Choejor/OHHDL
He drove to the Songtsen Library where he had lunch with Drikung Chetsang Rinpoche, after which Rinpoche welcomed him to the nearby Drikung Shedra or college. After paying his respects and taking his seat on the throne, His Holiness said,
"It's very good to see Drikung Chetsang Rinpoche and you monks and nuns here in this place of study. I'm also glad to see that you have paintings on the walls of the 17 Nalanda masters, who wrote many of the texts that we study. A lot of our temples are decorated with paintings of fierce deities which may be good for practitioners, but I wonder what other visitors make of them.
'A leading India nuclear physicist Raja Ramana once told me that he had read one of Nagarjuna's texts and was amazed to find an account that accords with much of what quantum physics is saying today. This is the kind of context in which I have been meeting with scientists for discussions every year for nearly 30 years. We need to remember that Buddhist explanations of the science of mind and of its view of reality have relevance today in the twenty-first century."
From the Drikung Shedra it was a short drive to the Ngoenga School for Children with Special Needs. The students of the school were already gathered in the temple with teachers, carers and house parents, His Holiness took his seat on the throne while the Principal presented his report. His Holiness expressed his appreciation, saying,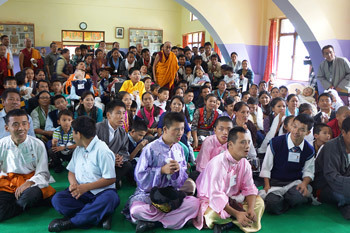 His Holiness the Dalai Lama with students and of the Ngoenga School for Children with Special Needs in Dekyiling Tibetan Settlement near Dehra Dun, India, on September 14, 2012. Photo/Jeremy Russell/OHHDL

"I'm very happy to know that you are finding ever new ways to help the children here rather than just falling into a routine. This is very important. While you were reading your report, I wondered whether there might be more technological developments that could be of help to these children. Please let me know. I appreciate that you are not only taking in Tibetan children but also children from Ladakh and elsewhere. Extending this kind of care is like a Bodhisattva practice; you will earn great merit from doing so, dedicate it to your final goal, enlightenment. When these children are cared for well it helps them feel happier and more secure. I've heard that it's good for them if their carers are not constantly changing; again familiarity brings a sense of security, whereas if the carers change their close relations with the children is upset.'
His Holiness moved among the children touching and greeting them as he left. He then drove the very short distance to the Drikung Jangchub Ling Monastery, where he is spending the night. Tomorrow, he will be visiting Tashi Khyil Monastery where he will complete the Precious Garland teaching and give an Avalokiteshvara empowerment.