Dehra Dun, India, 16 September 2012 - His Holiness the Dalai Lama spent the night at Sakya Rinchen Ling Nunnery and this morning the nuns demonstrated their debate skills before him in the temple, based on their studies of Sakya Pandita's Treasury of Reasoning.
From there he went to Lhodak Gaden Donnye Ling Monastery close by. The original monastery in Tibet was founded by the 5th Dalai Lama and its monks were mostly focussed on a style of practice that followed the sutras rather than the tantras, with some prayers to the Medicine Buddha. At some point in the 1940s or 50s an influential lama from Ganden Jangtse introduced the practice of Dolgyal, after which the monks faced no end of trouble and discord. Although the majority of the monks were very uncomfortable about this development, those in positions of authority favoured the practice. Once news of His Holiness advice to cease propitiating Dolgyal reached them, the monks of the monastery unanimously decided to give it up. His Holiness listened to these stories with interest and asked one of the older monks to write them all down, clearly, without exaggeration.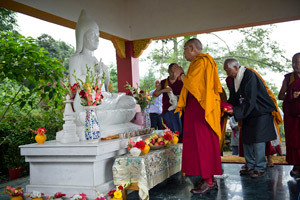 His Holiness the Dalai Lama at Thekchog Samten Ling retreat centre near Dehra Dun, India, on September 16, 2012. Photo/Tenzin Choejor/OHHDL

Today, the monsoon rains relented, enabling His Holiness to visit Thekchog Samten Ling, Gongkar Chöde's Retreat Centre in the nearby hills. An Englishwoman married to an Indian, Kirsty Chakravarty, inherited land when her husband died and she decided to donate it to the monastery. His Holiness met her and monks of the monastery in small pavilion enshrining a marble statue of Atisha overlooking the Doon valley. He said it was very good to provide facilities for meditators, especially if they really engaged in meditation, as opposed to just collecting mantras. He cited the example of an American friend, who, after years of practice, is beginning to experience the results of deep meditation described in the scriptures.
Returning to Rajpur, His Holiness visited the Tibetan Handicraft Centre that was originally set up to help Tibetan women improve their lot. It is one of the oldest co-operatives in the Tibetan refugee community. His Holiness remarked,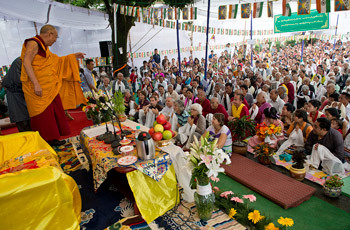 His Holiness the Dalai Lama greeting the audience on his arrival at the Tibetan Handicraft Centre in Rajpur, near Dehra Dun, India, on September 16, 2012. Photo/Tenzin Choejor/OHHDL
"Hardly any of those who were here at the beginning are still here. It's now 53 years since we came into exile. In the beginning we didn't think we'd be in India so long. We thought we'd go back to Tibet. But we made an effort, we survived, and we have been able to preserve our Tibetan religion and culture, which was one of the aims of setting up the settlements. As refugees we've been quite successful, considering the poor state we were in when we arrived.
"This year 8-9000 Tibetans came from Tibet to attend the Kalachakra empowerment in Bodhgaya. When they went back, they were harassed and interrogated. Asked if they'd faced difficulties in India, they said 'No, we were well taken care of.' Asked if the Tibetans in India weren't very poor, they said, 'No, they're doing quite well.' Asked whether they'd encountered the splittist movements, they said, the Dalai Lama advocates friendship and helping others."
He said Tibetans in Tibet have kept their spirit alive, while those in exile have been able to keep Tibetan values alive. He stressed the importance of the older generation letting the younger generation know about life in Tibet, and what happened there.
Next, His Holiness was given a traditional Tibetan welcome at the Sakya Monastery, where he was also invited for lunch. Addressing those assembled in the temple, he remarked,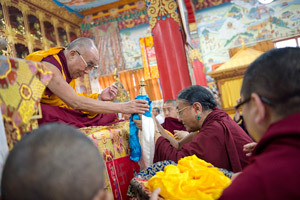 Sakya Trizin making traditional offering to His Holiness the Dalai Lama during his visit to Sakya Monastery in Rajpur, near Dehra Dun, India, on September 16, 2012. Photo/Tenzin Choejor/OHHDL
"Among all the traditions of Buddhism, Tibetan Buddhism is the most extensive and the most profound. I've met many Buddhists from other countries who do recitations without understanding the meaning of what they are saying. For example, in Japan there is a custom of reciting the Heart Sutra, but no tradition of explaining it. Wherever I go, I encourage people to study the classic texts, I encourage monks in monasteries only accustomed to performing rituals to study and I encourage tulkus, who often only have to give empowerments, to study too."
He spoke of Buddhism as the one religion that accords with science, observing that scientists interested in knowing more about the mind and emotions find Tibetan Buddhism to be a rich source of understanding.
Turning to Luding Khen Rinpoche, he noted that Rinpoche used to be thinner and that his mustache has become white, but praised his contribution, recalling Bakula Rinpoche's reports of how useful his stay in Ladakh had been. Similarly he expressed his appreciation of the work Sakya Dagtri has done to preserve the Dharma.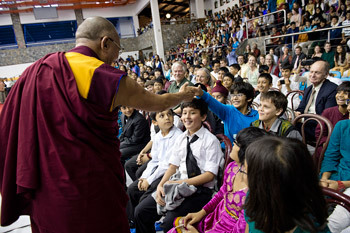 His Holiness the Dalai Lama greeting students on his arrival at Woodstock School in Mussoorie, near Dehra Dun, India, on September 16, 2012. Photo/Tenzin Choejor/OHHDL
In the afternoon His Holiness drove up to Mussoorie to Woodstock School, where he was met by the Principal Mr Jonathan Long who escorted him up the steep path to the new gym, where students and staff were waiting to hear him speak. He began,
"Dear brothers and sisters - this is how I prefer to address people because we often forget that we are human brothers and sisters. Sometimes we pay more attention to the differences between us that are essentially secondary, matters of race, faith, nationality and rank. These are the sort of factors that give rise to conflict and war, which provoke us to divide people into "them" and "us". In an international school like this, just as in the global economy, we need to overlook the barriers represented by national boundaries. This is clear too in terms of the environmental problems we face, because they affect us all."
Regarding compassion, he said the care most of us receive from our mothers means we are biologically equipped to be concerned about others and to have an urge to help them. Affection and compassion are something for which we have a natural need. There are too many people who have ample material comfort and yet lives full of stress and anxiety. This, he explained, is rooted in a deep sense of self-centredness, which tends to stoke suspicion and mistrust of others and consequent loneliness. Some scientists have noted that negative emotions like fear, anger and suspicion weaken and undermine our immune system, while a calm mind strengthens it. His Holiness described an experiment involving two similarly injured mice; one recovered in isolation, the other in the company of others. The mouse with companions was observed to recover quicker and more satisfactorily, from which His Holiness concludes that compassion and concern for others is a natural feeling not involving religion. The reason he thinks this is important is that he believes that a large number of the 7 billion human beings on the earth don't have much time for religion, yet they need the benefits of compassion and concern for others.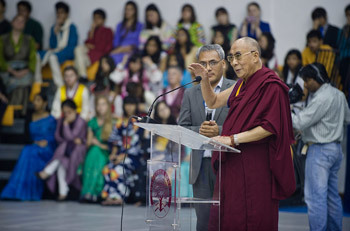 His Holiness the Dalai Lama speaking at Woodstock School in Mussoorie, near Dehra Dun, India, on September 16, 2012. Photo/Tenzin Choejor/OHHDL
Another example he cited of our need to develop a broader view, seeing others' problems as our own is the environmental problems we face. While many countries put their national interests ahead of global interests, a rise in sea level will not respect national boundaries. He said that at 77 years old he doesn't expect to see the consequences that may be felt in Tokyo and New York, although people in Tibet, Woodstock and Dharmsala won't have to worry about it.
Students had prepared questions. To one about dealing with the secondary differences that he referred to at the beginning, he replied,
"We need to remember that we are all human beings. We have to think about the whole of humanity, not just my group. We can achieve this through education, one of whose roles is to reduce the gap between appearance and reality. The appearance is that there is a difference between "them" and "us", while the reality is that humanity is one. Others are part of "us." It is also necessary to look at problems from a more holistic perspective."
Asked his views on ecology, His Holiness explained,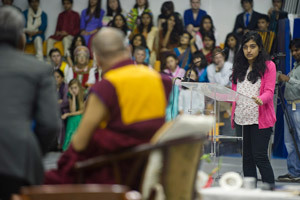 A student asking a question of His Holiness the Dalai Lama during his visit to Woodstock School in Mussoorie, near Dehra Dun, India, on September 16, 2012. Photo/Tenzin Choejor/OHHDL
"When I first came to India, people told me 'Don't drink this water' and I was surprised because in Tibet there was no water we couldn't drink. I learned about pollution and gradually about ecology. I came to understand that this blue planet is our only home; we can't settle on the moon! If we destroy this planet, where will we go? I also learned how our perspective can be different. Witnessing violence has an immediate impact on our minds, it makes us flinch, and yet the violence we are inflicting on the environment takes place in ways that we don't so readily notice, so we don't adequately respond. And sometimes a problem seems so big that we feel helpless about tackling it, but we have to try."
Finally, to an enquiry about how he maintains his composure and his smiling face, His Holiness replied,
"That's my secret that I don't want to share! But more seriously I get 8-9 hours sound sleep every night and I am basically very peaceful, I don't harbour negative emotions. Training the mind is the source of inner peace."
As the Principal and his wife presented gifts to His Holiness, the hall was filled with loud applause. From Woodstock, he drove through Musssoorie to Happy Valley at the other end of the ridge, where he was welcomed at the Tibetan Homes Foundation that tomorrow will celebrate its golden jubilee.