Salzburg, Austria, 20 May 2012 - Arriving early at the Klagenfurt Hall this morning, His Holiness first addressed the community of about 350 Tibetans, mostly resident in Austria and Switzerland, who had gathered to meet him. He began by telling them, "We Tibetans, wherever we are, maintain our mental strength and keep a strong hold on our Tibetan identity as we need to do. In addition, we should always remember the Tibetans in Tibet and their strong determination too. They have no fear for themselves, but are devoted to the cause of Tibet."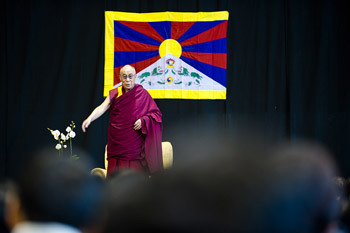 His Holiness the Dalai Lama speaking to members of the Tibetan community in Klagenfurt, Austria, on May 20, 2012.
Photo/Tenzin Choejor/OHHDL
He remarked that prior to 1959, although there were spiritual links right across Tibet, political unity was much weaker. However, due to the Chinese occupation, Tibetans now have a strong solidarity with each other. The robust sense of Tibetan identity that now prevails in Tibet and its bordering areas owes a great deal to the distinct spoken and written Tibetan language. This is something of which Tibetans can be proud. Tibetan literature contains, for example, profound explanations of the mind and its functions, because of which Tibetans can think of Tibetan Buddhism and its culture having a valued role in the world. Tibetan culture is also distinguished by its use of logic and epistemology to sharpen the mind. Although Buddhism came to China earlier than to Tibet, the Chinese do not have the range of books on philosophy and so forth that are found in Tibet.
His Holiness spoke of how Tibetan Buddhist culture is characterized by kindness and compassion for others. He recounted the story of a Tibetan he met in the USA, who worked in a factory processing vegetables. He told His Holiness that whenever he could, he would rescue insects he found in the vegetables, set them aside and later take them outside. His co-workers asked what he was doing and after he had explained Tibetan culture's reverence for all living beings, they gradually began to do the same.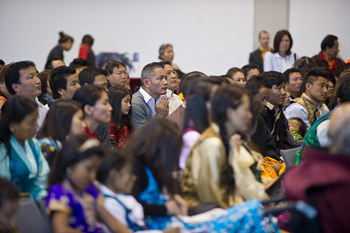 Members of the Tibetan community from Austria and nearby European countries listening to His Holiness the Dalai Lama in Klagenfurt, Austria, on May 20, 2012.
Photo/Tenzin Choejor/OHHDL
"We say the Chinese are destroying our culture, but it'd be contradictory if we who live in free countries did nothing to preserve it," His Holiness said, and explained that an important way to do this is to make sure young Tibetans can speak, read and write in their own language. One of the reasons the Chinese authorities deliberately try to suppress the Tibetan language is that they understand the important role it has in preserving the Tibetan identity. And this is also the reason why schools were urgently established soon after Tibetans first arrived in India.
Regarding his devolution of political authority to the elected leadership last year, His Holiness made clear that it was not a new idea. As early as 1951 and 1952 he had attempted to introduce such reforms in Tibet, but he was obstructed by the Chinese who wanted to change things in their own way. Since the election of Tibetan leaders in 2001, His Holiness has been semi-retired, so he was proud last year, with Samdhong Rinpoche beside him, to hand the Seal of the Tibetan Government that he had received at the age of 16 from Tagtrag Rinpoche to Kalon Tripa, Lobsang Sangay. He said, "Our democatic system has two purposes: to ensure the future of the Tibetan cause, but also to show the Chinese what we can do." He pointed out that the Ganden Phodrang had existed as the Office of the Dalai Lamas before becoming the government of Tibet and that he had now restored it to its former status.
His final advice to the assembled Tibetans was, "Have a happy mind."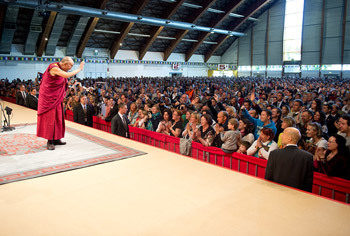 His Holiness the Dalai Lama greeting the audience before his talk "Art of Happiness" in Klagenfurt, Austria, on May 20, 2012. Photo/Tenzin Choejor/OHHDL
Opening his talk about the Art of Happiness, he said he would talk about how to lead a happy life in a secular context. He clarified that he uses secular according to the Indian tradition, not disdaining religion, but viewing all religious traditions with respect in a more pluralistic way. As human beings we all want to live our lives free from disturbances, indeed we all have a right to a happy life. But we need to have a realistic method to achieve our goal. We need to take a long-term view and pay attention to our inner values. Warm-heartedness is essential and is something we are equipped with from infancy. It yields a calm mind and self-confidence, which means we can act openly, honestly and transparently, free from anxiety, fear and suspicion. His Holiness concluded, "I find this useful, try it yourselves and if it makes sense, put it to use. If it makes no sense to you, then just forget it!"
His Holiness thanked the organizers of the events in Klagenfurt and the Governor, Gerhard Doerfler, who he acknowledged had come to see him every day he had been there. He praised the Governor's smile and the sincere warmth in his eyes. In his turn, the Governor thanked His Holiness for coming to his state and offered him the Carinthian Gold Medal.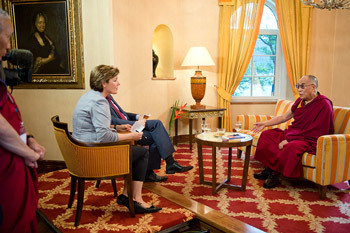 Doris Appel head of the Religion Department of ORF-TV, interviews His Holiness the Dalai Lama in Klagenfurt, Austria, on May 20, 2012. Photo/Tenzin Choejor/OHHDL
From the Klagenfurt Hall His Holiness and his party accompanied the Governor to the Klagenfurt Boatyard where they boarded a motor yacht to ride the length of the Wörthersee to Portschach am Wörthersee for a state luncheon. Afterwards, Mrs. Doris Appel interviewed His Holiness, asking him several questions of religious interest, for ORF TV. At the end, she asked who or what he prayed to and he replied that he prays to the Buddha, of course, but mostly in meditation he reflects on the Buddha's teaching, especially about the nature of reality, applying analysis to it and considering it from various angles. That is what he finds really useful.
At Klagenfurt Airport, His Holiness boarded an aircraft for a short flight over forested mountains to Salzburg, where he was warmly received by the Governor Ms. Gabi Burgstaller. He gave two further television interviews at the airport, the second of which focussed on his recollections of Heinrich Harrer and Peter Aufschnaiter, the two Austrians who had first sparked his interest in Europe and technology. He said Harrer had told him that his seven years in Tibet were the best years of his life, that he proved to be a true friend to Tibet until his death and that his spirit survives in the warm friendship His Holiness continues to have with the people of Austria.
Met by faithful Tibetans and other well-wishers at the door of his hotel, His Holiness retired for the night.