Leh, Ladakh, J&K, India, 27 July, 2012 - On this fourth visit to Lamdon Model School since the mid-seventies, His Holiness the Dalai Lama was given a warm reception by Mr. Eshey Tondup, the Principal, who showed him two new buildings: a dental clinic funded by Mr. Bill Kite of the US in memory of his late father Roy A. Kite, Jr. and a science block with three new Chemistry, Physics and Biology laboratories. The three-storey science building was built with grants from the Dalai Lama Trust. During his last visit to Lamdon school, in 2009, His Holiness urged the administration to provide such science facilities so students could gain practical experience of science. He offered financial help for them to do so and was deeply impressed with what has been achieved.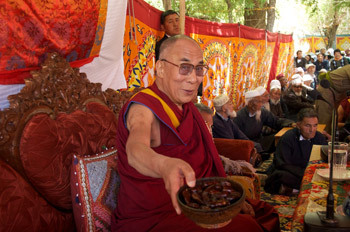 His Holiness the Dalai Lama makes a gesture during his visit to address the Leh Muslim community organized by the Muslim Coordination Committee Leh
Ladakh, J&K, India, on 27 July 2012
. (Photo by Rosemary Rawcliffe)
.
In his talk to students and staff, His Holiness stressed the need to take a holistic approach to education. Modern education is very good at developing the brain but this should not be at the expense of traditional values that are important for developing a good heart. He also commended the use of traditional dialectical debate and reasoning, not only in the study of religion, but also in the study of science and other modern topics. He explained the necessity of examining what you learn from teachers or read in books carefully and repeatedly in a logical way that really deepens and reinforces your understanding.
His Holiness went on to say,
"Of course education is essential for Buddhists too. The proper way to practise the Buddha's teaching is to investigate reality. We must make fullest use of our human intelligence, and in that context, a scientific approach, which is primarily concerned with examining the external world, is helpful. However, the Buddhist approach does not rely on external instruments, but employs the human mind to investigate reality through concentration and analytical meditation."
His Holiness referred to the dialogues he has engaged in with contemporary western scientists for more than thirty years. As a consequence a number of scientists have begun to take an interest in the workings of the mind and emotions, which are explained in great detail in the works of the great India masters of the Nalanda tradition, such as Nagarjuna.
His Holiness concluded by expressing the hope that in the remaining 80 years or so of the 21st century students from Lamdon Model School will make a significant contribution to the cause of peace and happiness in Ladakh, India and the world at large.
From the Lamdon School His Holiness went to visit the community of Ladakhi Muslims at Idga, Leh.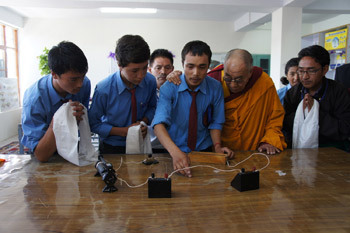 His Holiness the Dalai Lamalistening to a student describe an electrical resistance experiment in the physics lab during the inauguration of a new science building funded by The Dalai Lama Trust at Lamdon Model Senior Secondary School, Leh
Ladakh, J&K, India, on 27 July 2012
. (Photo by Tenzin Taklha/OHHDL)
Children welcomed him with smiles and clapping hands and the local mullah received His Holiness at the door. His Holiness explained his thoughts about secular ethics, the basic human values that we find taught in all religions, but he said that Muslims and Buddhists should meet to discuss what they have in common to further the cause of peace and harmony between them. He pointed out that love, compassion, tolerance, self-discipline and contentment are shared values in all the world's major religious traditions. Regarding self-discipline, His Holiness teasingly remarked that Buddhists had something to learn from their Muslim brothers about abstention from alcohol, which provoked widespread laughter. He asked how many Muslim families live in Leh and learned that there are about a thousand, with a population of 12,000 or so Muslims in the city altogether. On their part the Muslim elders were grateful to His Holiness for his visit and his efforts to strengthen the bond between the various faiths, particularly the Buddhist and Muslim communities in Ladakh, which they regarded as especially significant during the holy month of Ramdan.
His Holiness is going to Padum, Zanskar 29th - 31st July, where he will teach the Thirty-seven Practices of a Bodhisattva and the Eight Verses for Training the Mind.