Inverness, Scotland, UK, 23 June 2012 - A beautiful drive along the River Tay into the Highlands took His Holiness from Dundee to Inverness today, making a short stop at Blair Castle on the way.
After lunch, he gave an interview to the International Network of Street Papers, publishers of the magazine known in Britain as The Big Issue, but whose material appears in 122 publications, in 40 countries, in 24 languages. He said that homelessness is a big problem, because it means you have no base from which to conduct your life. However, it is human nature to help others when they are facing difficulties. He said,
Regarding the issue of Tibet, he said, he observed that totalitarian regimes like China's have for several decades depended far too much on cruelty, so fear and distrust are part of their atmosphere. This is why they try to conceal reality. The 1.3 billion Chinese have a right to know the reality of their situation and they have the ability on that basis to judge right from wrong. For this reason, censorship and restricting people's movements are morally wrong and limit their creativity. This approach is short-sighted and has to change. Prime Minister Wen Jiabao too has spoken about the need for change and even democracy in China.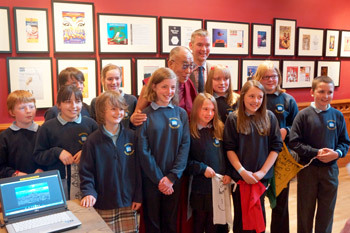 His Holiness the Dalai Lama poses with a group of children who created prayer flags in Inverness, Scotland, on June 23, 2012. Photo/Jeremy Russell/OHHDL
His Holiness was welcomed to Inverness by representatives of the Highland Council, the Provost of Inverness and representatives of the Inverness Inter Faith group. In the lobby of the Eden Court Theatre he met a group of school children who, emulating the Tibetan tradition had created their own prayer flags. They showed him a short video of their expedition to fly them from a nearby mountain top.
Loud and warm applause greeted him as he stepped out onto the stage of the theatre.
"Brothers and sisters," he began "this is the last engagement of my current visit to Britain. You and I are the same kind of human beings; there are no differences between us. Mentally, physically, and emotionally we are the same. Each of us wants to live a happy life, and each of us has a right to do so.
"There's nothing special about me, I'm the same as you. Now I'm nearly 77 years old. I lost my freedom at the age of 16 and lost my country at the age of 24. These days the news from my homeland is mostly sad. So my life has had its difficulties, but it has still been possible for me to keep my peace of mind. Every one of you has the potential too to find and keep their peace of mind, which is why, whenever I have the opportunity I try to share what I know about how to do it."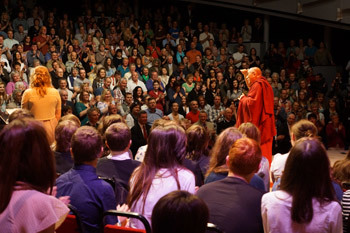 His Holiness the Dalai Lama greeting the audience before his talk at Eden Court Theatre in Inverness, Scotland, on June 23, 2012. Photo/Jeremy Russell/OHHDL
He explained how important affection and a calm mind are to us. A calm mind enables us to use our intelligence properly and affection too is important because it counters anger, hatred and suspicion that can prevent our minds from functioning clearly. A calm mind is good for our physical health, but it also enables us to see things more realistically.
"Developing concern for others, thinking of them as part of us, brings self-confidence, reduces our sense of suspicion and mistrust, and enables us to develop a calm mind. This is important, because, while physical comfort does little to dispel mental sadness, a calm mind can help us cope much better with physical discomfort and other problems."
This, His Holiness said, is why we need to pay more attention to our inner values, for in order to reshape our minds, we need to know more about how the mind and our emotions work. Too much attention to material values leaves us not much different from animals, dependent on sensory pleasure and unable to employ our intelligence properly. We are prepared by biological factors to develop compassion, but by using our intelligence we can enhance it and extend it to include strangers and even enemies.
During a question and answer session after his talk His Holiness was asked about Mahatma Gandhi whose aphorism "Be the Change You Want to See" continues to inspire young people today. He said,
"I never met Mahatma Gandhi in person, although I dreamt of doing so. I admire him because he was a great thinker who put what he thought into practice. Although he had received a thorough Western education as a lawyer, when he returned to India he dressed and conducted himself like an ordinary and traditional Indian. He showed how powerful change can start with one individual and spread to others.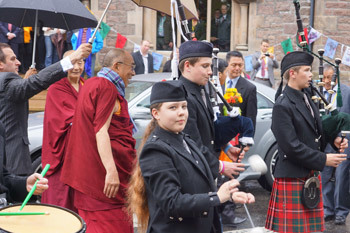 A pipe and drum band plays for His Holiness the Dalai Lama as he departs from Eden Court Theatre after his talk in Inverness, Scotland, on June 23, 2012. Photo/Jeremy/Russell/OHHDL
"Lastly, because I leave for Italy tomorrow, I can tell you my problems are with me wherever I go and yours will remain with you. You have to solve and cope with them yourselves. Use your intelligence and common sense. Don't be too sensitive, at the sway of various ups and downs. Keep a steady mind and it will become calmer. Thank you."
When the applause had subsided, the audience joined singers on the stage is seeing His Holiness off with rousing rendition of Auld Lang Syne. In the street outside, in the gentle Scottish rain, a full pipe and drum band played him on his way.