London, England, 18 June 2012 - His Holiness the Dalai Lama was visited this morning by his old friend Laurence Freeman, a Benedictine monk, who has been active in promoting Christian meditation.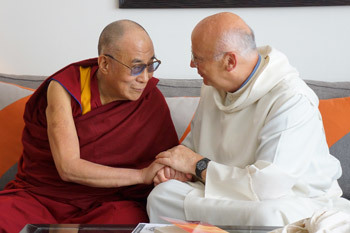 His Holiness the Dalai Lama with Laurence Freeman in Manchester, England, on June 18, 2012. Photo/Jeremy Russell/OHHDL
His Holiness previously participated in the Way of Peace with him, and they have meditated together. The two of them share a strong commitment to encouraging and engaging in inter-religious dialogue.
Subsequently, His Holiness returned to the Manchester Arena to resume the Dharma teaching he began yesterday. Prior to that, the Heart Sutra was recited in Sanskrit by French scholar Sofia Stril-Rever.
His Holiness started by quoting the final stanza of Nagarjuna's Fundamental Treatise on Wisdom, which he said he recites as he wakes up every day.
"To you who, out of great compassion,
In order to dispel all wrong views,
Presented the sublime Dharma,
I pay homage."

Nagarjuna here praises the Buddha's great compassion cultivated over several aeons. The fully enlightened one functions under the power of compassion, augmented by wisdom. This kind of compassion is more than just a wish that sentient beings be free from suffering, it involves actually engaging in helping them. This prompted His Holiness to remember that scientists, who have been researching the effects of meditation on compassion on the brain, have noticed that those centres of the brain associated with action seem to be stimulated by it.

If in regard to the verse above we were to ask what kind of Dharma the Buddha taught, the answer would be a Dharma that dispels all wrong views; a Dharma that dispels all distorted ways of knowing. This is why it is called the sublime Dharma. His Holiness thoroughly discussed what Nagarjuna has taught in this text In Praise of the Dharmadhatu, which, exploring dependent arising, deals with the wisdom aspect of the Buddha's teachings. He said the essence of what the text has to say is summarized in the first two verses.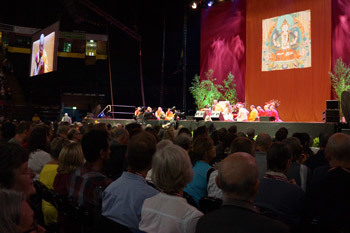 His Holiness the Dalai Lama's teachings at the Manchester Arena in Manchester, England, on June 18, 2012. Photo/Jeremy Russell/OHHDL
Next he turned to the aspect of the Buddha's teachings that deals with altruism and explained stanza by stanza Geshe Langri Tangpa's Eight Verses of Mind Training. As he said,
"Even if we cannot remove all of the disturbing emotions, if we apply the advice given in these eight verses, we will at least find a degree of peace."
After lunch he answered a number of questions from the audience, which touched on topics as diverse as the idea of reincarnation and the controversial spirit Dolgyal or Shugden, before resuming his appraisal of Nagarjuna's text. His Holiness said that for want of time he was going to explain only selected verses of the text, much as elderly people approach their food, choosing and eating the soft parts and leaving the rest.
He concluded by counselling his listeners to be twenty-first century Buddhists, fully acquainted with the Buddhist system, and on that basis to engage in practice. He said,
"Many of us recite the verses of taking refuge without really appreciating who or what the Buddha is. If you study, you can make the Buddha's teachings relevant to your day to day life."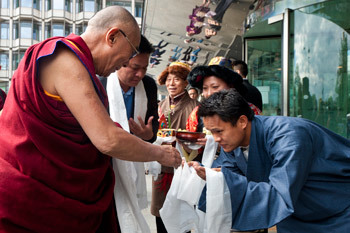 His Holiness the Dalai Lama receives a traditional Tibetan welcome on his arrival in London, England, on June 18, 2012. Photo/Ian Cumming
Leaving Manchester by helicopter, His Holiness flew to London and drove to his hotel, where Tibetans, including Penpa Tsering, Speaker of the Tibetan Parliament in Exile were present to offer him a traditional Tibetan welcome.
Tomorrow, he will give the CR Parekh lecture at the University of Westminster on Values of Democracy and Tibet and in the afternoon will give a public talk at the Royal Albert Hall on the theme, Real Change Happens in the Heart.