Srinagar, J&K State, India, 14 July 2012 - His Holiness the Dalai Lama was welcomed on arrival in Kashmir by the Chief Minister, Mr Omar Abdullah along with his Ministers of Tourism, Revenue, Power and others, who escorted him to a waiting helicopter. It carried him to the Nehru State Guest House, in a quiet and secluded location with wooded hills behind and a view over the famous Dal Lake.
Meeting the Tibetan Muslim community living in Srinagar is one of His Holiness's priorities during his stay here. These people have a long history. There are records of friendly contacts between Muslims and Tibet dating back as far as the 8th century CE, and it seems that some Muslims came to live in the country from the 12th century onwards. By and large they were traders for whom Tibet presented an entrepreneurial opportunity, but there are also suggestions that hardships in their native Kashmir and Ladakh may have impelled some of them to come to Tibet. Many of them married Tibetan women and settled down, speaking Tibetan and adopting Tibetan customs. There was also a community of Chinese Hui Muslims who conducted trade with China and Central Asia, who remained a separate community with their own mosque and cemetery.
Most accounts of the Tibetan Muslims look back to the time of the great Fifth Dalai Lama, who accorded them respect and recognition as a distinct community within Tibet. He granted them a remarkable degree of autonomy with associated privileges. They were allowed to elect a five-man committee to administer their own affairs; to settle disputes among themselves according to Sharia law; they could open businesses in other Tibetan cities and were exempt from tax. During the Buddhist holy month of Saka-dawa, they were permitted to meat even when it was otherwise restricted and during Losar celebrations, when administration of Lhasa was in the hands of monk officials, the Muslims were not obliged to doff their hats to them. Besides this, the great Fifth granted them land to construct a mosque, of which there were eventually four, constructed in Tibetan style, and a cemetery. Their leaders were customarily invited to all government celebrations.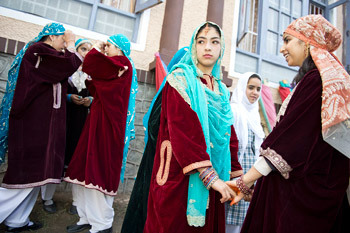 Students in traditional dress waiting to greet His Holiness the Dalai Lama at the Tibetan Public school in Srinagar, J&K state, India on July 14, 2012. Photo/Tenzin Choejor/OHHDL
One of the provisions of the 1684 Tibet-Ladakh peace treaty permitted a trade mission from Ladakh every three years, which brought more merchants, some of whom settled in Tibet. There were also Kashmiri merchants living and working in Nepal and when they were expelled by the King in the mid-eighteenth century many of them came to Tibet. It is also said that after the Dogra invasion of Tibet in the mid-nineteenth century was defeated, some of the Dogra soldiers remained behind and embraced Islam. It was they who introduced the cultivation of apricots and apples to Tibet.
After His Holiness's escape to India in 1959 and the final occupation of Tibet by the Communist Chinese, Tibet's Kashmiri Muslim community remained where they were. But a year later they urgently wished to leave and sought approval to come to India, citing their longstanding origins there. The Indian government acceded to their request and made arrangements for their welfare. His Holiness previously visited this community in 1975 and 1988.
This morning His Holiness was welcomed at the Tibetan Public School, Srinagar, by the Jammu & Kashmir Chief Minister, Mr Omar Abdullah, Tourism & Culture Minister, Mr Nawang Rinzin Jora, Minister of State for Home & Tourism Mr. Nasir Aslam Wani, the local MLA, the School Principal and members of the Tibetan Kashmiri Muslim community. The Principal opened proceedings with words of welcome, praising His Holiness as an icon of peace and the Chief Minister for his courage, determination and optimism. He then invited a student with a pure and strong voice to sing the invocation prayer with which it is customary to begin the school day, and a group of students sang a song in Hindi.
A Tibetan Muslim student offering invocation prayers at the start of the official program in honor of His Holiness the Dalai Lama's visit to the Tibetan Public School in Srinagar, J&K state, India on July 14, 2012. Photo/Tenzin Choejor/OHHDL
One of the girl students came forward to introduce His Holiness, explaining his three commitments:
"As a human being His Holiness promotes compassion, warm-heartedness and non-violence, human values that are a source of happiness. He refers to these as secular ethics. Secondly, as a religious practitioner, he works to foster inter-religious harmony. Thirdly, as a Tibetan and someone in whom Tibetans place their hope and faith, he works as a free spokesman for his people."
She then called on her fellow students of the Tibetan Public School to stand up, hand on heart, to take a pledge similarly to work for happiness in the world and avoid doing harm to others and to promote harmony between religious traditions. The school captain signed a large framed document to this effect on behalf of the students and His Holiness added his signature in affirmation. Students performed a Kashmiri and a Tibetan song and dance.
In his address, the Chairman of the Tibetan Public School said that it was 24 years since His Holiness had last visited this community, so it was great joy to receive him today. In the 50 years that they have lived in the beautiful Kashmir Valley they have tried to heed his advice to live in harmony with their Kashmiri brothers and sisters. He thanked His Holiness for giving the initial funds to start the school, recalling that Sheikh Abdullah had provided the land and that his son Farooq Abdullah had also made a donation of funds. The school has 515 students at present and a staff of Tibetans and Kashmiris. Living in Kashmir, staff and students have been comfortable with sharing a religion but retaining differences of culture. He offered extensive thanks to all those who have contributed to the flourishing of the school, acknowledging that it has really made progress since the Youth Association took an interest in running it. He concluded with this wish,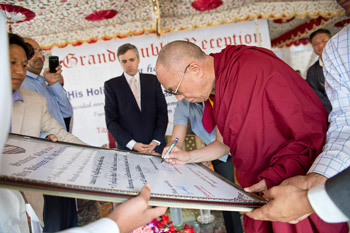 His Holiness the Dalai Lama signing a pledge by the students of Tibetan Public School to follow His Holiness' example of promoting human values and religious harmony during his visit to Srinagar, J&K State, India, on July 14, 2012. Photo/Tenzin Choejor/OHHDL
"May the time come soon when our brothers and sisters in Tibet have the opportunity to see Your Holiness as we are fortunate to do today."
Tourism & Culture Minister, Mr Nawang Rinzin Jora, expressed his admiration that despite losing his own country His Holiness has been a tireless champion of peace and non-violence throughout the world. He thanked those who had invited him to Kashmir and then thanked His Holiness for coming. Chief Minister Omar Abdullah noted that 24 years have passed since His Holiness last came to Kashmir, a visit he remembers vividly, although he was young when he came to meet him with his father,
"Since then a great deal has changed, my hair has turned grey and yet you remain the same. We have been through difficult times and seen darkness, but that darkness is lifting and we keep up our hopes. His Holiness is an inspiration to us."
He said that although the school is called the Tibetan Public School, its students and staff include both Tibetans and Kashmiris, a model of harmonious existence. Noting that one of the school buses had been burnt during a bout of unrest in 2010, he announced that a replacement would be made available within a matter of days. He assured his listeners that whatever his government could do for the school and Tibetan Muslim community they had done and will continue to do so.
"His Holiness is not just a guest here, he's part of our family. We hope we have many occasions to welcome you here again and again with happiness in our hearts."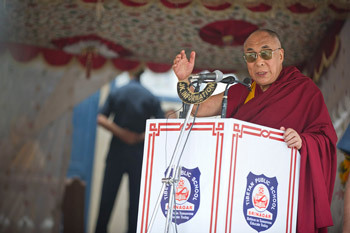 His Holiness the Dalai Lama speaking at the Tibetan Public School in Srinagar, J&K State, India on July 14, 2012. Photo/Tenzin Choejor/OHHDL
Speaking in Tibetan, His Holiness said that what he felt was the happiness you have when you meet old friends once again. Seeing how much older some of them look reminded him that he too has aged. He was pleased to see the progress the school has made, remarking how important a good education is for human beings, that its benefits are felt in the family, community and nation. However, today in too many places education is too materialistic, it doesn't lead to inner peace.
"I know chancellors of universities, responsible for the education of others, who themselves are highly educated and yet are unhappy and full of anxiety. Why is this? Because they lack an appreciation of the importance of a warm heart. In places where education is particularly oriented towards material development, such as in America and Europe, people are beginning to realise something is missing. Indeed scientists are beginning to say that to be full of anxiety and deprived of inner peace is bad for your health."
Stories we hear in the news about students who attack their companions and instances of corruption rife in society are not due to a lack of education, but to an education that lacks human values. He said that it's true that while our religions have different philosophical views, they share a common purpose of helping us to become better human beings. And while there are many who follow religion, there are others who don't, which is why His Holiness talks about the need for secular ethics. He said we need to explore how to incorporate such values into our education systems so that as well as training our brains we also learn to train our hearts.
Staff members of the Tibetan Public School listening to His Holiness the Dalai Lama during his talk in in Srinagar, J&K state, India on July 14, 2012. Photo/Tenzin Choejor/OHHDL
"With some of my friends we are exploring how to introduce a sense of moral ethics, based on common sense, common experience and scientific findings to our education systems from kindergarten to university, in order to foster inner values in our young people."
"We human beings are social animals, which means we have to help each other. Fighting among ourselves is part of life, but it's not a good way to build a happy society. When I was young I fought with my brother, but we soon got over it and made friends again. It's important not to nurse grudges and let anger burn for a long time."
Negative emotions only bring trouble, he explained, but as human beings we can use our intelligence to see if there is any benefit in jealousy or anger. If we do that we'll see that anger solves no problems but only creates more. And if we are not angry we can examine situations that confront us much more clearly and take appropriate decisions about how to deal with them. Coming to understand the pros and cons of negative emotions will enable us gradually to reduce them. And we do this for our own benefit not to please the Buddha or God.
In answer to a question during a brief meeting with the press, His Holiness said he had been unable to visit the Valley for the past 24 years due to the turmoil that had taken place,
"But now the situation is better and peace is returning to Kashmir. People want to live a happy life and the basis of a happy life is peace. The Kashmiri people should live peacefully and if there is any problem, dialogue is the only way to resolve it. Violence is in nobody's interest; a more peaceful approach is essential."
His Holiness the Dalai Lama interacting with some of the elders of the Tibetan Muslim community who escaped from Tibet in 1959/1960 during his visit to the Tibetan Public School in Srinagar, J&K state, India on July 14, 2012. Photo/Tenzin Choejor/OHHDL
After lunch, His Holiness told a delegation of Tibetan Muslim Youth that he was happy to be meeting again members of a community that had been recognised and settled in Tibet since the time the 5th Dalai Lama. He appreciated that of the two Muslim communities in Tibet, they were the ones who had stood by their Tibetan brothers and sisters. He also mentioned his pleasure that they continued to use the Tibetan language, commenting that there are Tibetans settled in American whose children only speak English. He recalled that in the past there had been Tibetan Muslims working in the Central Tibetan Administration in Dharamsala, which had been a matter of mutual benefit. As this arrangement seems to have lapsed, he suggested it would be very good if any among them would like to come and work in Dharamsala again. He also commended the opportunities presented to Tibetan Muslim students in the places that had been offered at a university in Jordan.
In his interactions with some of the Tibetan Muslim Elders, His Holiness was effusive in his praise for their keeping up their use of the Tibetan language and bringing their children up to speak it so well. He asked if any of them could read and write Tibetan and two of the elderly ladies, some of them in their late eighties, said they could and that they had learned because they had such kind but strict teachers in Tibet.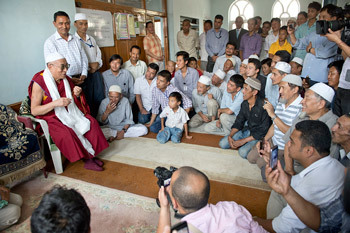 His Holiness the Dalai Lama speaking to Tibetan Muslims at the local Tibetan Muslim community mosque in Srinagar, J&K state, India on July 14, 2012. Photo/Tenzin Choejor/OHHDL
Making a pilgrimage to the local Tibetan mosque, His Holiness recalled that although Tibet was primarily a Buddhist country, its people had respect for all religions and that the 5th Dalai Lama had given the Muslims land. He said that it was only after coming into exile that he learned about religious conflict in the world, for example between Catholics and Protestants in Northern Ireland and between Sunni and Shia Muslims elsewhere. Consequently, he decided in 1975 to make pilgrimages to the places of worship and sacred sites of other religions as part of his effort to foster inter-religious harmony and respect. When prayers began in the mosque His Holiness joined them in silence.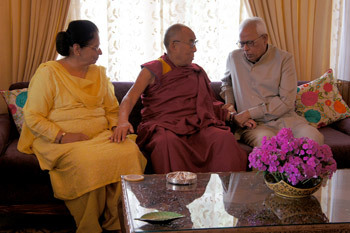 His Holiness the Dalai Lama during the courtesy call he made to His Excellency Shri N.N. Vohra, Governor of Jammu & Kashmir state, India and his wife at Raj Bhawan, in Srinagar, J&K state, India on July 14, 2012. Photo/Tenzin Taklha/OHHDL
Later in the afternoon, His Holiness paid a courtesy call on the Governor of Jammu & Kashmir, His Excellency NN Vohra and his wife, and they took tea together. The Governor reminded His Holiness that they first met when he was training as an IAS officer in Mussoorie, shortly after His Holiness arrived from Tibet in 1959, and again, a year later, when he was appointed Kangra District Commissioner in Dharamsala.
Tomorrow, His Holiness will be meeting with a group of students and government employees from Ladakh. In the coming days he plans to make pilgrimages to Muslim, Hindu and Sikh places of worship in Srinagar city before he departs for Leh on 18th July.