Klagenfurt, Austria, 17 May, 2012 - Today was Art of Reconciliation Day, part of Maribor's European Capital of Culture Programme and a bright, sunny day. His Holiness the Dalai Lama began by greeting his fellow Nobel Peace Laureates Muhammed Yunus and Rigoberta Menchu Tum and drove to the Slovene National Theatre, where they were welcomed by young children on either side of the stairs singing "Morning has come".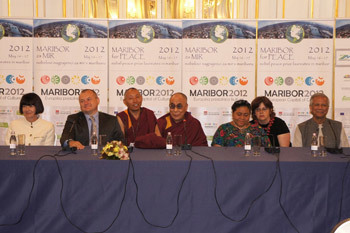 Nobel Laureates Dr Lucka Kajfez Bogataj, His Holiness the Dalai Lama, Rigoberta Menchu Tum and Prof Muhammad Yunus, along with Maribor Mayor Franc Kangler, meet with the press in Maribor, Slovenia, on May 17, 2012. Photo/Tenzin Taklha/OHHDL
During a meeting with the press, His Holiness spoke of the need to reform our education systems to incorporate secular ethics. He suggested that if young people were happy and self-confident, as a result of such education, they would less susceptible to becoming involved with drugs and violence. "An important thing to remember is that no one can impose certain ways of thinking on others, transforming our minds must come about voluntarily."
The three Nobel Peace Laureates, accompanied by local Slovenian scholar Dr Lucka Kajfez Bogataj and moderator Dr Rudi Rizman, took their seats on the stage for a panel discussion on the theme, "Dialogue, Solidarity and Reconciliation". Prof Muhammed Yunus opened with the suggestion that the very system of capitalism, of which European countries are prime exponents, is fundamentally flawed and profoundly needs changing. Rigoberta Menchu Tum echoed his remarks by recalling the Mayans' view that crises such as we are seeing now are a sign of decay. Not a decay that can be repaired, but one which prompts us to start again. She said we need the greater equality that will ensue once the present selfish system comes to an end.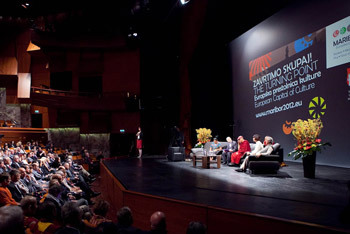 His Holiness the Dalai Lama and fellow Nobel Laureates at the Maribor Peace Conference "Why do we need dialogue and solidarity in the global crisis?" in Maribor, Slovenia, on May 17, 2012. Photo/Sami Rahim
His Holiness responded that dialogue and solidarity are extremely relevant to our world. We are faced with a rapidly increasing population and diminishing natural resources. At the same time the severe gap between rich and poor is wrong from both a moral and practical standpoint. Damage to our environment and climate change are problems not just for one or two nations, but the whole of humanity. We therefore need to think of humanity as one. Because we all have a right to a happy life our old sense of "them" and "us" is out of date, what we need now is a sense of solidarity that thinks instead of a greater WE. Because we cannot fix the problems we face by force, we must enter into dialogue with each other, an approach that means both sides win instead of leaving a winner and a loser. His Holiness declared, "Dialogue is not a luxury we may choose to enjoy, but a simple necessity". In this context the Buddhist concept of interdependence is very useful, the concept is Buddhist in origin, but is applicable in every field.
His Holiness the Dalai Lama is greeted by Governor Gerhard Doerfler of Carinthia on his arrival at the airport in Klagenfurt, Austria, on May 17, 2012. Photo/Tenzin Choejor/OHHDL
Following lunch at the invitation of Mayor Franc Kangler, His Holiness and his party left for the airport and a short flight to Klagenfurt in Austria, which took them over snow-capped peaks and forested mountains. The sun shone brightly as a red carpet was rolled out to welcome His Holiness. Governor Gerhard Doerfler of Carinthia and Mayor Josef Ofner of Knappenberg were there to greet him, while a traditional Carinthian brass band played in the background.
From the airport they drove through green countryside up to the town of Knappenberg, where His Holiness had a short conversation with Governor Gerhard Doerfler before walking to say a blessing at the site of a proposed Tibet Centre. He advised that in addition to its Tibet related activities the Centre could be a place where people of different cultures and scholars of different religions would be able to gather and exchange ideas and experiences, examining ways in which people can become more compassionate. He also recommended that the Centre take part in a dialogue in which he has been involved for nearly 30 years, between science and Buddhist science or ancient Indian thought, focussing on cosmology, neurobiology, quantum physics and psychology.
In nearby Hüttenberg, birthplace of Heinrich Harrer, a large crowd was waiting on the Rieftanzplatz Ground. Harrer's widow, Carina, the Carinthian Governor and Knappenberg Mayor welcomed His Holiness, while members of the uniformed band and dance troop of the local mining association looked on.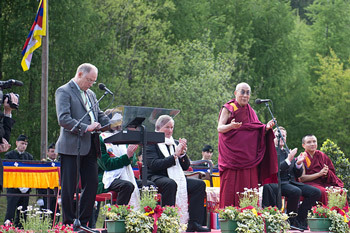 His Holiness the Dalai Lama speaking at the Rieftanzplatz Ground in Hüttenberg, Austria, on May 17, 2012.
Photo/Tenzin Choejor/OHHDL
"Under this beautiful, bright sky, against this rich green forest, your smiling faces with your different coloured clothes and hair make you look like human flowers. Very beautiful", His Holiness began to warm applause. "When Heinrich Harrer escaped from prison in India and reached Tibet, and eventually Lhasa, he made friends with my mother and elder brother, which is how I came to meet him. After that he used to come to the Norbulingka to see me. He was the first European who introduced Europe and technology to me", he recalled. Since then till his dying breath, Harrer remained a friend of Tibet, "But", His Holiness added, "his spirit remains here and you are continuing his deep friendship for Tibet. Now, when Tibet, an old land with a rich and ancient culture, is passing through a very difficult time, I value your friendship. However, I am optimistic and I believe in the power of truth and justice, and as I tell other people, no matter what happens we must never give up our determination. Meanwhile, positive change is taking place in China, sufficient to remain optimistic."
Repeating his hopes for the Tibet Centre, His Holiness announced that he would make a donation of $150,000 to its construction. Finally, noticing several Tibetan flags waving in the crowd, he noted that these days the Chinese communist authorities say it is a sign of splittists. However, he recalled that in 1954 at one of their several meetings Mao Zedong asked him if Tibet had a flag and when His Holiness answered "Yes", Mao said, "You should keep it".