Dharamsala, HP, India, 6 July 2012 (phayul.com) - Thousands of Tibetans, Indians, Chinese, and foreign tourists filled the courtyard of the Tsug-la Khang, the main temple in Dharamsala today to wish His Holiness the Dalai Lama on his 77th birthday.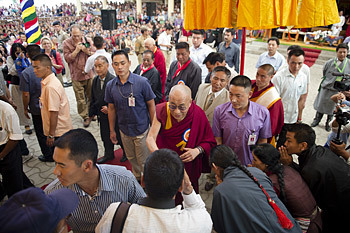 His Holiness the Dalai Lama is greeted by well-wishes on his arrival at the Main Tibetan Temple at the start of celebrations in honor of his 77th birthday in Dharamsala, India, on July 6, 2012. Photo/Tenzin Choejor/OHHDL
The celebrations began early morning with prayers for the long-life of His Holiness followed by an elaborate incense burning ceremony at Lhagyal-ri.
The Dalai Lama was welcomed at the official function by Gyalwang Karmapa Rinpoche, the Tibetan Supreme Justice Commissioners, Kalon Tripa Dr Lobsang Sangay, Speaker Penpa Tsering and a host of Tibetan officials.
Kishan Kapoor, local member of the Legislative Assembly and Industries Minister of the state of Himachal Pradesh led a battery of Indian dignitaries to receive His Holiness.
Speaking on behalf of Tibetans inside and outside Tibet and the Central Tibetan Administration, Kalon Tripa Dr Lobsang Sangay, in his official statement, offered His Holiness "deepest reverence, prayers, and warmest wishes."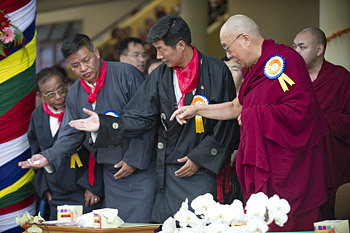 Tibetan Parilament in Exile Speaker Penpa Tsering and head of the Central Tibetan Administration Dr Lobsang Sangey welcome His Holiness the Dalai Lama at the start of celebrations in honor of his 77th birthday in Dharamsala, India, on July 6, 2012. Photo/Tenzin Choejor/OHHDL
"Today is the most auspicious day not only for the people of the Land of Snow but also for the entire world," Dr Sangay said. "Though Tibetans are confronted with an unparalleled tragedy in our history, we have still been able to establish and sustain a successful and an exemplary refugee community under the visionary leadership of His Holiness."
The Kashag, in its statement, called on Tibetans and supporters worldwide to organise a global solidarity vigil for Tibet on August 8, coinciding with the one-year anniversary of the new Kashag.
"This international vigil will remember those Tibetans who have given up their lives for Tibet and show solidarity with every Tibetan in Tibet who continues to suffer oppression under Chinese rule," Dr Sangay said.
Kalon Tripa further announced that a long-life offering will be also presented to His Holiness on behalf of the Tibetan people and administration during the four-day Special General Meeting to be held from September 25 to 28 in Dharamsala.
The Tibetan Parliament-in-Exile in its statement noted that the situation inside Tibet has been "deteriorating from bad to worse" with the "intimidation and violent repression" of the Tibetan people on a "war footing."
"As a result, the situation in Tibet today is so extremely serious that a state of de facto martial law prevails there," Speaker Penpa Tsering said. "To sum up, the Chinese government is implementing in Tibet a policy of racial contempt, racial discrimination, and racial obliteration against the Tibetan people in a manner which is all too obvious and blatant to warrant any doubt."
Representing the people of Himachal Pradesh and his government, Kishan Kapoor wished the Dalai Lama a long life and thanked him for making the Indian state his second home.
"It is because of your blessings that Dharamsala and Himachal Pradesh has found a unique place in history and I pray that you, Your Holiness, live for thousands of years," the minister said.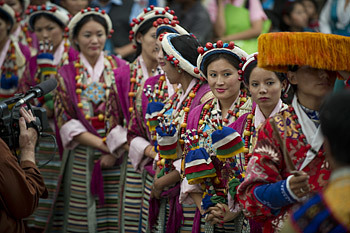 Traditional Tibetan song and dance being performed during celebrations honoring the 77th birthday of His Holiness the Dalai Lama in Dharamsala, India, on July 6, 2012. Photo/Tenzin Choejor/OHHDL
In his brief speech, the Dalai Lama acknowledged the courage and fortitude of the Tibetan people inside Tibet, who he said, despite many physical impediments, were celebrating his birthday in spirit.
The 77-year-old Tibetan leader who last year devolved all his political authorities to the elected leadership noted that he personally didn't consider celebrating birthdays important.
"For me, every day is a new day, and every day is an opportunity to benefit others.