Prague, Czech Republic - 17 September 2013 - Arriving at the Zofin Palace this morning, His Holiness the Dalai Lama was received by Tomáš Vrba, a publisher who is Chairman of the Forum 2000 Board of Directors. He escorted him to a meeting with the press in the Knights' Hall. His Holiness answered the first question about whether he is disappointed when political leaders are reluctant to meet him by repeating what he has said elsewhere that he is primarily concerned with meeting the public to discuss human values with them.
Recently in the Czech Republic there have been instances of racist attacks on Roma or gypsies. His Holiness was asked if there is any racist element in relations between Chinese and Tibetans. He answered that before 1959 there were differences with the Chinese but without any sense of racial tension; Tibetans and Chinese had been close for centuries. However, after 1959 it was different. The only solution was for Tibetans to try to reach out to their Chinese brothers and sisters. Until the Tiananmen event there was little response, but after that the response improved.
His Holiness was asked if other religious traditions had affected his way of thinking. He answered that it was a good question. He has observed that Christian brothers and sisters have made a great contribution to education and health across the world. He feels Buddhists should learn from and follow their example.
A journalist observed a cautious optimism about the new Chinese leadership and His Holiness replied that as he had already mentioned, Tibetans continue to reach out to their Chinese brothers and sisters, including the Chinese government. Since the leadership has changed, some Chinese friends have said its attitude could be more realistic. For example, Xi Jinping seems to be taking courageous steps to reduce corruption. Asked what democracy means to him, His Holiness mentioned accountability. Regarding the issue of the Rohingya Muslims in Burma, His Holiness reported that he had appealed to the Buddhists there to remember the Buddha's face. He said he's convinced that if the Buddha were there he would offer the Muslims protection.
The Closing Panel of the Forum 2000 Conference began with video messages from Sir Nicholas Winton and Elie Wiesel. The moderator, Gareth Evans, former Australian Foreign Minister, listed six points that had arisen in discussions about societies in transition: history and culture; patience; action; individuality; leadership and ideas. F.W. de Klerk took this up saying that ideas should be given air, but that they cannot be left hanging, there needs to be vision and an action plan to turn them into reality. His Holiness replied: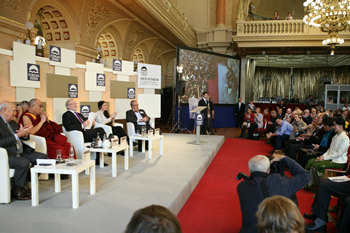 His Holiness the Dalai Lama and fellow panelists during the final session of the 17th Forum 2000 Conference at Zofin Palace in Prague, Czech Republic on September 17, 2013. Photo/Igor/SaveTibetRussia
"As you say, action is most important, but the quality of action is related to motivation. We must emphasize action, but we must not forget motivation. Motivation needs to involve compassion and concern for others. Another thing is that to make judgements about reality, our minds must be calm and we need to take a holistic view."
He recommended that delegates consider what they have learned here when they get home, that they discuss it and pass it on to others. Then, like when a pebble is dropped into water, their knowledge will become like ever expanding ripples across its surface.
Gareth Evans asked if collective responsibility can be taught and learned or does it arise through instinct. His Holiness replied:
"It can be taught. To educate people we need something like a map of the mind and emotions. Just as the need for physical hygiene is accepted as obvious, because we have thousands of minds and emotions, what we need now is a kind of emotional hygiene. With that people can learn from their own experience, this emotion leads to that result. They can identify which emotions are destructive and what are their causes. This is akin to an academic study rather than a religious matter; it should involve a scientific approach. Knowledge of the mind and emotions affects us all."
Karel Schwarzenberg raised the importance for societies in transition of the rule of law. His Holiness agreed but stressed that there it needs to a rule of law that meets international standards. Aung San Suu Kyi said, "We call it the rule of a just law." Schwarzenberg remarked that unfortunately bad governments tend to consider themselves above the law.
Yoani Sanchez, an opposition blogger from Cuba said that she wanted to add 'information' to the conversation. She stated that a modern person in a real democratic society needs to be informed.
When a question from the floor asked how to impel change, Karel Schwarzenberg said we should not forget the importance of perseverance. Yang Jianli raised the question of the renewal of China's membership of the UN Human Rights Council. Gareth Evans asked, "What do you do? Exclude them or keep them in?" His Holiness replied that there are people within China involved with campaigning for human rights.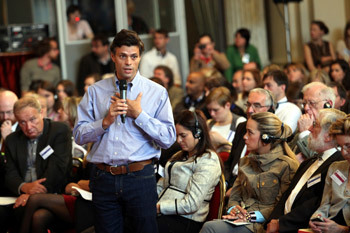 An audience member asking a question of panelists during the final session of the 17th Forum 2000 Conference at Zofin Palace in Prague, Czech Republic on September 17, 2013. Photo/Forum2000/Ondrej Besperat
"Just as Bishop Tutu relentlessly spoke up in support of Aung San Suu Kyi during her incarceration, we must show support for and solidarity with those, who like the imprisoned Nobel Laureate Liu Xiaobo, are taking a stand."
Yoani Sanchez pointed out that the dilemma in dealing with authoritarian governments, who in effect hold their people hostage, is like that regarding whether you negotiate with kidnappers. She favoured keeping channels open because to do so provides an opportunity for the victims to be freed.
In conclusion, Gareth Evans offered thanks to the 4000 participants, to the 140 speakers, and to two extraordinary speakers in the persons of His Holiness the Dalai Lama and Daw Aung San Suu Kyi. Finally, he acknowledged the dedication to the success of the conference of Executive Director, Jakub Klepal.
In the afternoon, His Holiness attended another panel discussion at Charles University focussing on 'Democracy, Human Rights and Religious Freedom in East Asia'. The Dean, moderating, declared that the idea of human rights was one of the best inventions of the twentieth century. Tomas Halik took up this theme saying that what had been achieved in 1948 with the Universal Declaration of Human Rights would be much harder to achieve today when the question is asked whether human rights really have a universal quality.
Steve Gan from Malaysia told stories illustrating how human rights are not regarded as universal in parts of Asia. He concluded that there is a need for dialogue on this not only between East and West, but also within religious communities. Chen Guangchen, Chinese human rights activist, told the gathering how happy he was to be there. He pointed out that when there is a political party with dominance over the whole of society there is a problem. When the party sees those who take a different line of thought and pursue them, there is a problem. He remarked that in China more money is spent on internal security than on the defence budget. He said that unlike other countries, in China the government is a tool of the party. The party dominates the government at every juncture. However, as the party consolidates its power, the public try to secure their rights.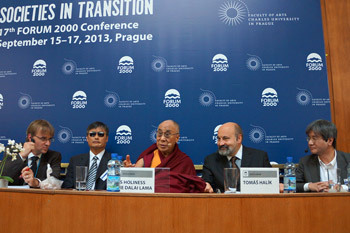 His Holiness the Dalai Lama with fellow panelist during their discussion on Democracy, Human Rights and Religious Freedom in East Asia at Charles University in Prague, Czech Republic on September 17, 2013. Photo/Jeremy Russell/OHHDL
The Dean asked His Holiness how successful he feels he has been in fulfilling his life's commitments - to human values and inter-religious harmony. He replied that on his first visit to Europe in 1973 he spoke of the need for more global responsibility. Since then more and more people, including scientists, have acknowledged the importance of human values and warm-heartedness and their role in creating happier individuals, families and communities. However, he said that many of our problems continue to arise due to a lack of moral principles.
"Regarding India, which is my second home, I feel like voicing some defence against earlier comments about inter-religious conflicts. India is a country where the leader of one of the leading political parties is a Catholic, the Prime Minister is a Sikh, the Vice-President is a Muslim and the President a Hindu. This is an example of India's secular nature, with respect for all religions."
Regarding the world trend towards democracy, freedom of speech and freedom of information, the 1.3 billion Chinese people are a cultured people, hard-working and realistic people. Therefore, it is only a matter of time before China becomes a more open society, but the party must listen to the people.
"Change is taking place. I have admired democracy since I was young. Once in the USA I said that America belongs to the American people, not the Democrat or Republican party. I repeated in Japan that Japan belongs to the Japanese people not to the Emperor. And Tibet belongs to the Tibetan people not the Dalai Lama. Since we had an elected leadership I have retired from any political responsibility. We can show our Chinese brothers and sisters that we can practise democracy. Despite some drawbacks, democracy remains the best system of government and as those of you here in the Czech Republic have found, once you have democracy the responsibility rests on your own shoulders and can be expressed through your representatives."
Chen Guangchen concluded saying:
"If you see human rights being violated, don't think it is none of your business."
His Holiness left the conference directly for the airport from where he flew to Hannover, Germany, where he is to participate in an event concerning 'Young People's Contribution to a Peaceful World'.