Dharamsala, HP, India, 1 June 2013 - Despite the sweltering summer heat, more than 8000 people gathered at the Tsuglagkhang here today to listen to His Holiness the Dalai Lama begin to explain Shantideva's classic 'Guide to the Bodhisattva's Way of Life'. This short series of teachings has been requested by a coordinated group of 1100 Indian Buddhists, among them 480 belonging to the Young Buddhist Societies of Rajasthan, Uttar Pradesh and Bihar. They were joined by 1900 foreigners from a variety of countries across the world and 5000 Tibetans, including 2000 monastics.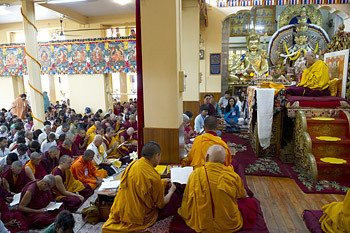 His Holiness the Dalai Lama during opening prayers at the Main Tibetan Temple at the start of the first day of his four day teaching given at the request of a group from India in Dharamsala, India on June 1, 2013. Photo/Abhishek Madhukar
Acknowledging Indians as the Gurus from whom Tibetans originally received the Buddha's teachings, His Holiness requested those assembled before him to begin by reciting the Heart Sutra together in Sanskrit. He then presented his appraisal of the variety of religious traditions as the context within which he would teach this Buddhist text. He distinguished religious traditions with and without a philosophical point of view, and of those with a philosophical view, he mentioned those that believe in a creator god and those that believe in the law of causality.
"All share a common goal of the betterment of humanity and through fostering common values of love and compassion allow us to nurture our fundamental human values."
Before opening the main text, His Holiness gave a brief explanation of 'Illuminating the Threefold Faith' - an invocation of the seventeen great and renowned sages of Nalanda that he composed in December 2001 in honour of the teachers of that great Indian centre of learning, which is the principal source of the Tibetan Buddhist tradition and its rich literature.

The opening lines of Shantideva's text, an explanation of which His Holiness received from the learned Kinnauri, Khunu Lama Tenzin Gyaltsen, give the Sanskrit title Bodhisattvacharyavatara, to show its authenticity, its Tibetan title to show the meaning – engaging in the deeds of Bodhisattvas – and the translator's homage to the Buddhas and Bodhisattvas to show that it belongs to the sutra collection. His Holiness remarked that this Guide to the Bodhisattva's Way of Life is held in esteem by all schools of Tibetan Buddhism and was one of the six classic texts of the original Kadampa tradition in Tibet.

The teachings are set to continue for another two and a half days.