Salugara, West Bengal, India, 27 March 2013 - After rain during the night and early morning, His Holiness decided to travel from Gangtok to Salugara by road instead of taking a helicopter. Before departing, he spoke to more than 65 members of the Gangtok Tibetan community at the Circuit House where he was staying. The Chief Minister of Sikkim, Dr Pawan Chamling came to wish His Holiness farewell. Before he got into his car, a guard of honour presented arms in the pouring rain. All the way through Gangtok and in the towns and villages on the road down to the state border people from all walks of Sikkimese life, school children and adults young and old, lined the road eager to see His Holiness as he passed.
There were further crowds of Tibetans on the road near Salugara and around the gate as His Holiness arrived at Sey Gyue Monastery. He was received by the new Abbot, Akya Yongzin Rinpoche, who is also a former abbot of Gyue-mey, the Lower Tantric College. He entered the main temple and after visiting and paying his respects to the various representations of the body, speech and mind of the Buddhas, he sat down to address the senior monks. He explained that there had been plans for shorter visits to Darjeeling and Kalimpong, but because his overriding wish is to be of benefit to others, he concluded that it would be more effective to hold three days of teaching and an empowerment here instead.
"Because of the weather yesterday we decided to come by road rather than by helicopter. And, as I told the students in Gangtok yesterday, that meant we could enjoy the natural landscape on the way and many people were out and happy to see me. I was able to do my prayers, not with much concentration, but we spent the time well."
After a short break for lunch, His Holiness drove the short distance to the ground where he was to teach, which was the site of a Kalachakra Empowerment in 1996. He asked the crowd how many could understand his Central Tibetan speech, how many understood Nepali and who wanted to listen in English. He also asked who had come from Darjeeling, from Kalimpong, from Bhutan and further afield. He explained that he would be teaching Longchen Rabjam's 'Resting the Mind in its Natural State' and Je Tsongkhapa's 'Concise Stages of the Path to Enlightenment.'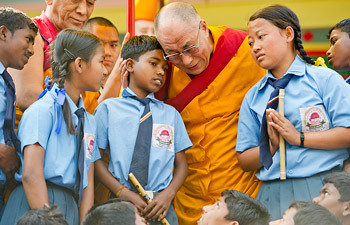 His Holiness the Dalai Lama greets students who performed on his arrival at the teaching ground in Salugara, West Bengal, on March 27, 2013. Photo/Tenzin Choejor/OHHDL
"Once you've listened to the teaching, especially if you have a copy of the text, don't just count yourself fortunate, but review what you have heard, think about it again and try to incorporate it into your life. If you can, make notes or record the teaching and listen to it again."
His Holiness explained that because we have a mind, a source of experience, we encounter pain and pleasure. Every one of the 7 billion people on earth today seeks to achieve happiness and avoid suffering, but they are not especially successful in fulfilling this wish. In the past, people began to place their trust in a creator god, but after some time non-theistic traditions arose like one section of the Samkhyas, the Jains and Buddhists, who paid more attention to the law of causality. However, despite differences in their philosophical approach, the various religions have helped people cope with life's challenges. They have a common message of love, compassion and tolerance, which is why His Holiness counsels people to keep their own faith while cultivating respect for others.
He remarked that this is nothing new in India with its several home grown religious traditions, where other major religions have also found a happy home. Of himself, he said:
"I am a Buddhist following the Nalanda tradition. I have studied many of the classic texts by the Nalanda masters who rigorously answered the challenge of other schools of thought. From a Buddhist point of view, the idea of atman or a soul, a being that goes on permanently from life to life is mistaken. But such views have been helpful to their followers and as such are worthy of respect.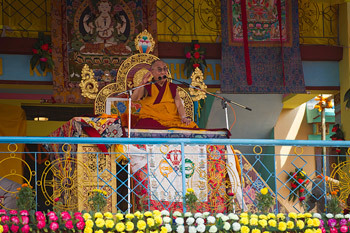 His Holiness the Dalai Lama speaking during the first day of his three day teaching in Salugara, West Bengal, on March 27, 2013. Photo/Tenzin Choejor/OHHDL
"Today, there are 7 billion people in the world, 1 billion of whom describe themselves as non-believers, many of whom consequently neglect the ideas of love and compassion as being the stuff of religion. However, they too wish to find happiness, and if that's what you wish, you need a calm and subdued mind. Peace of mind is disturbed by anger, fear and suspicion. Scientists even suggest that, on a physical level, these negative emotions eat into our immune system."
His Holiness clarified that whether they are young or old, everyone appreciates kindness and affection. These are not confined to religion, they are feelings with a biological basis; they are for our own good.
Turning to differences within Buddhism, His Holiness recalled a time when followers of the Pali tradition were wary of the Mahayanists who follow the Sanskrit tradition, questioning whether their teaching was taught by the Buddha. These days however, it is much clearer how much they have in common, that all Buddhist traditions follow essentially the same Vinaya or monastic discipline.
Once again His Holiness stated that it is clear that Tibetan Buddhism as a whole belongs to the Nalanda tradition. He recounted meeting a woman in the USA who told him that not everyone in the Nyingma and Kagyu traditions was happy to be included as part of the Nalanda tradition. He points out that not only do all Tibet's Buddhist traditions study the works of Nagarjuna and other Nalanda masters, but one of the first teachers of the Nyingmas was Shantarakshita, who, in his day, was a reputed professor at Nalanda. Similarly, a key teacher of the Kagyu lineage was Naropa, who was also a Nalanda professor before he took up the life of a mendicant adept. Atisha, principal teacher of the Kadam tradition came from Vikramashila, where they studied the works of the Nalanda masters. Of all the different Buddhist traditions in their different countries, only Tibetans employ the Indian discipline of logic in their studies. Because this is the basis to which is added study of the perfection of wisdom and tantra, it is justified to refer to the Tibetan tradition as the most complete system of Buddhist teachings.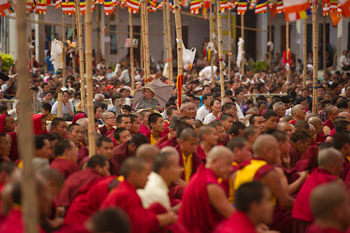 Some of the audience gathered to listen to His Holiness the Dalai Lama's teachings in Salugara, West Bengal, on March 27, 2013. Photo/Tenzin Choejor/OHHDL
We all want happiness, but as Shantideva says, despite this, and tending to think of suffering as something imposed from elsewhere, we mostly pursue the causes of suffering and destroy the causes of happiness. Je Tsongkhapa on the other hand asserts that if we follow the path taught by the Buddha, it will lead to liberation.
Beginning to teach 'Resting the Mind in its Natural State' His Holiness mentioned the threefold division of the text. The first part deals with turning the mind away from the cycle of existence; the second deals with teachings of the Sutrayana, while the teaching of Tantra concerns the third part.
In his 'Concise Stages of the Path to Enlightenment,' Je Tsongkhapa begins by paying homage to the Buddha and to members of the lineages of profound view and extensive deeds. His Holiness expects to take both texts further during morning and afternoon sessions tomorrow.