Dalhousie, Himachal Pradesh, India, 28 April 2013 - His Holiness the Dalai Lama was escorted from his car to the stage at the Central School for Tibetans, Dalhousie, this morning, sheltered from the sun by a ceremonial umbrella. With folded hands he greeted all who had come to attend the school's 50th anniversary celebrations and took his seat.
The first part of the ceremonies involved a march-past by present and past students of the school; the present students divided among their four houses and the past students grouped according to the decade in which they attended the school. They marched to the beat of a pipe and drum band. At the conclusion everyone stood to sing the national anthems of India and Tibet.
The assembly was addressed first by the local SDM, Dr SK Dhiman and then by the school Principal Mr VK Singh, who referred to the students, teachers and staff as a family. In his speech, Sikyong Dr Lobsang Sangay expressed the greetings of the 14th Kashag on the occasion. He recalled that when His Holiness and the Pandit Nehru met, Nehru advised that the way to serve the Tibetan cause was to educate the children. The Tibetan schools in India have shown this to be true. He remarked that literacy among Tibetan children in India today is 84%, whereas the corresponding figure for children in Tibet is 20%., What's more, many of them are induced to learn Chinese rather than their own language. As evidence of the quality of education in Dalhousie, he noted that half of his cabinet have connections to this school.
Former Kalon, Thubten Lungrig, a Dalhousie alumnus, said:
"We lost our country, but found here a new home. No country has done so much, for so long, as India has done for Tibetans."
His Holiness was invited to release the Golden Jubilee Souvenir magazine and a book on local wildlife. Tokens of gratitude were presented to His Holiness, to the Government and People of India and to former Principal, Prof Samdhong Rinpoche. Sikyong Lobsang Sangay was called upon to present tokens of gratitude to retired staff of the school and the appearance on the stage of several elderly Indian teachers stirred an affectionate cheer from the crowd.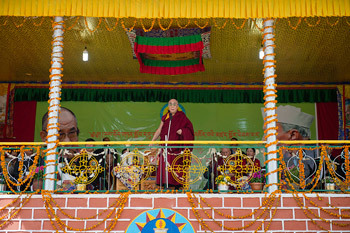 His Holiness the Dalai Lama during CST, Dalhousie's 50th Anniversary celebrations in Dalhousie, HP, India, on April 28, 2013. Photo/Tenzin Choejor/OHHDL
When it came to His Holiness's turn to speak, he began by reciting a verse of homage to Avalokiteshvara.
"On the auspicious occasion of the 50th anniversary of this school, I offer you all my greetings and congratulations. The school has produced many educated people. Graduates from here are serving different communities around the world. A large number of alumni have come to attend today out of a sense of gratitude and pride in the school.
"We are all born human beings and the essence of being human is to be of help and service to others. There is no use harming others while you are alive. You don't necessarily need to follow a religion, but if you live a good life and benefit others in some way, you'll be able to die without regret. Prof Samdhong Rinpoche here is an example. He studied hard in Tibet and when he came here, he served the school and community well. Others of you too have made a great contribution to the Tibetan community and I'd like to thank you all.
"During the march past I noticed that those who belonged to the first decade 1963-72 weren't all able to march very well, but it looked like you did it with a good heart."
He declared that the Tibetan struggle is not confined to one generation, but goes on. He said Tibetans have a rich culture that they want to preserve. Buddhism may be 2600 years old, but it still has a contribution to make today.
"Buddhism came to Tibet in the 7th century and became part of the Tibetan identity. Although there have been political ups and downs, we have held firm to our religion and culture. And although many of us may now be living in different countries we are keeping our language, religion and culture alive. This is not only something to be proud of, but also a source of hope. Indeed, in the Tibetan community there are very few reports of people committing suicide out of despair. Preserving our religion and culture is a source of strength, for without them it's as if we are only half Tibetans. Responsibility for this will in due course fall to the present younger generation and you too will grow and become models for the generations who will come after you.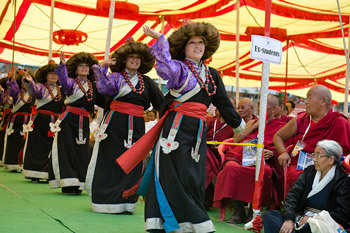 Performance of traditional Tibetan dance during CST, Dalhousie's 50th Anniversary celebrations in Dalhousie, HP, India, on April 28, 2013. Photo/Tenzin Choejor/OHHDL
"My congratulations once again and thank you."
Performances of songs and dances followed, beginning with a song for His Holiness's long life. Rector Dawa Tsering offered the concluding words of thanks in Tibetan and Hindi.
After lunch, His Holiness posed for photographs with various groups of students, past and present, and then talked to them about the present situation in Tibet and hopes for change in the future.
A short drive down the hill took His Holiness to the gates of the Dalhousie Public School (DPS), an institution with 1000 residential students, from Kindergarten to Class 10. They were joined by students from other schools nearby, such as the Sacred Heart School and the Guru Nanak Public School. Events began with an elaborate dance by boys and girls of the DPS expressing the timeless Indian greeting, "Namaskar ." Introducing His Holiness to the students, the Principal of the DPS said that his presence made it a 'red-letter day.'
"Dear young brothers and sisters," His Holiness began, "I am extremely happy to be here with you, such a large number of young students. As someone approaching his 78th birthday, when I meet young people like you, it makes me feel younger again. Looking at you, in this beautiful wooded environment, I'm aware that people like you are the face of modern India and you will take responsibility for the future.
"The Buddhadharma reached Tibet directly from India in the 7th century, established by Shantarakshita, an eminent scholar of the University of Nalanda. So, historically I regard India as our guru, while we are your chelas, but reliable chelas, because we have retained intact the traditions we received from you. Our relations are not based on economics or politics, but on spiritual affairs. I sometimes describe myself as a 'son of India' and the reason is that every particle of my brain has been influenced by Nalanda thought and for more than 50 years my body has been nourished by Indian rice, dal and chapatis.
His Holiness the Dalai Lama greeting students on his arrival at Dalhousie Public School in Dalhousie, HP, India, on April 28, 2013. Photo/Jeremy Russell/OHHDL
"India is the only country where all the world's major religions live together side by side. This is an expression of true brotherhood and sisterhood. This country is by and large stable and peaceful, rooted as it is in democracy and the rule of law. It is a model for others to follow."
He remarked that there is a moral crisis in many parts of the world that can be attributed to the material emphasis of modern education. He suggested that this can be rebalanced by introducing inner values such as warm-heartedness by incorporating secular ethics into the modern school curriculum. Secular ethics can involve knowledge of the workings of the mind and emotions that is to be found in ancient Indian thought. What we need, he suggested, is a map of the emotions, a guide to the functioning of the mind. Just as we observe physical hygiene to maintain our physical health, so we need to develop mental and emotional hygiene to ensure that we have healthy minds.
"Think about this. What we need is knowledge and understanding that are education for the brain on the one hand, but also the warm-heartedness that is education for the heart on the other. We are responsible for many of the problems we face, so logically we should be able to deal with them ourselves. And if you can do that, you should be able to build a happier, more peaceful world in the twenty-first century."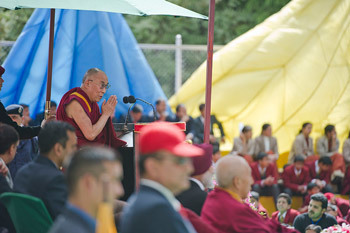 His Holiness the Dalai Lama answering questions from students during his visit to Dalhousie Public School in Dalhousie, HP, India, on April 28, 2013. Photo/Tenzin Choejor/OHHDL
Several students asked questions. About music, His Holiness declared he knows very little, but conceded that music and other artistic media may be good ways of conveying messages of peace and harmony. About happiness, he said there is sensory pleasure dependent on the senses and short-lived, while there is also happiness of the mind that is longer lasting and more effective. About 'Om mani padme hung' he explained that it is a Buddhist mantra, and that Buddhism emphasizes using our minds and intelligence to achieve happiness. He said that Om has three parts that symbolise the body, speech and mind that we aim to purify. Mani means jewel and represents altruism, while padme means lotus and represents wisdom. To achieve enlightenment we need wisdom and altruism, and the combination is represented by the final syllable 'hung'. About his gurus, His Holiness said he's had 18 gurus with whom he's studied, but he has great admiration for Mahatma Gandhi, Rajendra Prasad, Vaclav Havel and Willy Brandt. He said he also considered Mao Zedong a great person. About those who have inspired him he mentioned David Bohm and Carl von Weizsacker who taught him about Quantum Physics, Gandhi again, Nelson Mandela and Bishop Desmond Tutu, both of whom worked hard for reconciliation in South Africa.
Finally he was asked what one thing would solve our problems and he answered that most of our problems are related to the mind, so we have to work to reduce our destructive emotions.
Early tomorrow morning, His Holiness will drive back to Dharamsala.