Sarnath, Uttar Pradesh, India, 11 January 2013 - This morning, Ven Prof Ngawang Samten, Vice Chancellor of the Central University for Tibetan Studies (CUTS), escorted His Holiness the Dalai Lama on the short walk from his residence in the university grounds to a large shamiana erected on the lawns. There the staff and students of the university and other guests eagerly awaited him.
A group of young women students sang the first welcoming song in Sanskrit, followed by a praise to the Three Jewels chanted in Tibetan by a group of monks, and finally a mixed group of students played the University anthem on dramnyen, flute and drum.
In his welcoming address Ven Ngawang Samten thanked His Holiness for agreeing to talk to the staff and students of the university following his teaching of the Guide to the Bodhisattva's Way of Life. He reported on the progress the university has made. A cooperative agreement with the Indira Gandhi Open University to set up a joint degrees course in Buddhist studies is functioning although its formal launch has been delayed. Once it has been proven in English, plans are for it to be made available in Hindi and Tibetan too. Other plans are afoot to set up a teacher training college at the request of the Central Tibetan Administration, but again bureaucratic obstacles are still to be overcome. On the whole, students are making good progress in the university. Exams are being revised to be more effective and opportunities to submit a thesis as part of the finals are being considered. Students have been encouraged to develop better public speaking skills and have been introduced to meditation practice.
Relations with the Government of Bihar are warm and there are proposals to create a project to produce critical editions and translations into Hindi and English of Sanskrit texts brought out of Tibet by Rahul Sankrityayan. Meanwhile, the Madhya Pradesh Government wants the university to participate in setting up a course in Buddhism at the University of Sanchi.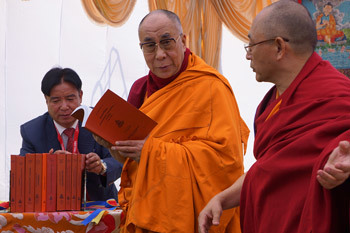 His Holiness the Dalai Lama with Ven Prof Ngawang Samten releasing new books published by the Central University for Tibetan Studies in Sarnath, Uttar Pradesh, India, on January 11, 2013. Photo/Jeremy Russell/OHHDL
Finally, the Vice Chancellor requested His Holiness to release a number of scholarly books in Sanskrit, Tibetan and Hindi published by the University, among them works by Prof Ram Shankar Tripathi and Prof Yeshe Thabkhe.
His Holiness warmly responded,
"For two generations Tibetan and Indian scholars have worked hard together here and made progress. I'm very glad to be able to release these books which are clear evidence of that progress."
"Nevertheless," he cautioned, "sometimes, when all is going well, we tend to take things for granted and lapse into complacency. We have to continue to work hard and see where else there is room for improvement."
He said the writings of the scholars of the glorious Nalanda University were products of wisdom; not mere dry philosophical speculation, but of practical relevance today. It is no exaggeration to say that, since Shantarakshita established Buddhism in Tibet, a great heritage has evolved that has been preserved up to the present. Over the last 50 years or so programmes of study have continued, but there has not been much interaction with the outside world. The university allows study in an academic atmosphere and provides some opportunity to reach out the academic world abroad.
After encouraging his listeners, staff and students alike, to actually read the books in the Kangyur and Tengyur, His Holiness once again reiterated the need to study and practise. There is a great deal in these classic volumes that can be of unviversal benefit.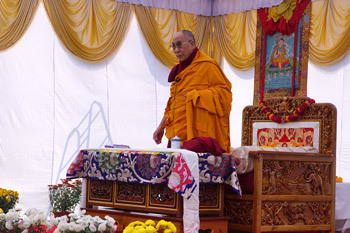 His Holiness the Dalai Lama speaking at the Central University for Tibetan Studies in Sarnath, Uttar Pradesh, India, on January 11, 2013. Photo/Jeremy Russell/OHHDL
"Happiness is based on sound ethics. All religious traditions teach about this and their founders remain a source of great inspiration. However, in their behaviour many of their followers today don't measure up. Therefore, it's not enough to encourage people to conduct themselves in a certain way because that is what religion counsels. We have to suggest they do it because they will benefit both immediately and in the long run.
"If people become more aware of the way the mind works, they'll learn what brings about lasting happiness. Inner development involves caring for others' welfare. Preparation of these various books is excellent, but the next stage is to extract from them what can help ordinary people in their daily lives; what can help them shape their lives in a more positive way. And this will contribute to our secular ethics programme."
In offering words of thanks, Prof Yeshe Thabkhe referred to His Holiness as the 'friend of all living beings' and thanked him for his extensive teachings, particularly at a time when Buddhist culture in being almost obliterated in Tibet. He suggested that students will have taken special inspiration from what they have heard and he encouraged them to keep it constantly in mind. He concluded,
"I beseech you to live long for the benefit of all beings; may your precious advice spread far and wide, and may you visit this university again and again."
His Holiness the Dalai Lama at Mulagandha Kuti Vihar Temple in Sarnath, Uttar Pradesh, India, on January 11, 2013. Photo/Jeremy Russell/OHHDL
In the afternoon, His Holiness made a brief pilgrimage to the great Dhamek stupa nearby. Greeting the throngs of people waiting for him on the way he made a complete circumambulation of the ancient monument. Next he proceeded to the Mulagandha Kuti Vihar of the Mahabodhi Society. Sri Lankan bhikkhus met him at the gate and accompanied him into the temple, where he lit the ceremonial lamp. They revealed the casket that contains relics recovered from stupas in Taxila that is now in north-west Pakistan and he paid his respects. Again he made one circumambulation of the sanctum and sat to pray. He also made a round of the Dhammachakra Sutta temple.
The final stop was at the Tibetan Monastery. Founded in1955 by Thubten Jungney, popularly known as Gyen Go-ser, he left it to His Holiness when he died. His Holiness passed responsibility to the Department of Religion & Culture of the CTA and ownership has now been vested in the Lhadhan Chotrul Monlam Trust. Since then the monastery has offered support to pilgrims.
In his speech, Kalon for Religion, Pema Chinjor, mentioned Angrup Lahouli a scholar at Punjab University once telling him that despite being quite illiterate, Gyen Go-ser was determined to buy this land and set up a monastery on it. It took great courage and has been very helpful to the Tibetan community. Regarding the Trust, he said the Monlam or Great Prayer Ceremony has been going on for about 600 years since being established in Lhasa by Je Tsongkhapa. The Trust is intended to preserve this tradition into the future.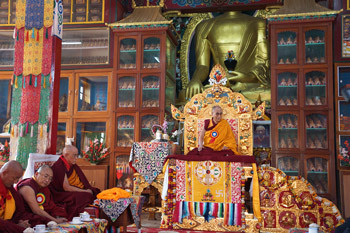 His Holiness the Dalai Lama at the Tibetan Monastery in Sarnath, Uttar Pradesh, India, on January 11, 2013. Photo/Jeremy Russell/OHHDL
In his remarks, His Holiness recalled visiting this place with the Panchen Rinpoche in 1956 when it was only a small building. When he came again in 1959, it had grown. His tutor Trijang Rinpoche used to spend the winter here and used to tell him how good the local curd was.
"It would be good if you could make books available here, books about the Dharma and about Tibet. Leaflets that explained the history of Tibetan Buddhism would also be helpful for educating pilgrims. You could even set up small instruction programmes for pilgrims. For example, it would be good to let people know that Tibetan Buddhism has its origins in the traditions of Nalanda University."
His Holiness was then required to sign and place his thumbprint on a number of documents that completed the transfer of the ownership of the land and monastery to the Lhadhan Chotrul Monlam Trust. That done he returned to his residence at the University.