Gurgaon, New Delhi, India, 6 October 2013 - At the start of a trip that will take him to USA, Mexico and Poland, His Holiness the Dalai Lama spoke at the Global Spa and Wellness Summit in Gurgaon today. Having flown from Dharamsala to Delhi, he drove directly to the gathering where he was met on arrival by his host and old friend, Analjit Singh, founder and chairman of Max Healthcare.

Once the friendly welcoming applause had died down, His Holiness began by addressing his 'respected brothers and sisters' explaining that he always likes to start this way because he believes that the 7 billion human beings alive today are the same. They all wish for happiness and all have a right to achieve it. With a twinkle he added: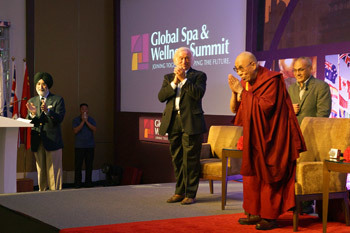 His Holiness the Dalai Lama greeting the audience at the start of his talk at the the Global Spa and Wellness Summit in Guragon, India on October 6, 2013. Photo/Jeremy Russell/OHHDL
"Of course, what we also have in common is that we all face problems of one sort or another too. Anyway, I am very happy to be here and I thank my old friend Analjit Singh for the invitation."
Noting that wellness was the key theme he declared that having a compassionate attitude is the ultimate basis for living a happy life. Happiness is directly related to warm-heartedness, which is more important than having a brilliant brain.
"Everyone wants to live a happy life," he said, "but we tend to look for happiness and satisfaction in material things. However, several scientists I have spoken to now acknowledge that having a happy mind is crucial to physical health. This is why I propose that in addition to physical hygiene we also need to cultivate a sense of emotional hygiene."
Recalling the violence of the wars of the twentieth century, particularly the horrors of the nuclear bombings of Hiroshima and Nagasaki, His Holiness observed that today, across the world, public opinion is more inclined towards peace and non-violence. He suggested that this is important since by the end of this century climate change is likely to generate natural disasters and the increasing human population will introduce pressure on resources.
"However, as social animals," he added, "we must be concerned for others' well-being. If we can cultivate such concern there'll be no room for us to cheat, bully or deceive others. Warm-heartedness is related to co-operation. Co-operation depends on trust and trust arises if we live according to basic human values that I refer to as secular ethics."
He added that he does not think mental well-being will be achieved simply by praying for it, but by actually cultivating a sense of warm-heartedness for others. This, he said, is what he wanted to share with the audience.
Next, he invited questions which were moderated by Dr. Kenneth R. Pelletier. The first related to how to deal with negative emotions. His Holiness's answer was through awareness. He pointed out that when we want to rest or reduce stress we have to have a calm mind, lying down with a mind full of anger does not work. In order to develop emotional hygiene he suggested that we need a map of the mind. He also said that the ancient Indian practices for developing concentration and insight are very helpful too.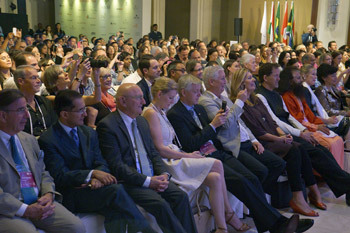 Members of the audience listening to His Holiness the Dalai Lama speaking at the Global Spa and Wellness Summit in Guragon, India on October 6, 2013. Photo/Jeremy Russell/OHHDL
Since one of the themes of the summit was "a defining moment", His Holiness was asked if he would share a defining moment from his own life. He replied:
"At 16 I lost my freedom, at 24 I lost my country, in fact I was only 5 when I lost my individual freedom and the opportunity to play with other children. So, when I was still young I used to sit in meditation retreat in the Potala with my stern-faced teacher and in the evenings I would hear the shepherds singing as they brought their flocks back from grazing. And I used to think I'd like to be like them. Then at the age of about 13 or 14 I began to take a real interest in study and spiritual practice, so I suppose that was a defining moment for me."
Asked about the basis for his optimism, His Holiness replied that he believes in human intelligence and warm-heartedness, because of which human beings have a great positive potential.
Finally, a question was asked about how he views Tibetan culture and what people outside Tibet can do to support it. He answered:
"Tibetan culture is a culture of peace and non-violence; it's a culture of compassion. More and more people are coming to appreciate such values, which are related to our Buddhist tradition, the Nalanda tradition. We Tibetans are the chelas of Indian gurus, but these days, as far as Buddhism is concerned, we chelas are more active than our gurus. I believe we can look at Tibetan Buddhist culture in terms of science, philosophy and religious practice and I feel that the science part can be of universal interest and benefit. Nowadays too, surveys have suggested that there are 300 million Buddhists in China, many educated people among them, and many interested in Tibetan Buddhism.
"As to what you can do to support our culture, I often advise people, go to Tibet and see for yourselves what's happening there. Pay attention to Tibet's delicate ecology that has been described as like a Third Pole because of its influence on climate and water supplies. So, go there, look, observe and report back. Thank you."
Tomorrow His Holiness embarks on a long journey that will take him to Atlanta, Georgia, USA.