Jaipur, Rajasthan, India, 24 January 2013 - The Jaipur Literature Festival that began in 2006 and has grown to be an event of world significance was host today to His Holiness the Dalai Lama. The theme of this year's Festival is 'The Buddha in Literature'.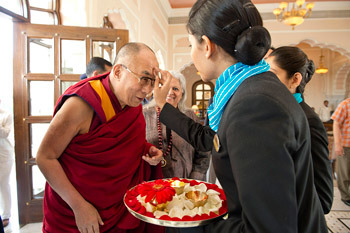 His Holiness the Dalai Lama is receives a traditional welcome on his arrival at Rambagh Palace in Jaipur, India, on January 24, 2013. Photo/Tenzin Choejor/OHHDL
On his arrival in Jaipur, His Holiness was received by Bina Kak, Minister for Tourism in the Rajasthan Government at the Rambagh Palace. When he reached the Diggi Palace, the venue of the Festival, in the early afternoon, he was welcomed by Pico Iyer, with whom he was to hold a public conversation, and Festival producer Sanjoy Roy.


After a short preliminary chat, His Holiness and Pico Iyer made their way to the stage through throngs of people eager to catch His Holiness's eye or shake his hand. Among that crowd and lining the road outside were some of the many Tibetans who come to Jaipur to do business during the winter, also keen to catch a glimpse of their spiritual leader.
Having taken their seats on the stage before an estimated crowd of 4000 packed onto the lawns of the Diggi Palace, Pico Iyer opened the conversation by asking His Holiness if he could remember his impressions as a child when he first heard the story of the Buddha. His Holiness recounted memories less of the historical Buddha's life, than of the Jataka Tales, stories of his lives prior to that in which he became a Buddha. He said that those stories that told of how the Bodhisattva had sacrificed his life and possessions on various occasions out of concern for others were very moving.
He recalled his longstanding reverence for India as the source of the Buddha's teaching. He explained that although the first Tibetan Emperor to decide that Buddhism was suitable for the Tibetan people had married a Chinese Buddhist princess, he and his successors preferred to turn to India in search of Buddhist knowledge. This is how it came about that in the 8th century CE the Emperor Trisong Detsen invited the noted Nalanda scholar Shantarakshita to Tibet to teach. Among his works are notable volumes on logic and Madhyamaka philosophy, evidence of his scholarly standing and the fact that philosophy and reasoning have been an integral part of Tibetan Buddhism from the beginning.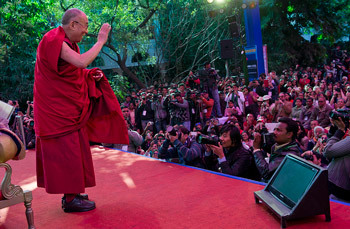 His Holiness the Dalai Lama greeting the audience at the Jaipur Literature Festival in Jaipur, India, on January 24, 2013. Photo/Tenzin Choejor/OHHDL
His Holiness briefly reviewed the pattern of study he had followed, which began with memorization of Indian Buddhist texts in Tibetan, and the study of commentaries to them. He confessed to not having been very enthusiastic when he was a small boy, taking greater interest in dismantling and trying to reassemble various mechanical toys. But from the age of eleven, when he began to debate, he understood the need to prepare through study. Later, at the age of about eighteen, he developed a further interest in engaging in meditation on what he had read, analysed and debated.
Pico asked about the Buddha's statement, "Do not accept my Dharma merely out of respect for me, but analyze and check it the way a goldsmith analyzes gold, by rubbing, cutting and melting it." His Holiness said he thought this advice was available in both Pali and Sanskrit and that the great masters of Nalanda University like Nagarjuna and his student Aryadeva took it to heart, carefully subjecting what the Buddha taught to close analysis. Along these lines His Holiness said that about 40 years ago he embarked on an exploration of science, despite a friend's advice to be wary because, "Science is the killer of religious faith." He reflected that as science seeks reality through investigation and analysis as Buddhism does, their approach is similar. The difference, of course, is that science has mostly concerned itself with material things, while Buddhism has focussed more on the mind and emotions. It has been a fruitful conversation with several points of correspondence:
"Buddhist philosophy explains that everything is subject to change, that, underlying the obvious or evident change that we refer to as impermanence, is momentary change. Today, scientists have instruments through which we can see actual evidence of this."
His Holiness also quoted Indian scientist, Raja Ramanna, the nuclear physicist, telling him proudly that he had found an implicit explanation of quantum mechanics in Nagarjuna's 2000 year old writings.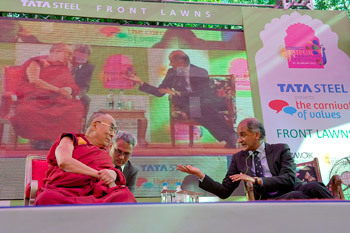 His Holiness the Dalai Lama and Pico Iyer at the Jaipur Literature Festival in Jaipur, India, on January 24, 2013. Photo/Tenzin Choejor/OHHDL
His Holiness expressed admiration for ahimsa and religious harmony, ancient Indian values integral to Indian culture that he encourages modern Indians to foster while they also seek material development. At the same time he lamented the fact that corruption is rife, expressing his surprise that in a country so religious minded, where so many households start the day with reverent prayers and offerings, that this should be the case, as if spiritual life and day to day life have nothing to do with each other. He said,
"We Tibetans regard India as our guru, we are the chela and about this, the chela is concerned. But we are not only chelas, we are reliable chelas, because all the knowledge we possess originated in India and we have preserved and practised it and now brought it back to the land of its birth."
Pico paid tribute to His Holiness's standing in the world and asked about His Holiness's most recent book Beyond Religion: Ethics for a Whole World and whether he meant he had found a path superior to the religious one.
"The title was the publisher's idea, not mine," His Holiness quickly clarified. "I was concerned that the book might seem to be about something more important than religion, but that was not my intention. What I wanted to say is that all religious traditions teach about morals and ethics. At root these ethics can be thought of separately from religious tradition as secular ethics.
"We 7 billion human beings are the same emotionally, physically and mentally. We all want a happy life and we all have the same right to achieve that goal. I am concerned to inform people that money and material development by themselves do not bring happiness. What we need is inner strength, confidence and concern for others' welfare. If you are honest, truthful, and transparent, people trust you. If people trust you, you have no grounds for fear, suspicion or jealousy. You'll have self-confidence and peace of mind."
There was a question from the audience about Goenka's approach to meditation. His Holiness responded that he knows Goenka well and suggested that it would be useful in addition to following his meditation to study what Buddhist literature has to say about the functioning of the mind. Someone else wanted to know about how to give up fear, and His Holiness told him,
"Of course, if there's an earthquake, there isn't much time to think, but in the case of other challenges, perhaps the advice of the 8th century Indian Buddhist master Shantideva would be useful. He said, "If a problem can be solved, there's no point being worried or afraid about it; but if a problems can't be solved, being worried or afraid about it will be of no help at all." This, His Holiness said is practical advice."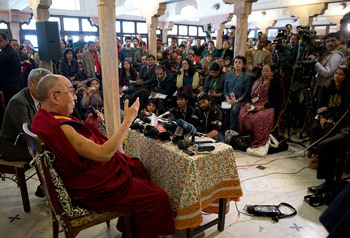 His Holiness the Dalai Lama speaks with members of the press in Jaipur, India, on January 24, 2013. Photo/Tenzin Choejor/OHHDL
Speaking to the Press, His Holiness commended harmony among our religious traditions and warm-heartedness in our relations with each other. Asked about the Kumbh Mela in Allahabad, he said he is expecting to go next month and that it will be the fourth time he's attended.
"Since my first pilgrimage there, I noticed millions of faithful, peaceful people come there too, all of them vegetarian so that not one life is taken during the event. Wonderful."
Likewise, asked if he approved of death sentences for rapists, His Holiness said that Amnesty International has campaigned for more than three decades to abolish the death penalty across the world and that he is a signatory to that campaign. So that's his stand, although decisions about such things are up to each country.
Finally, referring to His Holiness as a noted proponent of non-violence he was asked what can be done about growing intolerance. He replied,
"I often point out that the twentieth century was an era of violence and bloodshed. If this had led to positive change it might have been justified, but instead it produced pain, fear and widespread destruction. Now in the twenty-first century if we are not to repeat these mistakes, we need to make it instead a century in which dialogue is the way we solve our problems. That's all, goodbye."