Sarnath, Uttar Pradesh, India 8 January 2013 - As the cold weather eased this morning, His Holiness the Dalai Lama was received with warm smiles at the teaching ground by an audience of nearly 6000: approximately 2000 monks and nuns; 800 from the Himalayan regions; 2500 from the Tibetan public; 96 registered members of the media and 650 foreigners from 33 different countries. His Holiness began by explaining the context for what he is doing:
"I'm explaining this text in Tibetan, but prior to that today we are reciting sutras in Pali, Chinese and Korean - and I hope there will be recitations in Japanese and other languages in the next two days. What this shows is that Buddhism spread to countries with different languages, among which are those, mostly in the south, that depend on scriptures written in Pali and others, mostly in the north, that depend on scriptures that originated in Sanskrit. All of them observe the Vinaya or monastic discipline observed by monks, while China and Vietnam also maintain a lineage of Bhikshunis or fully ordained nuns."
He went on to emphasise that although the various Vinaya traditions may involve different numbers of precepts the actual differences between them are relatively minor. An example he cited concerns the monk's lower robe, which, according to the Mulasarvastavadin tradition preserved in Tibet, should be free of seven faults such as being too tight. Theravada tradition mentions only that the lower robe should be worn properly.
Just as there were misunderstandings in the past about the prevalence of the Vinaya in Buddhist countries, there were those who asserted that the Tibetan spiritual system should be called Lamaism, implying that it was not an authentic Buddhist tradition. His Holiness recalled that visiting South Africa after Nelson Mandela became President, he was introduced as a representative of Lamaism.
"I say that it is not Lamaism, but a true lineage of the Nalanda tradition, which is largely derived from Nagarjuna. His 6 texts on reasoning are major objects of study for us. In the Nyingma tantric tradition, Nagarjuna is counted as one of the rigzins, while in the tradition of the New Tantras we received Guhyasamaja through him. Therefore, we are indebted to Nagarjuna for several lineages of philosophy, logic and tantra, which came to us from Nalanda. Suggestions about Lamaism are based on misunderstandings."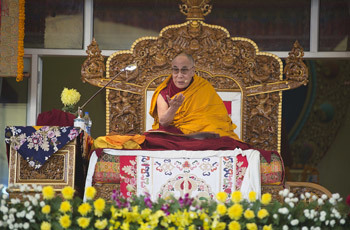 His Holiness the Dalai Lama speaking during the second day of his teachings in Sarnath, Uttar Pradesh, India, on January 8, 2012. Photo/Tenzin Choejor/OHHDL
His Holiness clarified that Tibetans take refuge in the Buddha, Dharma and Sangha and for reasons related to tantra add to this taking refuge in the Lama. He said that in the past in Tibet a Lama's status was judged by the number of horses he had, while Geshes and Abbots were not honoured that much; this has now changed. Geshes and Abbots are Lamas, who are not counted as Tulkus, (recognised reincarnate lamas), but are qualified by their education and practice. In the West are those who claim to be Lamas, but who are really seeking a livelihood.
Meanwhile, His Holiness has received reports of Lamas going to China and misbehaving because all they were really interested in was money and women. He has been asked to intervene, but replied that there isn't much he can do from India. He told them, "You who are there should examine the Lama's qualities and measure them against the 10 qualifications of a Lama or Guru specified by Maitreya. And if they don't measure up, engage them in discussion, but don't treat them as Lamas." Je Tsongkhapa said, "If you are unable to tame yourself, how can you hope to tame others?"
Turning to the question of science, His Holiness said that scientists are dealing with evident phenomena. When they seek to know about the workings of the mind, they look to the Tibetan tradition for help. In addition to dialogues with scientists, Buddhism is gradually opening to interaction with other religious traditions and other Buddhist communities.
"We should be proud and delighted with this. We all follow the same teacher - the Buddha - and can learn from each others. This would be a fitting offering to the teachers."
In the text, His Holiness highlighted the seven branch prayer, beginning with offering, stressing that the most important practice was the offering of practice to the teacher. Next came prostration and confession and he cited Mila's remark that for confession to succeed you need to have a sense of regret.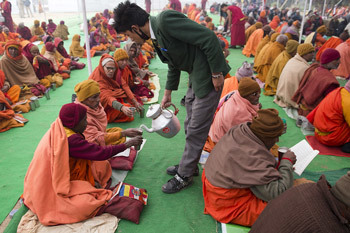 Tea being served to some of the many Indian monks attending His Holiness the Dalai Lama's teachings in Sarnath, Uttar Pradesh, India, on January 8, 2012. Photo/Tenzin Choejor/OHHDL
Considering something common to us all, that we are going to die, His Holiness observed that 80 years from now, none of us will be here. Death is certain, but when it will come is unpredictable. Since we are healthy and young, most of us assume that we won't die tonight. What can we do to prepare ourselves? He suggested cultivating a warm heart, which will bring us friendship and good health. Help the poor, not only those whose poverty is a lack of wealth, but also those whose poverty involves a lack of positive states of mind.
He spoke about what we may consider our natural defences. Attachment seems to protect us and anger seems to defend us. As a result we tend to think of attachment and anger as natural qualities without seeing their negative aspect. This is how we become slaves to our destructive emotions. He recalled the elderly Aaron Beck telling him that when we are angry, the person who is the focus of our anger seems to be completely negative and yet 90% of that negativity involves our projection. This echoes what Nagarjuna was saying hundreds of years ago.
His Holiness began the afternoon session saying that we fall ill because of carelessness, even recklessness. We need to be alert and use mindfulness and introspection to avoid making mistakes. He said that anger arises from within and disturbs our peace of mind. Therefore, conscientiousness is important. We need to learn from day to day how to avoid or discipline the disturbing emotions that upset our equilibrium.
Anger has the greatest potential to destroy the virtue we have gathered. It does not harm our enemies, but does disturb us. Anger yields no benefit in this life, whether we express it through physical or verbal actions it will simply create negative karma that will harm us in the future.
"Just as those who go to war do so with grim determination, once we realize the seriousness of our disturbing emotions, we will enter into combat with them seriously.
"Learned, noble and gentle, are the qualities we ascribe to Lamas - but they are qualities everyone can aspire to."