Patna, Bihar, India, 4 January 2013 - On arrival in the ancient Indian city of Patna yesterday, His Holiness the Dalai Lama was warmly welcomed at the airport by the Bihar Chief Minister Nitish Kumar. He was then driven a short distance to the State Guest House, where he retired for the night.

Patna, capital of modern Bihar state, is regarded as one of the longest inhabited places in the world. It first gained significance when the Magadhan King, Ajatashatru, a contemporary of the Buddha, shifted his capital here from Rajgir. Two centuries later, the great Mauryan Emperor, Ashoka, who in his maturity embraced and fostered Buddhism and who became the first ruler of a largely united India, made his capital here. The present government of Bihar, led by Chief Minister Nitish Kumar, has taken an active interest in Patna's and Bihar's Buddhist heritage and in May 2010 invited His Holiness to inaugurate the Buddha Smirti Park.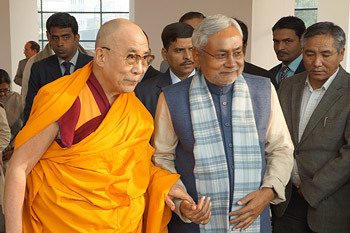 HIs Holiness the Dalai Lama with Bihar Chief Minister Nitish Kumar at the Chief Minister's residence in Patna, Bihar, India, on January 4, 2012. Photo/Jeremy Russell/OHHDL
Today, His Holiness took a short drive to the Chief Minister's residence, where he had been invited for lunch. The Chief Minister met him as he stepped out of his car and introduced him to several of his colleagues, among them the Deputy Chief Minister, Sushil Kumar Modi; the Minister for Arts and Culture, Sukhna Pandey; Irrigation Minister, Vijay Kumar Chaudhary and Gaya District Magistrate, Vandana Priassy. His Holiness responded to their welcome saying,
"I am very happy to be back in this historical city of Patna, the city of Ashoka, and former President Dr Rajendra Prasad - a great scholar - and social activist Jayaprakash Narayan. In fact I was pleased to notice yesterday that the airport is named after him.
"Of course, Patna is quite significant in the history of Buddhism and Buddhism is known for its teaching about karuna or compassion. However, while nearly all religions have a similar message about kindness, compassion and forgiveness, what really distinguishes the Buddha's teaching is his explanation of interdependence or dependent arising, pratityasamutpada in Sanskrit. This is very helpful in combating the main troublemaker in our minds: our destructive emotions.
"I appreciate the interest the present government of Bihar is showing in the Buddha dharma."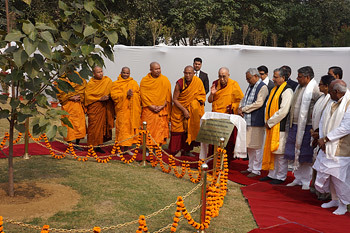 His Holiness the Dalai Lama blessing a Bodhi tree planted at Chief Minister Nistish Kumar's residence in Bihar, India, on January 4, 2012. Photo/Jeremy Russell/OHHDL
The Chief Minister then led His Holiness by the hand to a place in the garden where a Bodhi tree had been planted. He asked him to say prayers of blessing over it, which he did, accompanied by Tibetan monks from Namgyal Monastery and Indian Theravada monks from Bodhgaya. He also unveiled a brass plaque to commemorate the occasion and draped a white silk kata over it.
At the end of a friendly lunch, Chief Minister Nitish Kumar, following longstanding Indian tradition, presented His Holiness with a shawl. In his turn, His Holiness gave him a gilded statue of the Buddha and expressed his admiration for what he is achieving in his leadership of Bihar.
The afternoon events took place at the Buddha Smriti Park, or Buddha Commemoration Park, a short distance across the city. Crowds thronged the streets to see His Holiness and the Chief Minister as they passed. The two of them walked together to the Pataliputra Karuna Stupa, where once again His Holiness was requested to say prayers. In the centre of this building is an octagonal glass structure enclosing a number of small stupas containing relics donated by various Buddhist countries. Walking from there to the site of a newly installed marble statue of the Buddha, His Holiness emphasised the need for it to become more than just a place of worship. He envisages a learning centre where Buddhists, scientists and others can study and mutually enrich their knowledge.
The path to the Buddha statue was lined by people from many Buddhist countries and communities who have come to attend tomorrow's international conference. His Holiness spoke to many of them and shook their hands.
Together he and the Chief Minister pulled the cords that unveiled the large statue of the Buddha that has been carved in situ from one piece of black marble from Rajasthan. His attention caught by the clamour from the press, His Holiness decided to talk to them then and there. He said,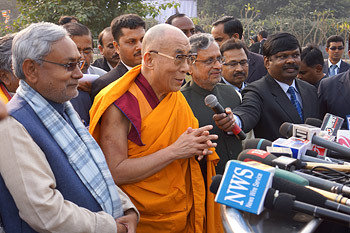 HIs Holiness the Dalai Lama speaking with members of the press in Bihar, India, on January 4, 2012. Photo/Jeremy Russell/OHHDL
"The main practices of Buddhism are compassion, tolerance, forgiveness and a sense of self-discipline these are qualities that help us lead our daily lives with a calm mind. Too much jealousy, attachment or anger creates stress. So without talking about nirvana, the next life, or heaven, the message of love, tolerance and compassion helps us lead a good life now as human beings.
"As a Buddhist monk I appreciate how the world's major religions have flourished side by side in peace in India for the last thousand years. This interreligious harmony that has become part of Indian tradition is very relevant today, particularly when we see elsewhere that sadly religion can be a source of conflict.
"Finally, as a student of the Nalanda tradition, I am convinced that in addition to prayer we need clear thought and logical analysis. Ancient Indian thought, Nalanda thought, promoted the idea of pratityasamutpada, interdependence or dependent arising and I believe we should regard this today less as something religious and more as an object of academic study.
"In an ongoing dialogue I have had with modern scientists over the last 30 years or more we Tibetans have learned about cosmology and subatomic particles, and from ancient Indian thought, modern scientists have learned a great deal about the functioning of the mind and emotions. Scientific findings reveal that peace of mind contributes to physical health, but physical solutions to mental unrest are at best short-lived. What we need to do is train the mind."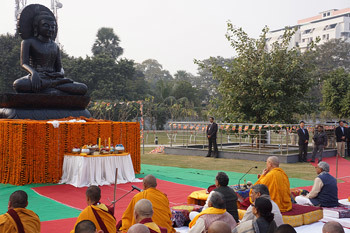 HIs Holiness the Dalai Lama joining in prayer before the new Buddha statue in Buddha Smriti Park in Patna, Bihar, India, on January 4, 2012. Photo/Jeremy Russell/OHHDL
As the sun dropped low in the sky, His Holiness sat down before the new Buddha statue and conducted a short consecration ritual, followed by prayers for auspiciousness. As he was leaving the Buddha Smirti Park, he turned to Nitish Kumar saying,
"I hope that under your leadership, as I mentioned before, this can become a learning centre, somewhere where the ancient texts can be studied. I believe that we can regard the collection of Buddhist scriptures under three headings: Buddhist science, philosophy and religion and that the science and philosophy might be of interest to anyone, not only Buddhists.
"But in addition, today India and many other countries are facing something of a moral crisis. Increasing the police force won't have much effect. What we need is self-discipline on the basis of ethics, secular ethics. In many ways Indian tradition has supported secular ethics for hundreds of years; now it's time to share them with the rest of the world.