Hunsur, Karnataka, India, 16 July 2013 (Tenzin Desal, The Tibet Post International) - His Holiness the Dalai Lama concluded his visit to the Tibetan settlements in Bylakuppe and Hunsur, in the Indian state of Karnataka after celebrating his birthday and a giving a series of teachings.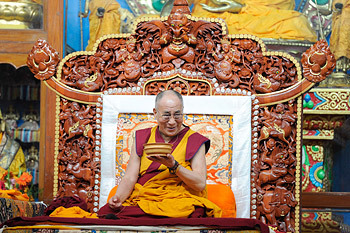 His Holiness the Dalai Lama drinking tea during the first day of his teachings on Mahamudra at Gyudmey Tantric College in the Tibetan Settlement in Hunsur, Karnataka, India on 14 July 2013. Photo/Tenzin Taklha/OHHDL
Earlier, for two days he gave teachings on Mahamudra, at Gyumed Tantric University. It is a Buddhist teaching with a lineage of transmission and it focuses on the nature of the mind, which according to Buddhist philosophy has two natures - ultimate and conventional.
"Samdhong Rinpoche is a very important lama and we both share common tutors," Tibet's spiritual leader said, referring to his former tutors while teaching." In our conversations he requested me to give teachings on Mahamudra."
On the last day of his visit to Rabgyaling Settlement in Hunsur, the Dalai Lama conferred a long life empowerment to the resident monks of Gyumed Tantric University and Tibetans who came from the surrounding Tibetan settlements.
"In exile we have made much progress materially. However, we still see pockets of poverty and it is essential that they are taken care of by their neighbours and the Tibetan Settlement office," he said after conferring the long life empowerment.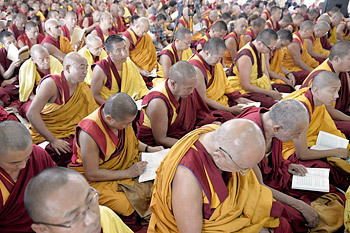 A section of the audience attending His Holiness the Dalai Lama's two day teachings on Mahamudra at Gyudmey Tantric College in the Tibetan Settlement in Hunsur, Karnataka, India on 14 July 2013. Photo/Lobsang Tsering/OHHDL
"We should extend our services and help to the Indian villages around the settlement. It is quiet a daunting task to help them in all aspects but we should help them in every possible way.
"Our Tibetan health clinics should not only provide treatments to Tibetans but also to Indians from the surrounding areas," he added.
Tenzin Tashi, 29, who serves at Tsojhe Khangsar Hospital in Bylakuppe while speaking to TPI said, "I came from Bylakuppe to receive blessing and listen to the teachings with great enthusiasm."
"Whenever I am in His Holiness's audience, he never fails to move me; he encourages me to be a better person. As he suggested earlier during his birthday, whenever I become angry or agitated I think about him and his messages, it calms me down."
Unconfirmed reports suggests that he will later travel to Ladakh on a meditation retreat during which time no personal and official request for audience would be entertained.