Sarnath, Uttar Pradesh, India, 13 January 2013 - A short drive from the University, past the Archaeological Site of the Stupa and Monastery ruins, brought His Holiness the Dalai Lama to the Alice Project Universal Education School, Ghurahoopur, Sarnath. The founder of the school, Valentino Giacomin, an Italian, welcomed His Holiness at the gate and escorted him to his seat on the dais. Children and teachers were waiting for him, smiling with excitement.

Valentino Giacomin made his report in which he said,

"Today, we can show that a combination of traditional curriculum and ethics can help students both live more happily and achieve high marks in their studies."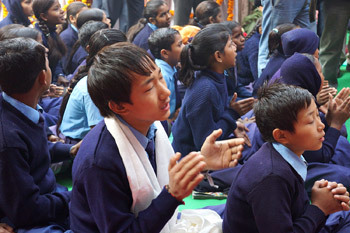 Children from the Alice Project Universal Education School singing the school song for His Holiness the Dalai Lama in Sarnath, Uttar Pradesh, India, on Janaury 13, 2013. Photo/Jeremy Russell/OHHDL
The children then sang the school song, swaying joyfully and clapping their hands in rhythm with the tune. They were followed by a group of girls from the Chakma community, refugees the school supports, who sang a song from their own tradition.
Smiling warmly, His Holiness addressed everyone assembled in front of him,
"Students, teachers, staff and patrons, thank you for inviting me here. I would like to express my admiration for what you are all doing.
"The technical and scientific developments of the twentieth century were wonderful, but sometimes it seems that the existing modern education system creates problems, just as the modern economic system has created huge problems of poverty, not only on the individual level, but on the level of countries too. We can see that education is contributing to the problem. This is serious.
"Unfortunately, religion at both an individual and community level has become corrupt. Religion is supposed to provide the inspiration for compassion, giving service to others, but sometimes it is used to exploit and divide people. It becomes a source of conflict. Does this mean religion is wrong? I don't think so. All the major religious traditions teach about the practice of compassion and tolerance, they foster a sense of brotherhood and sisterhood. The trouble is that religious people are not sincere in their practice; they don't relate their religion to their hearts. This is why we now need a more universal way of promoting moral principles in society. We need a method we can employ everywhere; a secular system of ethics."
He went on to praise India for its secular approach and its secular constitution that provides for respect for all religions and even the right of non-believers to their views. India is the only country where all the world's major religions, both those developed at home and those that came from abroad, live side by side in harmony. This is an example for the world.
He said that for the last two years, people have been giving serious attention to the problem of ethical values in modern education.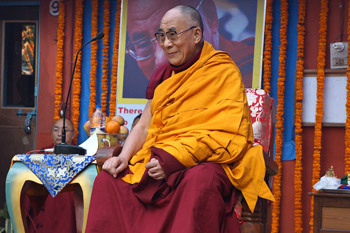 His Holiness the Dalai Lama speaking at the Alice Project Universal Education School in Sarnath, Uttar Pradesh, India, on January 13, 2013. Photo/Jeremy Russell/OHHDL
"This school already emphasises moral principles. The facilities are quite basic, but the education you are giving here is wonderful, wonderful."
"As human beings we are all the same, whether we believe in religion or not. Our future is related to that of all other beings, so taking care of others is the best way to take care of ourselves. It brings inner strength and self-confidence. That enables you to act more openly, without stress or mistrust. As a result, as individuals, in families and communities, you will be happier."
"You young Indians, please think about what I have said. Think about how to create a just society with less corruption, a greatly reduced gap between rich and poor. Don't blame only the politicians for what is wrong; the people themselves must take action. Cherish a vision of a more just society in this country. This is important because India is the world's biggest democracy. Let it make a greater contribution first in the Asian forum and then in the wider world.
"I'd like to say how much I appreciate everyone who has contributed to this great project, teachers, staff and donors. Thank you, please keep it up."
From the Alice Project, His Holiness drove back to the University to take part in the International Conference on Buddhism and Society.
Vice Chancellor Ngawang Samten opened proceedings,
"Venerable Sangha, scholars from across Asia, colleagues and dear students, welcome to the second International Buddhist Conference at Sarnath."
He described how Siddhartha Gautama began to explore existing spiritual paths but remained unsatisfied. After attaining enlightenment at Bodhgaya he came to Sarnath and gave his first discourse. He taught about the Four Noble Truths concerning suffering that needs to be overcome. He indicated the path to liberation through his own life, showing that it is essential to recognise reality to eliminate ignorance. He also revealed that material progress is not the answer. We need to transform our state of mind, which is something each individual has to do for themselves.
His Holiness the Dalai Lama speaking at Second International Buddhist Conference in Sarnath, Uttar Pradesh, India, on January 13, 2013. Photo/JeremyRussell/OHHDL
With the advent of Buddhism there was a change in the culture and society in India. This was especially true after the Mauryan Emperor Ashoka transformed himself and then set about transforming society. This led to the golden period of Indian history. In this modern era too, he said, Buddhism is having a remarkable influence on society, as exemplified by the dialogues His Holiness the Dalai Lama has been conducting between Buddhist science and modern science.
Sulak Sivaraksa, the well-known Thai Buddhist social activist gave an extensive keynote address. He began,
"It is a great honour to be here and speaking in the presence of His Holiness. Today I want to speak my mind," and, asserting that Buddhism is not really a religion, he suggested, "Buddhism is a collection of methods to help us wake up from our confusion and find awakening."
Later, he urged Buddhists to speak truth to power by using their traditions of compassion and wisdom to transform the world in a positive way.
In his inaugural address, His Holiness said,
"Indeed, it is a great honour to speak to you, following the meaningful contributions of the previous speakers. Sulak Sivaraksa has made many crucial points from his own observations, which we need. When someone falls sick it's important that his doctor should not shirk the truth. He needs to say, 'This is the situation, it's serious and you need to take the following treatment.'
"With so many cars on the roads, our cities have the appearance of prosperity, but at the same time many people are without enough to eat. In advanced societies people are well off, but unhappy. Beset by jealousy, greed and mistrust, they have no friends and become lonely and depressed. When we talk about the welfare of humanity, we need to think of the generations to come. If we go on the way we're going at present, resources will become scarce and climate change will have far-reaching effects. Religious traditions routinely pray for world peace and we Buddhists pray for the welfare of all sentient beings, but it seems that these sentient beings are on another planet, not here. The conference theme, Buddhism and Society, is very good, but by society we should understand the whole of humanity."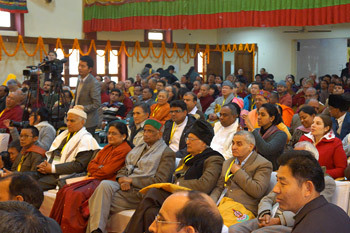 Delegates to the Second International Buddhist Conference listening to His Holiness the Dalai Lama speakingi n Sarnath, Uttar Pradesh, India, on January 13, 2013.
Photo/JeremyRussell/OHHDL
He said that unless we put our religious teachings into sincere practice, we cannot deal with the problems we face. We need the confidence that comes from compassion, combined with a clear view of reality. Buddhism has the potential to contribute to the world in the present context, but to do that we have to follow the Buddha sincerely with self-discipline as well as compassion.
"In Tibet we placed too much emphasis on ritual. Ritual is a part of practice, but not the essential part. Much more important is study. I still consider myself a student. I continue to study the works of the professors of Nalanda University. Please, you too, read what they have written and open your eyes."