Pune, Maharashtra, India, 27 July 2013 (TNN) - Hundreds of Buddhists made a beeline for the Ganesh Kala Krida Rangmanch on Friday to catch a glimpse of Tibetan spiritual leader the Dalai Lama, who is on a three-day visit to the city.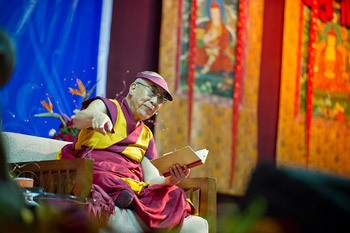 His Holiness the Dalai Lama speaking during an event organized by Buddhayan Mahasangha in Pune, Maharashtra, India on July 27, 2013. Photo/Tenzin Choejor/OHHDL
Delivering a lecture organized by spiritual organization Buddhayan Mahasangha, the Dalai Lama said that India was a home of great thinkers, philosophers and spiritual masters. "In the three to four thousand years, this land has produced many thinkers. Indians are the spiritual teachers of Tibetans and all our knowledge comes from India's spiritual roots," he said.
The Dalai Lama will inaugurate a Tibetan Pavilion at the Shivaji Maharaj Museum of Indian History on Wadgaon Shinde Road on Sunday. The Tibetan Pavilion is an exhibition of text and pictures on the travails of Tibetans over the last 60 years. He will also participate in an interactive session, 'Ru Ba Ru Roshni', with spiritual leader Dada J P Vaswani that will be hosted by actor Aamir Khan.
Several functions will mark Dalai Lama's visit to Pune during the next two days. The Tibetan spiritual leader will inaugurate the Tibetan Pavilion, which recounts the travails of his people in the last 60 years and is housed in the Shivaji Museum of Indian History at the Wadgaon Shinde Road.

Union agriculture minister Sharad Pawar will throw open an exhibition at the same venue on Dara Shikoh, a Sufi follower. Shiv Sena executive president Uddhav Thackeray and Sena's youth wing president Aditya Thackeray will also inaugurate a unique miniature painting exhibition on Maharana Pratap at the same function on Sunday.

The function will include Tibetan prayers and a meeting with architect Girish Doshi, who will make a brief presentation on future plans of the museum. This will be followed by speeches by the Dalai Lama, Pawar and Uddhav, apart from a jugalbandi directed by singer Vikam Hazra.

In August 2009, Namrita and Francois Gautier, founders of non governmental organization FACT-India, went to US on a fund-raising tour to raise money for a museum on Indian history. About US $130,000 was raised in seven cities: Boston, New York, New Jersey, Dallas, Houston, San Francisco and Los Angeles. Later, FACT-India laid the foundation stone of this museum of Indian history in Pune. This museum was named Chhatrapati Shivaji Maharaj Museum of Indian History.