Fribourg, Switzerland, 13 April 2013 - The Swiss countryside presented a bright countenance, green fields and woods rolling up to distant snow peaks, as His Holiness the Dalai Lama drove from his hotel on the banks of Lake Morat, to the Fribourg Forum. He was escorted by representatives of the organizers of the event to the stage in the hall before which upwards of 8000 people waited eagerly to hear him teach Atisha's 'Lamp for the Path to Enlightenment'. Although there was an ornate formal throne on the platform, His Holiness preferred to sit in an armchair, which he had brought closer to the stage's edge, the better to see the faces of the audience. His opening was cheerful:
"I am very happy to be here in Switzerland again; this small country which early in 1961 or so became home to about 1000 Tibetan refugees who had been relieved from road building work in the Himalayan foothills. Since my first visit in 1973 many years have passed. Time moves on and nothing can stop it. However, the question is about how we use the time we've got. How can we use our time purposefully and meaningfully? If we let ourselves become distracted by trivial sensory pleasures, it will just be a cause for regret. So, the purpose of our gathering here today is to listen and think about how to make good use of our time."
His Holiness explained that as human beings we experience pain and pleasure which give rise to a wish for happiness. Pain and pleasure have two aspects, that based on sensory input and that which arises in dependence on the mind. If our minds are calm, other circumstances will not disturb us. If our mind is disturbed, sensory experience does little to relieve it, whereas a calm mind can withstand the physical effects of pain and pleasure. Therefore a trained mind is extremely useful when we encounter even ordinary difficulties, much as the proximity of her mother is a source of stability and reassurance for a child.
Followers of theistic religions believe in a creator god, who gives them hope. Followers of non-theistic religions, such as Buddhists and Jains, believe in causality, the idea that things and events come about as a result of causes and conditions. These different religions present different philosophical views, yet they all acknowledge that love and compassion bring happiness. They also concur that making others happy gives you happiness and that harming others is a source of sorrow. The goal is to become a better person through the cultivation of love and compassion.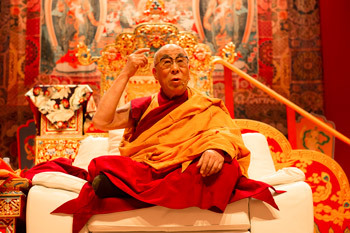 His Holiness the Dalai Lama speaking during his teachings at the Forum Fribourg in Fribourg, Switzerland, on April 13, 2013. Photo/Manuel Bauer
In this context, the idea of one truth but several religions seems to be contradictory. His Holiness clarified that in individual terms, one truth and one religion makes sense; but in terms of the wider community we need to accept several truths and several religions. The key is to have faith in your own tradition, but respect for those of others. He said:
"I am a Buddhist, even a staunch Buddhist, but that doesn't prevent me having deep respect and admiration for other spiritual traditions."
He said that unless someone requests you to do so, you should not teach unprompted. His Holiness does not approve of proselytizing in countries that belong to a different tradition; he always recommends that people stick with the faith they were born with. However, there are some people who feel that Buddhism has a special impact for them and they adopt its practice, but it is important that they continue to treat their original religion with respect.
On the other hand, His Holiness observes that increasing numbers of people who count themselves as non-believers seem to think that love, tolerance and compassion are religious notions and neglect them too. Since they also desire happiness, it is necessary to find ways to educate such people in creating a calm mind, which is why a secular approach is so crucial. We need to find ways to promote such inner values in a secular context.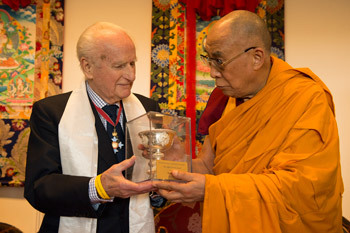 His Holiness the Dalai Lama presents Robert Ford with the International Campaign for Tibet's Light of Truth Award in Fribourg, Switzerland, on April 13, 2013. Photo/Manuel Bauer
During the break for lunch, His Holiness met five individuals, and members of their families, who were to be honoured with the International Campaign for Tibet's Light of Truth award. They were Robert Ford from Britain, who was a radio-operator for the Tibetan government in Chamdo, and was imprisoned by the occupying Chinese forces; Prof Schwarz-Schilling of Germany for his support for Tibet in his political and academic work; Ms Sigrid Joss-Arnd of Switzerland for her work with the Red Cross on behalf of Tibetans; Mr Theo van Boven of the Netherlands for his work on human rights and Mr Wilder Tayler from Uruguay, Secretary-General of the International Commission of Jurists, whose findings about Tibet were especially useful. His Holiness greeted each of them and presented them with a Tibetan butter lamp symbolic of the Light of Truth. He said:
"All of you have been long-standing friends and supporters of Tibet, for which we are immeasurably grateful. As you know, the spirit of the Tibetan people is undiminished and the power of truth remains strong."
Resuming his teachings from the morning, His Holiness remarked that suffering comes from causes and a principal cause is the unruly mind; that's why we need to tame it. In his teaching of the Four Noble Truths, the Buddha alluded to the principle of causality, the idea that things and events come about due to causes and conditions and that those come about due to their own preceding causes and conditions. The pervasive suffering we are trying to overcome is due to karma and delusion, whose source is ignorance. Ignorance may be mere ignorance of causality or a misconception of reality. His Holiness observed: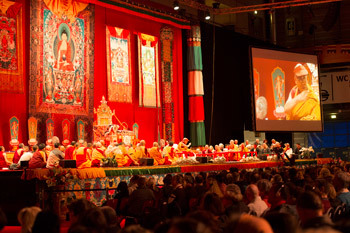 A view of the stage at the Forum Fribourg during His Holiness the Dalai Lama's teachings in Fribourg, Switzerland, on April 13, 2013. Photo/Manuel Bauer
"Unless you were drunk or mad, you would not normally consider causing yourself suffering, and yet this is what we do all the time. Why? because of ignorance. We are carried away by the appearance of things and adopt an unrealistic approach. If we want to put an end to suffering and its causes, we need to examine reality."
He said that the clarity and awareness that is the nature of the mind is not tainted by the disturbing emotions that bind us within the cycle of existence, which is why it is possible for us to achieve liberation. To do that we need to listen to the teachings, understand how they are to be put into practice, develop conviction through reflection and then meditate on what we have understood. To uproot the disturbing emotions we need to develop the wisdom understanding selflessness and the basis for that is ethics and concentration. Ethics involves mindfulness and introspection gives rise to concentration, which allow for the development of wisdom. So practice comes down to the Three Higher Trainings whether you are focused on Vinaya, the Perfection of Wisdom or tantra. Wisdom depends on concentration, and concentration depends on ethics.
King Songtsen Gampo in the 7th century married a Chinese and a Nepalese princess, but then turned to India, the land of its origin, rather than China, to learn about Buddhism. Trisong Detsen invited Shantarakshita, Abbot of Nalanda to Tibet. He was a great scholar who founded the Yogachara-Svatantrika-Madhyamika tradition that brought together the views of Nagarjuna and Asanga with the logic and epistemology of Dharmakirti. He took responsibility for establishing Buddhism in Tibet and initiating the translation of scriptures.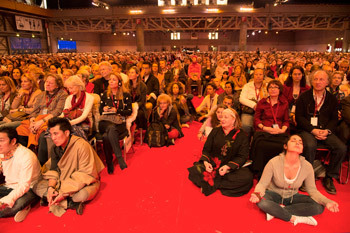 Some of the more than 8,000 people attending His Holiness the Dalai Lama's teachings at the Forum Fribourg in Fribourg, Switzerland, on April 13, 2013. Photo/Manuel Bauer
In the 11th century, when Tibet had somewhat fragmented, a western Tibetan descendant of the Tibetan royal line, Jangchub Wö, invited the master of Vikramashila, Dipamkara Atisha to Tibet. Despite facing many difficulties he requested him to compose a text that would be appropriate for Tibetans to follow. This 'Lamp for the Path to Enlightenment' is what Atisha wrote. It became the basis for the stages of the path literature in each of the traditions belonging to the later propagation of Buddhism in Tibet. The 300 volumes contained in the Kangyur and Tengyur mostly concern Buddhist teachings. This 'Lamp for the Path' shows how to put those teachings into practice, leading beings in an orderly manner, stage by stage towards enlightenment.
His Holiness explained that he received this text and its explanation from Tsenshap Serkong Rinpoche, who knew it very well. He explained the title and the first verses, saying that he would go through the rest of the text quickly tomorrow, when he will also give layperson's vows and the permission of White Tara according to the visionary lineage of the Fifth Dalai Lama.