Portland, Oregon, USA 8 May 2013 - Shortly after arriving in Portland today, having flown from one side of the United States to the other, His Holiness the Dalai Lama met staff and Tibetans students participating in the Global Leadership Initiative. He recalled that as early as the time of his predecessor, the Thirteenth Dalai Lama, there had been efforts to introduce modern education in Tibet. Then, soon after coming into exile in India, priority was given to setting up schools to educate children. Those have largely been successful, he said, but what is needed now is for Tibetans acquire expertise and specialised training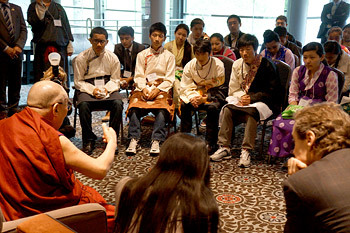 His Holiness the Dalai Lama meeting with Tibetan staff and students participating in the Global Leadership Initiative in Portland, Oregon, on May 8, 2013. Photo/Jeremy Russell/OHHDL
Speaking to the Tibetan students in their mother tongue, he said:
"I would like to remind you that we have our own system of writing that is the most suitable language available today for expressing Buddhist ideas. When anyone wants to investigate Buddhist thought today, Tibetan is the best means through which to do it. The heritage of Nalanda University, the culture and knowledge it upheld as a centre of learning, are now only available in Tibetan.
"We may regret that the tragedy that befell Tibet was attributable to our lack of modern education, but as far as Buddhist science, logic and epistemology are concerned, they are presently only to be found in Tibetan. We are thus the custodians of a world treasure. Now, in addition, we need to produce specialised scholars who study up to PhD level and beyond. We may not need space technology, but there are many other aspects of knowledge and technology that would be of help to us. "
He remarked that one of the great qualities of classical Buddhist training was the development of the heart and he counselled the students to remember the need for kindness and integrity whatever they do.

Asked what advice he had for students in Tibet, His Holiness expressed his admiration for the dedication with which scholars and writers, many of them in Amdo, have worked to preserve and extend the use of Tibetan. While acknowledging that vernacular language varies according to the different regions of Tibet, the literary language is something shared in common right across the Tibetan Plateau. Recalling that in 7th and 8th centuries Tibet was a unified power that later fragmented, he noted that the unifying factors thereafter have been a common written language and a shared culture. He reiterated that what is important today, besides the acquisition of modern knowledge, is the preservation of Tibetan language, culture and Buddhist understanding.

Tomorrow, His Holiness will participate in an interfaith event on Spirituality and the Environment in the morning and give a lecture on Universal Responsibility and the Inner Environment: The Nature of Mind in the afternoon.