Madison, Wisconsin and New Orleans, Louisiana, USA, 16 May 2013 - On his last morning at Deer Park, Madison, as the early sun caught the new leaves on the trees and peacock calls rang through the woods behind the temple and Kalachakra Pavilion, His Holiness met privately with a group of Chinese and afterwards with a group of Tibetan students studying in the USA.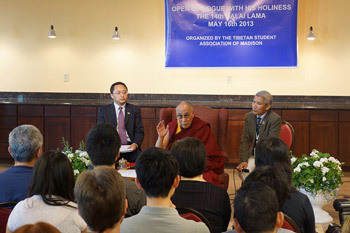 His Holiness the Dalai Lama speaking during a meeting with Chinese students in Madison, Wisconsin on May 16, 2013. Photo/Jeremy Russell/OHHDL
The Chinese group consisted of 51 students from Madison and Chicago, among them 10 from Tibet; 13 professors teaching in Madison and Chicago; 15 Chinese scholars and 13 Taiwanese. His Holiness held a warm and friendly conversation with them, mostly in English. He acknowledged the potential benefits to Tibetans of being part of the PRC, but also asserted Tibetans' determination to preserve their language, religion and culture. He explained the profound knowledge of the mind, which is of value to the world, only preserved in the Tibetan tradition.
He regaled them with anecdotes from his visit to China 1954-55 and his conversations with Mao Zedong and other Chinese leaders.
Speaking to the Tibetan students in their mother tongue, he stressed the importance of study. He also extolled the value of Tibetan language, religion and culture. He reminded them that the literature and traditions of Tibetan Buddhism contain the most thorough and comprehensive presentation of Buddhist thought in the world. This is essentially the Nalanda tradition. What's more, the dialectical method developed in India and maintained in Tibet, with its sharp logic and use of reason results in a mental acuity that His Holiness has found has equipped him, with no modern education, to follow the explanations and findings of modern scientists and hold his own in discussions with them. This reasoned and logical approach can be applied to other areas of study.
His Holiness the Dalai Lama speaking to Tibetan students during their meeting in Madison, Wisconsin on May 16, 2013. Photo/Jeremy Russell/OHHDL
His Holiness acknowledged that in the 7th, 8th and 9th centuries Tibet was a united, powerful nation, but that after that central rule became fragmented. However, the consistent source of Tibetan unity since then has been the shared Tibetan language, religion and culture. Therefore, he encouraged the students to keep up their Tibetan studies even while they need to conduct their academic studies in English.
His Holiness also gave a comprehensive explanation of the background to the Middle Way Approach, emphasising that it had involved careful thought at every stage. He pointed out that it continues to attract support internationally and among informed Chinese intellectuals and thinkers. He reiterated that he has completely retired from political responsibility, but feels he retains a moral responsibility to explain such things.
As His Holiness left Deer Park, his host Geshe Sopa was there among well-wishers to see him off. His Holiness then flew to New Orleans where he was met at the airport by representatives of Tulane University and Louisiana State Senator Gary Smith.