New Delhi, India, 7 December 2013 - His Holiness the Dalai Lama was a guest of the Ashoka Trust for Research in Ecology and the Environment (ATREE) at the Chinmaya Mission this morning. He had been invited to present the TN Khoshoo Memorial Award and Lecture and was welcomed on arrival by Dr. Ganesh Balachander and Mr Rajiv Khoshoo, TN Khoshoo's son.
Following Dr Balachander's short introduction His Holiness was presented with a book published by ATREE entitled 'Himalaya: Mountains of Life' by K. S. Bawa & S. Kadur, which he examined with interest. Dr Balachander then explained the background to the TN Khoshoo Memorial Award which was instituted in 2004 to honour Dr Triloki Nath Khoshoo, who, as India's first Secretary of the Department of Environment, played a significant role in the development of India's environmental policy. The Award was started by the Khoshoo Endowment Fund to encourage and promote individuals for outstanding achievements in the field of conservation and sustainable development. Rashmi Bharti and her husband Rajnish Jain, co-founders of Avani, who were the recipients of this year's award, gave a short presentation of their work. This has involved development of handmade naturally dyed textiles, the dissemination of solar technology and water resource management to sustain rural lifestyles in the Kumaon region of Uttarakhand. His Holiness and Mrs Khoshoo together presented them with the Award.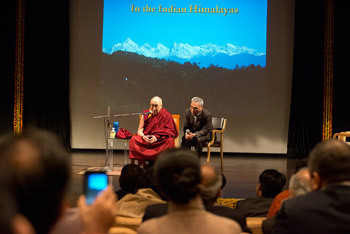 His Holiness the Dalai Lama delivering the keynote address at the Ashoka Trust for Research in Ecology and the Environment's 10th T N Khoshoo Memorial Award ceremony at the Chinmaya Mission in New Delhi, India on December 7, 2013. Photo/Tenzin Choejor/OHHDL
"Concern for the environment is very important," His Holiness remarked as he began his lecture. "But it's something I only learned about as a separate issue once I'd arrived in India as a refugee. In the past our human population was relatively small, but more recently it has grown significantly and our lifestyle has dramatically changed. There are clear signs that the climate is changing. In my lifetime glaciers have melted and snow on the mountains has reduced. Natural disasters associated with global warming have increased. I don't know to what extent human lifestyle has affected this, but we have to look into what effective actions we can take. As for myself, I promised Sunderlal Bahuguna I would do what I could to support environmental protection in the Himalayas."
He said we have to ask ourselves if the way we live is sustainable. Considering the combined population of India and China is more than 2 billion, he asked his listeners to imagine a world in which each of those 2 billion had their own car. Similarly he suggested we urgently find ways of preserving natural resources for coming generations. In addition, the gap between rich and poor, right now, is morally and practically indefensible.
"Yesterday, I noticed two girls on crutches begging on the street, their forlorn faces reflecting their desolation. The traffic flows past such people, and it seems no one pays any attention. It's very sad. We really should make efforts to support such people. For example, here in the city I've seen the extravagance with which weddings are celebrated these days. Instead of such lavish displays of wealth, wouldn't it be more beneficial to provide a meal for the poor?
"Not long ago a wealthy Mumbai family came to seek my advice and I recommended they use their money to help the poor by providing them with food, health and educational facilities. Similarly, at a meeting of Nobel Laureates in Hiroshima I suggested that peace in the world will come about as a result of action rather than prayer."
"Meanwhile," he added, "India's ancient cultural heritage, which is as old as the civilizations of China and ancient Egypt, is distinguished by two positive themes, that can make a difference to the world today and of which you can be rightly proud: religious tolerance and non-violence."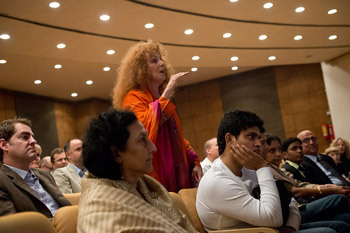 A member of the audience asking His Holiness the Dalai Lama a question during his address at the 10th T N Khoshoo Memorial Award ceremony at the Chinmaya Mission in New Delhi, India on December 7, 2013. Photo/Tenzin Choejor/OHHDL
Among questions from the audience, His Holiness was asked who he is impressed by. He replied that on a human level he feels we are all the same, we are all born the same way; we all drink our mother's milk. All human beings are essentially gentle and compassionate. On the other hand, if we give in to self-centredness we are more likely to be angry, dominated by attachment and given to violence. What's more, self-centredness creates a distance between us and others, which leads to suspicion, fear and ultimately loneliness.
Asked whether human society is getting better or worse, His Holiness quoted a conversation he had with the Queen Mother of Britain in 1996, when she was 96 years old. He asked her the same question and without hesitation she said that during the 20th century the world had got better. She mentioned human rights and self-determination that are now universally accepted, but were not thought of when she was young. His Holiness added that concern for the environment is another positive development that has taken place.
Over lunch, nearby, His Holiness met with his old friend and supporter of the truth and justice of the Tibetan cause, the Indian scholar and historian, Kapila Vatsyayan. From there he drove to Mehrauli to visit a Care Home for Street Children. He was met on arrival by writer and social activist, Harsh Mander accompanied by his elderly father, who His Holiness has known since 1959. When he arrived in India from Tibet, Harmander Singh was Political Officer in Bomdila, then part of NEFA, and offered His Holiness hospitality during his first days in exile. Together they made a short tour of the home and its simple facilities, meeting the children in its care and staff on the way.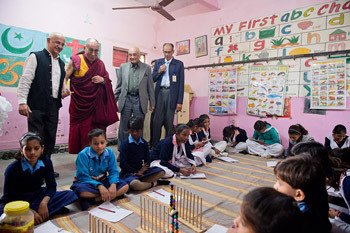 Harsh Mander and His Holiness the Dalai Lama visiting a classroom at the Care Home for Street Children in Mehrauli, New Delhi, India on December 7, 2013. Photo/Tenzin Choejor/OHHDL
Before an audience of street children from Delhi and similar homes in other states, as well as friends and supporters, Harsh Mander gave a brief introduction to the occasion. He said that he'd been preparing to refer to the two most loved people in the world, Nelson Mandela and His Holiness, but now sadly only His Holiness remains. He described the Care Home as built on a sense of love and compassion, pointing out that no one represents these values more than His Holiness. He recalled that 54 years ago, His Holiness was displaced from the land of his birth and yet, like Mandela, displays no anger or bitterness about what happened to him. Moreover, although he is a Buddhist leader, Mander has never heard him exclusively promoting Buddhism. Instead he praises the qualities of other faiths.
Harsh Mander declared:
"This home's prayer is that no child should have no home or protection. Who are the children in the Home's care? Most of them have known immense suffering on the street because of their family's troubles. They have learned from other children like them how to survive. The idea is to create for them a home that can provide them with protection, love, education and dignity. Now, I'd like to request His Holiness to speak to our children and mothers. If he speaks in English, I'll translate into Hindi."
"My dear elder brother," His Holiness began, referring to Harmander Singh, "was very helpful to me at the end of March 1959. I spent days resting with him when Harsh Mander here was very small. Now look, his head is shiny like mine and his father's!
"And my young brothers and sisters, I'm extremely happy to be here to meet you in this home you have found, where you get food, shelter and education. I was telling some other people earlier today that yesterday I was moved by beggars I saw on the street. Their faces looked poor and weak, their eyes hollow; completely demoralized. So, this home you've been provided is very encouraging. Yesterday I saw sadness, today I've seen hope.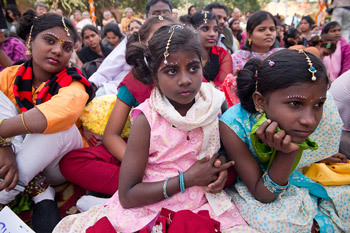 Students listening to His Holiness the Dalai Lama speaking during his visit to the Care Home for Street Children in Mehrauli, New Delhi, India on December 7, 2013. Photo/Tenzin Choejor/OHHDL
"It's struck me before that there is a candour and straightforwardness about poor people I don't see elsewhere. In a soup kitchen in Los Angeles I've participated in, I noticed more joy among those eating than I often see at the formal dinners of the better-off. Perhaps it's because hardship keeps us in touch with reality."
He spoke of the need to encourage a sense of the 7 billion human beings being part of one human family.
"If that's what we stress there'll be no basis for war, bullying or cheating each other. If we see others as part of 'us', there'll be no room to neglect them.
"Children, don't feel homeless or helpless. You must study seriously and eventually go on to higher education. Remember, you're not alone. You can study and work, build up your lives. Develop self-confidence. Feeling demoralized is a source of failure. You must not lose hope. In late March and early April 1959, when I and many Tibetans reached India, we kept up our self-confidence and determination; you must do the same."
When he turned to the Home's organizers to appeal to them to extend their work to other cities, he was told that there are already 45 other homes working in six states. His Holiness mentioned that when he visited Barefoot College in Rajasthan he had been happy to make a contribution to its work. He explained that the Dalai Lama Trust had been set up to manage funds that are offered to him as Dalai Lama and royalties he earns from his books. Saying he was happy to make a donation, he presented a cheque for ten lakh rupees, adding that if there were projects that needed support he hoped they would turn to him in future.
"So long as I have money, I'm happy to help; when there is no more money, I'll have to say no!"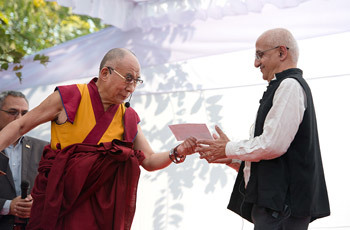 His Holiness the Dalai Lama presenting a donation to Harsh Mander to help the Care Home for Street Children in Mehrauli, New Delhi, India on December 7, 2013. Photo/Tenzin Choejor/OHHDL
He told the story of a monk in Dharamsala who had come from Tibet. He noticed that labourers come from other parts of the country in search of work and that their children had no opportunities to receive education. Instead they would pick over garbage. He has set up an organization called Tong Len to provide these children with schooling and educational support, which is an expression of his determination and confidence.
"If you give up, you make no progress. If you work hard, keep up your confidence and determination, you'll be successful in whatever you do. If others show you affection now, when you grow up and help others, without exploiting, deceiving or bullying them, you'll find yourself surrounded by friends. Please keep this in mind. I'm with you, please believe me."
In her concluding words of thanks, one of the members of staff made a promise to take His Holiness's good wishes and encouragement forward by continuing to help these children. Posing for photographs and shaking hands with children, parents and well-wishers, His Holiness made his way to his car.
He will be taking complete rest from now until 21st December.