Delhi, India, 14 January 2013 - Delhi University is the premier institution for higher education in India, located in the old city of Delhi. Today, it was the location of a historic dialogue between members of the academic faculty and students of the University, His Holiness the Dalai Lama and representatives of those exploring new areas of scientific investigation from the Mind & Life Institute.
The Vice Chancellor Prof Dinesh Singh and Pro Vice Chancellor Vivek Suneja received His Holiness on arrival at the University gates. After a brief meeting in the Vice Chancellor's office, they proceeded to the Council Hall where the dialogue was to take place.
In his introduction, the Pro Vice Chancellor said we have decided to introduce a course on integrating body, mind and heart, which will involve reflection on self-awareness and ethics. He said,
"India is a secular country and it should be possible to talk about ethics in a meaningful way in such an environment. And there could be no better people to guide this discussion than the Vice Chancellor and His Holiness, who is a distinguished honorary professor of this University. "
The Vice Chancellor opened the dialogue saying,
"I'm here to learn from His Holiness; he has a special place in his heart for this university. Mahatma Gandhi used to visit this building, which was earlier part of the Vice-regal Estate, and now I'm pleased to welcome His Holiness here too.
"Recently, the world has experienced an economic meltdown, which has brought misery to the common man. It seems that those trained in the universities of the West have brought this about. The financial system has been destroyed and the moral law has been broken. Adopting Jamnalal Bajaj as his son, Gandhi clearly did not disapprove of business as such, but what he did say was, "What you do with your hands will enter your heart."
His Holiness was direct in expressing his hopes for the day's discussions,
"Brothers and sisters, I hope we can find a new approach to building a new society, a happier society. Out of curiosity I asked some of my friends with business experience, who spend their days and nights thinking about the economy what caused the economic crisis. They told me greed and speculation with disregard for reality; so greed and ignorance. As such, I think it is symptomatic of deeper problems in our minds, our failure to take a more holistic long term view.
"Today, the number of educated people is increasing, yet we are facing a crisis. I meet wealthy, successful business people who are unhappy; they are stressed and lonely. Religious leaders everywhere preach about morality, but don't necessarily follow what they say themselves. It seems that religion is sometimes an opportunity for hypocrisy."
He was full of praise for India as Tibetans' guru, their source of knowledge. He referred to the guru-chela relationship, joking that Tibetans have proved themselves reliable chelas who have preserved Buddhist knowledge and culture when it has had its ups and downs in the land of its birth. However, he expressed dismay that while India is undoubtedly a religious minded country, corruption is rife. Many families have a shrine with a god's image in it before which they make offerings and recite verses of prayer every morning, but this has little effect on the corruption that take prevails in day to day life. He recounted how in Jodhpur three years ago a student told him that when he completes his education, unless he is prepared to pay bribes, he won't make any progress. A few days later in Mumbai, a business man also told him that unless he pays bribes his business will not prosper. Bribery and corruption seem to have become part of the fabric of society.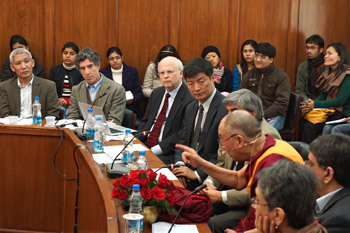 His Holiness the Dalai Lama speaking at the Science, Ethics and Education Dialogue at Delhi University on January 14, 2013. Photo/Jeremy Russell/OHHDL
On the other hand, India is the only country where the centuries' old idea of ahimsa, non-violence, is part of the culture and way of life. This contributes to the remarkable sense of religious harmony that prevails in the only country in which all the world's religions live together side by side in respect and friendship.
"Our task is to think about the human family and how we can create a happier more just society. Prayer is not sufficient to achieve this, if it were it would have been accomplished long ago. India has special qualities in this regard, with her secular constitution, to foster the appreciation of secular ethics. While some of my friends are wary of the word secular, I use it in the Indian sense of having impartial respect for all religious traditions. Others assert that morality must be based on religious faith, but if we look at the world as a whole, we have to ask, on which faith should it be? Of the 7 billion people alive today, one billion claim to be non-believers. However, it seems that many of the others are not serious and so count as non-believers too. Therefore, secular ethics is the proper basis for positive change. It is like the good soil in which whatever you plant will flourish. And I believe India is an appropriate place to pilot this idea of secular ethics in education."
He said that we need an ethics based on common sense and scientific findings; a way to develop a healthy mind as well as a healthy body. Just as we encourage physical hygiene to preserve our health, we also need a sense of emotional or mental hygiene too. For example, His Holiness has heard of a scientific investigation that found that people who use the word 'I' often are at greater risk of a heart attack, which is evidence that self-centredness is the source of many of our trouble. If we only think about ourselves, our problems seem intense, but if we concern ourselves with the welfare of others our own troubles become much less significant.
His Holiness observed that we are all born from our mothers and those of us who were cared for by her for a long time in infancy tend to be happier later in life. Those who, for whatever reason, missed their mother's affection tend later to have a deeper sense of insecurity and more difficulty trusting others. Whether your family is happy or unhappy is less dependent on wealth than on affection. A sense of concern for others reduces our sense of fear, which produces a positive atmosphere and so the family is happier as a result. This is common sense, but scientists are beginning to confirm it with their findings.
"Once we can introduce a sense of mental hygiene into the education system it will change the situation. And to ensure mental hygiene, we need a map of the mind. We need to know more about the mind and how it works. Once we understand that emotions that bring joy are positive and those that bring pain are negative, we need to know more about the factors that counter the negative emotions.
"We human beings have the ability and intelligence to judge what is in our long term interest. This is where warm-heartedness comes in. And we need to see that the long term interest is the yardstick by which we evaluate ethics; not because the Buddha says so, or God says so, or the constitution says so."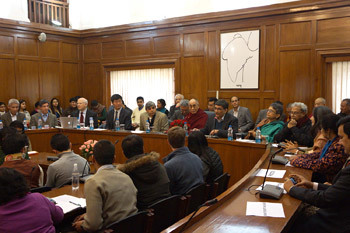 His Holiness the Dalai Lama, scientists and Delhi University faculty and students during the Science, Ethics and Education Dialogue at Delhi University in Delhi, India, on January 14, 2013. Photo/Jeremy Russell/OHHDL
His Holiness concluded that in terms of improving education we need to develop a curriculum that will train the young in secular ethics from KG up to university. He suggested the university set up a committee to discuss, develop and pilot it. If the experiment is successful, it will be possible to extend its use.
Questions from staff and students followed, prompting the Vice Chancellor to say that the lives of great men and women can provide practical guidance on how to lead our lives. Once again he cited Gandhi, who made the truth his standard. His Holiness agreed, with the provision that we answer those who say people like Gandhi were special and they cannot aspire to emulate him by remembering that all the great people in history were human beings just as we are. He pointed out that another reason for Indians to feel proud is the array of great thinkers India has produced down the centuries.
Other questions prompted His Holiness to clarify that for him the demarcation between violent and non-violent action is not in the physical nature of the action, but in the motivation. He also pointed out that ethical issues are not black or white and that there may always be occasions to make an exception.
The rest of the day was given over to presentations by members of the Mind & Life Institute focussing largely on scientific interaction with contemplative skills and the development of care and compassion. After a short tea break, Arthur Zajonc spoke about Contemplative Pedagogy: the Heart of Higher Education. He asked what is the purpose of education and answered that it is what life is for. He suggested that contemplative traditions help us make the most of the mind's potential. As for what is achieved by contemplative pedagogy, it supports the sustaining of voluntary attention and emotional balance. In this context the discovery of neuroplasticity has greatly improved understanding.
Richard Davidson speaking about Contemplative Neuroscience: the Emergence of a Discipline said,
"Great strides have been in understanding the scientific basis of contemplative pedagogy, but we have to acknowledge how much we still don't know."
He talked about four things: basic goodness with reference to work with very young children; that the brain is plastic and can be shaped by experience; that contemplative training can cultivate mindfulness and that the brain can be transformed structurally and functionally. Because transforming the mind changes the brain, if secular ethics is going to be effective in the long term, it is important to know that the brain can change.
Tania Singer spoke about Cultivating Empathy and Compassion: a Social Neuroscience Perspective and asked how we understand the minds of other people. She distinguished affective and cognitive modes and discussed the difference between empathy, which she defined as sharing others feelings, 'if you are in pain, I'm in pain,' and compassion, which she described as feeling concerned and strongly motivated to take relieving action.
Finally, Thupten Jinpa described the Stanford Compassion Cultivation Training. He too mentioned how significant the discovery of the plasticity of the brain has been. He spoke at length about the Compassion Cultivation Training Program piloted at Stanford University, which lasts 8 weeks with 2 hours guidance a week and 20-30 minutes guidance by audio recording a day. The aims have been to become more aware of and connected to our caring and compassionate nature; to nurture that nature and make it a part of our general outlook. He said results have been very promising, with participants observing much improved interpersonal relationships.
Discussions followed and Richard Davidson pointed out that one of the ways these findings might change somewhere like Delhi University if they were implemented there, is that faculty would come to work thinking they were contributing to human flourishing in the best possible way.
As the meeting drew to a close, the Vice Chancellor said he took great encouragement from the fact that the young students had sat through the whole day, quietly paying attention; he felt all would be well.
His Holiness reiterated that the main focus is the project to introduce secular ethics into education, bearing in mind that the purpose of education is to build a healthier person. He said,
"We have to ask what is wrong with society today and find a positive solution. "
Words of thanks were offered to everyone who participated, to the Vice Chancellor and Pro Vice Chancellor in particular for initiating this radical approach to change and to everyone else who had contributed to making the day's dialogue possible.