Cambridge, England, 20 April 2013, His Holiness the Dalai Lama remarked what a nice sunny day it was to well-wishers on the way as he walked from St John's to the Cambridge Union this morning to speak to the Global Scholars Symposium about Non-violence and Conflict Resolution. The twelve student organizers met him briefly first before Cameron Taylor introduced him to the audience and he began his talk.
"Brothers and sisters, I am extremely happy to have this opportunity to meet with bright, young people like you. You belong to a new generation who have a chance to create a better world in this twenty-first century. I belong to the twentieth century which in many ways was a difficult time. A strong emphasis on my people, my nation and so on led to the strong sense of 'us' and 'them' that I feel was a major source of trouble. This kind of thinking is out of date. The new reality is that we live in a global world in which many of our problems are man-made, but we often neglect this reality and cling to appearances instead. At other times our mind projects a reality of its own and then we act accordingly."
His Holiness cited the example of the conflicts in Iraq and Afghanistan. He acknowledged the protagonists positive motives to bring democracy and secure freedom for the people, but the method, the use of force, was wrong. In ordinary life, when we want something, we have to be realistic enough to get it.
According to some historians, His Holiness said, about 200 million were killed through violence during the twentieth century, including the nuclear bombings of Hiroshima and Nagasaki. Add to this the September 11th event in which thousands were killed, all of them innocent victims.
"Now in the twenty-first century we have the chance to create a better situation. Problems won't disappear, they may increase, but adopting a peaceful approach means that we will address them by non-violent means. We need the confidence that comes from having truth on your side; it is powerful support.
"I belong to the twentieth century, which has already gone. People like me only have the coffin or rebirth to look forward to. But you of the younger generation have the opportunity to reshape the world in this century. It's an honour to meet you and share experience with you."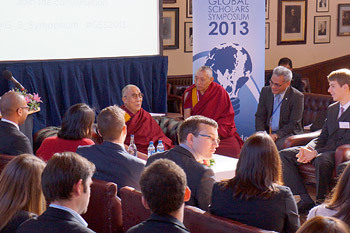 His Holiness the Dalai Lama speaking on Non-violence and Conflict Resolution as part of the Global Scholars Symposium at the Cambridge Union in Cambrdge, England, on Arpil 20, 2013. Photo/Jeremy Russell/OHHDL
Since the Global Scholars Symposium is intent on initiating action, one student asked, what is the biggest challenge we face today? His Holiness mentioned the huge gap between the North and South, between rich and poor. In the North there is a surplus of food, while in the South there is starvation. This is a serious problem we have to address. Another enquiry concerned the continuing role of the academic world and His Holiness suggested the creation of materials to raise awareness, keeping in mind the need to foster inner values. One student wanted to know about how His Holiness deals with the responsibilities of begin Dalai Lama. He answered:
"I never think of myself as a leader, I think of myself as a simple Buddhist monk. It's part of my practice to serve sentient beings as best I can. My body, speech and mind are dedicated their welfare. If someone asks, I share my experience with them, but I don't impose my views without a request or invitation.
"In today's world, everything is interdependent; when difficulties occur they affect us all. Thinking about the well-being of others is a source of real satisfaction, whereas pursuing your own interest is a source of anxiety. Our current education system has little to add to this because it lacks a sense of inner values."
His Holiness expressed some scepticism about efforts to ensure equality of wealth and resources by reducing the wealth of the rich. This is what communists like Mao Zedong tried to do, with dire results, which is why Deng Xiaoping judged it opportune and realistic to reintroduce a capitalist approach. His Holiness recalled that when he went to Czechoslovakia at the request of President Havel, he suggested the need to combine the virtues of socialism with the energy of a market led economy.
The Master of St John's College, Chris Dobson, invited His Holiness to lunch at the Lodge. After this, he walked to the Chapel to speak about the Path to Peace and Happiness.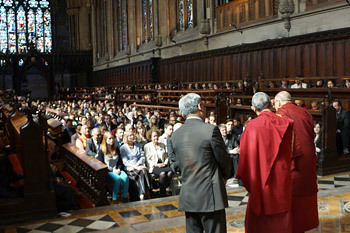 His Holiness the Dalai Lama speaking on the Path to Peace and Happiness at St John's College Chapel in Cambridge, England, on April 20, 2013. Photo/Jeremy Russell/OHHDL
"Brothers and sisters, I dislike formality. When I meet you, I like to think that we are all human beings. Any idea that I am somehow different from you because I am Asian, Tibetan or Buddhist, or that I am somehow special because I am the Dalai Lama, is nonsense. You are human beings, I'm a human being; you want a happy life, and I want a happy life. But I think that aim will not be fulfilled only on the basis of material values; what we all want is affection and what we all need is to be more warm-hearted. This is how we create the healthy mind that ensures our physical health."
His Holiness explained that one of the forceful, destructive emotions that is dispelled by inner peace is anger. An American psychologist, Aaron Beck told him that when we are angry the object of our anger appears to be completely negative, but 90% of that negativity is in fact our own projection. This is an example of how we tend to rely on appearances rather than reality. Neither prayer nor quiescent meditation alone defeat anger. What we need is analysis of whether anger is of any value. Such analysis is part of our secular ethics. We need to encourage the widespread cultivation of warm-heartedness, for this is the basis for making this a more peaceful century than the one that went before.
When it came to time for questions and answers, His Holiness was asked what was his greatest regret. First of all he had little to say, but then he revealed that he regrets that in his early teens, when he had not assumed political responsibility and the Chinese occupation had not taken place, he did not study harder.
Once more he was invited to respond to the self-immolations that have taken place in Tibet. He said:

"I don't encourage them, but it is difficult to say anything. This is a very sensitive political issue and I have retired from political affairs. Whatever I say is likely to be manipulated by the Chinese. Wen Jiabao even blamed me for the unrest that swept across Tibetan areas in 2008. When the self-immolations began, I told the BBC that it was very sad and I doubted that it was an effective course of action."

Another student wanted to know if His Holiness encouraged the idea of an economic and cultural boycott of China in view of its record with regard to Tibet. His Holiness said that he did not, because he didn't think there was a problem with the Chinese people, who would be the ones most affected. Better to bring China into the mainstream of world affairs and try to influence it on the basis of friendship.

Coming to the end of his talk, His Holiness also completed his engagements on this trip to Europe. Tomorrow he will drive early to London Airport and board a flight that will take him back to India.