Bylakuppe, Karnataka, India, 6 June 2013 (Tenzin Desal, The Tibet Post International) - Thousands of Tibetans in south India gathered at Bylakuppe to celebrate the 78th birthday of His Holiness the Dalai Lama, the spiritual leader of Tibet.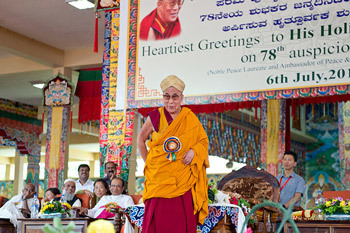 His Holiness the Dalai Lama wearing a Mysore Peta, a traditional silk turban, presented to him during celebrations honoring his 78th birthday at Sera Jey Monastery in Bylakuppe, Karnataka, India on July 6, 2013. Photo/Tenzin Choejor/OHHDL
A large congregation of Tibetans, along with dignitaries from the host state of Karnataka and other parts of India took part in the celebration. He was earlier received at the settlement a day before his birthday.
The events for his birthday were organized by the two settlement offices of Lugsam Samdrupling and Dickyi Larsoe and Sera Jey Monastery based in Bylakuppe.
Sikyong Lobsang Sangay read the statement issued from his office in which he 'on the occasion of 78th birthday of 14th Dalai Lama of Tibet,'offered 'deepest reverence and pay obeisance on behalf of the Kashag and Tibetans inside and outside Tibet.' And his 'colleagues in the Kashag and Tibetans everywhere join millions of admirers across the globe in wishing His Holiness good health and long life,'the statement added.
Chief Minister of Arunachal Pradesh who was joined by his cabinet members said, " I feel extremely delighted to be here to celebrate the birthday of His Holiness The Dalai Lama.
"I on behalf of the people of Arunachal Pradesh I extend an invitation to visit the state at any convenient time," the Chief Minister added.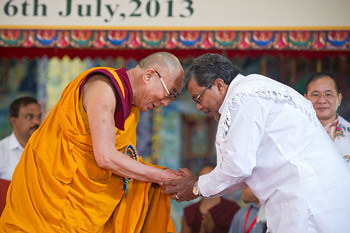 His Holiness the Dalai Lama with the Chief Minister of Karnataka Shri Siddaramaiah during celebrations honoring His Holiness's 78th birthday at at Sera Jey Monastery in Bylakuppe, Karnataka, India on July 6, 2013. Photo/Tenzin Choejor/OHHDL
Speaking to the throng of people who struggled to be contained in massive marquees pitched for the occasion, The Dalai Lama said, "there are many religions in the world with Christianity being the largest and then there is Islam, considering population of humanity practicing a religion.
"I consider religious harmony very important because we see tremendous violence due to religious differences. In the past history, violence based on religious difference is a different case. But in 20th and 21st century where we have made so many advances in human knowledge, still we see violence of this nature and this is a sad fact.
"The best gift I could receive from you all is the warmheartedness in every individual present here. When faced with challenge and anger please be reminded of my message."