Derry, Northern Ireland, 17 April 2013 - In 1961, a group of Tibetan refugees were offered work and accommodation in Rikon, Switzerland. They settled down and formed a community that in the late 1960s led to the establishment of the Tibet Institute, Rikon to preserve Tibetan culture. Today, His Holiness the Dalai Lama paid a short visit to the Institute to hear what progress young Tibetans have been making in programs to learn about Buddhism and Buddhist culture. Tibetans young and old holding flowers and incense lined the road to greet him as he arrived.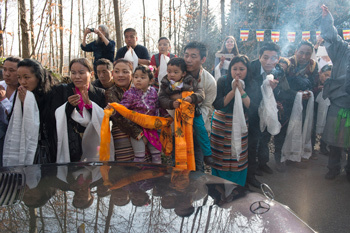 Tibetans line the road to welcome His Holiness the Dalai Lama as he arrives at the Tibet Institute in Rikon, Switzerland, on April 17, 2013. Photo/Manuel Bauer
Taking his seat in the temple, children sat around the foot of the throne as the Abbot, Geshe Thupten Legmen gave a short introduction. He thanked His Holiness for coming and explained that, following His Holiness's advice, they had been able to hold a workshop introducing Buddhism 38 times over the last two years, 18 of them at the Institute. He concluded with a prayer that His Holiness lives long and that the issue of Tibet may swiftly be solved.
Dr Karma Lobsang then explained the importance of the Introduction to Buddhism program since Tibetans have been in Switzerland for more than 50 years or four generations. In it they have learned about the practice of compassion and the Buddhist Jataka Tales, which recount stories from the previous lives of the Buddha. Classes have been taught in Tibetan followed by a review in German for clarification. She said;
"I was born in Switzerland and grew up here. I remember how good I used to feel when I got home after attending religious ceremonies, and I wanted those who are children now to have a similar opportunity."
Of two student representatives, Rigpai Gyalpo, stood up to tell His Holiness in Tibetan that he had attended because he thought it would be good take part and feels he is on the right track. Twelve year old Pema spoke of studying the story about the bodhisattva giving up his body to the hungry tigress, saying:
"I don't know if I could do that, but I know it's good to help others."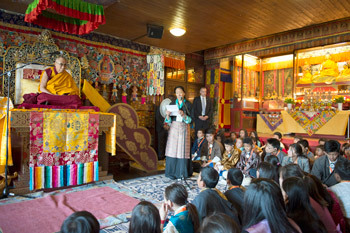 Dr Karma Lobsang speaking about the Tibet Institute programs during His Holiness the Dalai Lama's visit in Rikon, Switzerland, on April 17, 2013. Photo/Manuel Bauer
His Holiness remarked that Mr Jacques Kuhn, who was present in the audience and who he has known for a long time, had been instrumental in setting up the Institute. He thanked everyone who works hard to take care of it.
"I usually say that monasteries should be places that preserve and promote Buddhism through study and practice, which involves transformation within. It's not enough to recite the formula for taking refuge in the Three Jewels, the ultimate goal of Buddhism is to achieve Buddhahood."
Inner transformation is not just about seeking the Buddha's blessings, but making effort yourself. The Buddha encouraged his followers not to take his teachings on trust, but to examine them first to see if they make sense. Emotions arise in our minds, some of them positive, some of them destructive. We have to learn the difference between them, which is why it's important to study and why monasteries should be centres of learning.
"By holding these introductory courses here, you are contributing to the preservation of the Buddha's teachings. And I'm glad you are learning Tibetan, because, while it might not be so good as a means to discuss science, it is an excellent medium for explaining Buddhism."
The connection with science began with His Holiness's own curiosity, but over the course of time, scientists have taken an increasing interest in what Buddhism has to say about the mind and emotions. They are not becoming Buddhists, but their interest is an example of how the knowledge contained in the Kangyur and Tengyur can be of benefit to humanity at large. He stressed that Tibetan Buddhist literature is like a treasure, not because the books are sacred in themselves, but because of the knowledge they contain. For this reason it is good to remember that Buddhism is an important aspect of the Tibetan identity.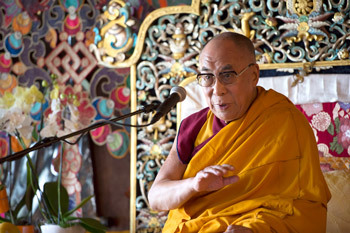 His Holiness the Dalai Lama speaking during his visit to the Tibet Institute in Rikon, Switzerland, on April 17, 2013. Photo/Manuel Bauer
"I went to Srinagar in Kashmir last year," he said, "and was impressed to find that the children and adults in the Tibetan Muslim community speak exquisite Tibetan. These children learn Tibetan at home, whereas there are now some children in North America who know hardly any Tibetan because they generally use English at home."
Recalling how Buddhism came to Tibet, His Holiness reflected that Shantarakshita, who came in the 8th century at the age of 70, and Atisha, who came in 11th century, must have faced immense hardships coping with the difficulties of travel and differences in climate. At this point His Holiness sneezed, prompting a chorus of "Tsering," the Tibetan equivalent of "Bless you" from the children that made him chuckle.
Among questions put to His Holiness, was one about proving past and future lives. He said:
"We shouldn't just say that this is what the Buddha taught, we need to use reasoning. The cause of something should be of similar nature; matter gives rise to matter not to consciousness and consciousness gives rise to consciousness not matter. The brain is a supportive condition for consciousness, but not its cause. We say that a moment of mind or consciousness must be preceded by a previous moment of consciousness. It is this continuity that is the basis for future lives. Apart from this there is the evidence of those people who remember their previous lives.
About whether compassion is the most important element of Buddhist teaching, His Holiness said that all major religious traditions make compassion their main message. However, Buddhism speaks of how all sentient beings wish for happiness not suffering and that compassion is the wish to free them from suffering. Asked what a Buddhist should study, he said: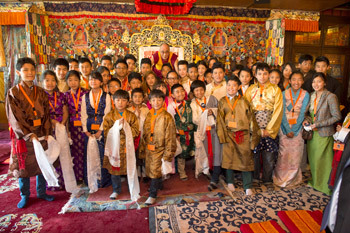 His Holiness the Dalai Lama with some of the young Tibetans who have attended programs at the Tibet Institute in Rikon, Switzerland, on April 17, 2013. Photo/Manuel Bauer
"You should study everything. I started when I was young and although I'm nearly 78 today, I'm still studying. I think it was Sakya Pandita who said you have to go on learning even if you are to die in the afternoon, because you never know when the knowledge will be useful."
Finally, a question about what it is important for Tibetans to do prompted His Holiness to emphasize the preservation of the Tibetan language. He went on to say:
"We are following the Middle Way Approach to resolving the Tibetan problem according to which what we seek is genuine autonomy in Tibet. Of course, independence is our right, because Tibet was independent in the 7th, 8th and 9th centuries, but the reality has changed. Look at what happened in India. During the British time, kingdoms like Kashmir, Hyderabad and Gwalior maintained a high degree of independence, and yet once India itself became independent, they became part of the larger country. We too have to take account of reality; but I'm sure Sikyong Lobsang Sangay has talked to you about this."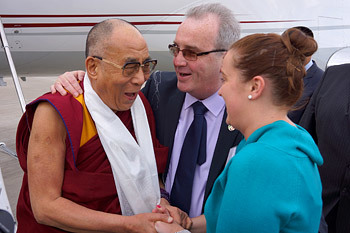 Richard Moore and his daughter Enya welcome His Holiness the Dalai Lama on his arrival at the airport in Derry, Northern Ireland, on April 17, 2013. Photo/Jeremy Russell/OHHDL
His Holiness ate lunch at the Institute before driving to Zurich airport in order to fly to the city of Derry in Northern Ireland, the UK City of Culture for 2013. He was met at Derry airport by his old friend Richard Moore, Director of the charity Children in Crossfire. Their encounter was characteristically jovial. Richard Moore presented His Holiness with a beautiful white orchid and introduced his daughter, Enya, who he said was as pretty as her father.
Arriving at the City Hotel, His Holiness showed Richard Moore how take a pinch of tsampa from the proffered traditional Tibetan welcome and toss it into the air. The Mayor of Derry, Kevin Campbell, welcomed His Holiness to the city once more and made him a gift of a figure that symbolised friendship, and His Holiness offered him a khata in return.
Tomorrow's program will include a peace walk with children over the newly opened Peace Bridge across the Foyle River.