New Delhi, India, 6 December 2013 - After a tortuous drive through the Delhi traffic this morning, His Holiness the Dalai Lama visited Vasant Valley School in the south of the city. It is a school that makes a priority of academic achievement within a community of well-rounded individuals. His Holiness was met on arrival by the Director Arun Kapur and Mrs Rekha Purie, who escorted him to the stage of an amphitheatre within the grounds, where expectant students and staff awaited them. Following Mr Kapur's brief introduction, His Holiness spoke.
"Hello, good morning, elder and younger brothers and sisters. I'm always happy to meet young people, because it makes me feel younger too. We older people have mostly already done our work, but you young people are just at the beginning of your time, making preparations for a happy life.
"One of the things I want to tell you is that India is not only an ancient nation, but also the world's most populated democratic country. And since independence, unlike most of her neighbours, has been remarkably stable. It's truly democratic, with the rule of law and a free press. I've been here 54 years and I've been able to see the wonderful developments that have taken place. You young people today can look forward not only to contributing to your own country, but also to creating a better world."
He told them of the discussions he's been having with scientists over the last 30 years. As far as understanding physical things is concerned, modern science is very advanced, but with regard to the inner world of human consciousness and emotions, it's still just at the beginning. However, science has confirmed that constant anger, hatred and fear are bad for our health.
He talked about how he sometimes calls himself a son of India because his brain is informed by Nalanda thought and his body has long been nourished by Indian rice, dal and chapatis. As far as Buddhism is concerned, it involves training the mind. In order to do that you have to become familiar with the mind and emotions and ancient Indian psychology is able to fill the gap that reflects something missing from modern life. Some of our emotions are really destructive of inner peace and of peace in our families and communities. At the same time, material values fail to bring about inner peace.
Releasing a few doves does not bring peace; real peace is related to the mind. Modern education by itself doesn't bring peace. While self-centredness tends to lead to violence, the only way to create peace is to generate a compassionate heart. It's only through knowledge of our mind and emotions that we can ensure a healthy body and a healthy society here and now. Study of the human mind is relevant to human well-being today.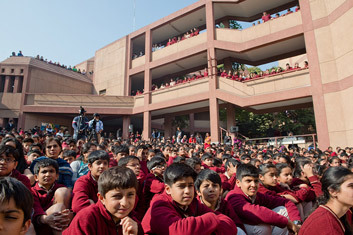 Students listening to His Holiness the Dalai Lama speaking at Vasant Valley School in New Delhi, India on December 6, 2013. Photo/Tenzin Choejor/OHHDL
Ahimsa, non-violence, is another ancient idea that is relevant right now. Every day we hear reports of violence. The gang rape that caught public attention earlier in the year was about men with no values, no sense of caring for other people. It's clear that if you have inner peace and concern for others' well-being, you cannot do them any harm. Related to this is corruption, which has become like a cancer afflicting the whole world. The opposite of this is self-discipline, taking account of the short and long term consequences of your actions. In this context, developing a warm heart, a compassionate heart, is the best way to fulfil your own and others' interests.
"Sometimes I tease young girls," His Holiness laughed, "because they spend so much time and money on cosmetics and their appearance, but while how you look is important, inner beauty is even more important. If you have a pretty face, but an angry, jealous heart, it will lead to quarrels. Religion, too, if I may say so, seems to be a source of hypocrisy. We behave piously in the temple, church or mosque, but our behaviour outside doesn't comply with that piety.
"On the other hand, India has a marvellous, longstanding tradition of inter-religious harmony. You are a living example that it is possible for different religions to live side by side. This is not only a treasure for India, but something you can contribute to the wider world. The sense of ahimsa or non-violence that Gandhi made so well known is another such treasure.
"In the past, India exported ideas. Buddhism, for example, spread across the whole of Asia. Now we need you to serve the world by sharing ahimsa and religious harmony. In the normal run of things to export you have to increase production, so who will produce the ahimsa and religious harmony for export? It'll have to be young people like all of you. This is an example of the opportunity you have to create a better world. We really need to make an effort to spread inner peace through education."
His Holiness pointed out that violence and war are not effective means to solve problems. We are now so interdependent that our interests coincide. Under such circumstances war is unrealistic. If conducting dialogue to solve problems instead becomes part of your life, it will have an effect.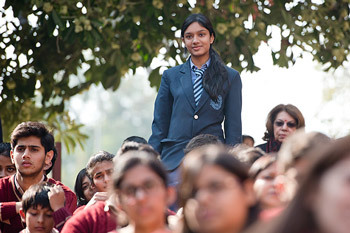 A student listening to His Holiness the Dalai Lama respond to her question during his talk at Vasant Valley School in New Delhi, India on December 6, 2013. Photo/Tenzin Choejor/OHHDL
The students asked questions, beginning with one about how life in exile had affected His Holiness as a person. He answered that when he became a refugee his attitude became more in tune with reality. Another wanted to know how to deal with restlessness. He replied that a long-lasting solution may involve analysis of the problem.
When asked if he isn't angry with the Chinese over Tibet, he said no, the Chinese are a cultured, realistic people. An example is the number of Chinese who go abroad to study, settle into the system and become professors in foreign universities.
"Among Chinese officials, however, there are some hardliners who are narrow-minded and short-sighted. Between 1951 and 1959, I learned from such people how to be hypocritical, saying nice things without believing them. So, in April 1959, when I reached India, I felt I'd been liberated from such hypocrisy. This is why I love Indian freedom. However, even Chinese hardliners are human beings and have a right to be happy, even though they seem to be full of suspicion, anger and hatred. They destroy their own peace of mind. Their slogans about unity and harmony are good, but their methods for implementing them, through force and oppression, are wrong."
Finally, His Holiness was asked what his first thought is in the morning.
"I get up at 3 in the morning, wherever I am, and my first thought is to remember the Buddha and his teachings on altruism and dependent arising. These two ideas help close the gap between appearance and reality."
After lunch, two students, Nemrata and Aakanksha, from the School Editorial Board briefly interviewed His Holiness. They asked about his first impression of India and he recalled having visited the Chinese Parliament in 1955 and the Indian Parliament in 1956. The clear difference was that the Chinese assembly was regimented and solemn; the Indian legislative body was noisy and lively. About competitiveness he said that working hard to get to the top is one thing, but if on the way you try to obstruct or defeat your rivals, it becomes negative.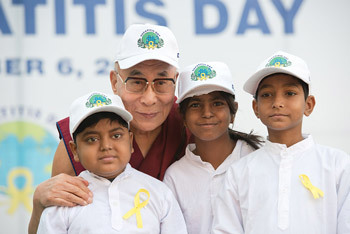 His Holiness the Dalai Lama with three young liver transplant patients who performed a song before his talk at the Institute of Liver and Billary Science in New Delhi, India on December 6, 2013. Photo/Tenzin Choejor/OHHDL
A short drive from the school brought His Holiness to the Institute of Liver & Biliary Sciences, who had invited him to attend their 16th Hepatitis Day focussing on their dedication to making India hepatitis free. He was welcomed by the Chairman D.M. Spolia and Director Dr Shiv Sarin. They escorted him through the building to an awaiting audience of friends and supporters, patients and transplant recipients. His Holiness was introduced and invited to inaugurate the occasion by lighting the lamp. Three young children, each of whom have received a liver transplant, sang a specially composed song. In his welcome address Dr Sarin requested His Holiness's blessings and inspiration for the Institute's work.
"Brothers and sisters, I am extremely happy to be here. Like you I am also wearing the yellow ribbon in support of Hepatitis Day. It reminds me that in 1966 I too had hepatitis and my body turned completely yellow with jaundice. For once, due to sickness rather than attainment, I looked like a 'living Buddha'. Much later, but connected to this incident, my gall bladder developed a lot of stones, so my physicians recommended that it be removed.
"The work the Institute is doing is excellent and a great service to humanity. I'd like to express my deep appreciation of behalf of the many patients. However, if I may I'd like to mention that I disagree about the power of prayer in these matters. On a personal level, of course, I make prayers which are helpful to me, but I'm not sure how effective they are in the wider world. Three years ago, the Chief Minister of Bihar invited me to a function to inaugurate a Buddha park in Patna and concluded with a wish for the swift development of Bihar due to the blessings of the Buddha. When it came to my turn to speak, I teasingly suggested that if Bihar's development depended on the blessings of the Buddha, it should have happened long ago, because the Buddha's blessings have been there for a long time. I told him that if the Buddha's blessings are to be effective they have to be channelled through the hands of a skilful Chief Minister and his actions. Similarly, here, in this Institute's work, success depends on blessings being channelled through the work of skilful, sincere physicians."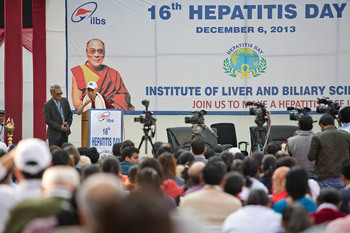 His Holiness the Dalai Lama speaking at the Institute of Liver and Biliary Science in New Delhi, India on December 6, 2013. Photo/Tenzin Choejor/OHHDL
The audience applauded his words as he went on to say that in the past many patients with these ailments would simply die. Now there is hope of treatment and survival. He expressed his full support for Dr Sarin's appeal for a widespread campaign of vaccination against hepatitis B and for provision of free treatment for patients suffering from hepatitis B and C. His Holiness also called for education to help people understand how they create their own problems through behaviour, citing the story of a Tibetan whose liver problems were a direct consequence of excessive drinking. He also suggested that if people are educated to understand that we are all part of one humanity, there will be a greater willingness to donate the organs necessary for transplants.
Among the questions from the audience, His Holiness was asked what happiness means for him and he replied: "Satisfaction." Another question referred to doctors who die because they cannot save enough patients and His Holiness commented that we all have to die; our lives have a limit and we have to be realistic about that. He recalled his sadness when his tutor died, but realized that sadness would not bring him back and more effective was to make an effort to fulfil his wishes. He drew attention to the strong role that a doctor's warm-heartedness has in the effectiveness of his or her treatment of patients. He also remarked that there is scientific evidence that a healthy mind is essential for physical health.
His Holiness was invited to offer prayers for the welfare of everyone associated with the Institute as a patient or physician. He was also requested to plant the sapling of a tree whose yellow flowers will be a reminder of the fight against hepatitis, Dr Sarin in his words of thanks expressed the prayers of everyone present that His Holiness enjoy good health and live for more than a hundred years.