New Delhi, India, 21 September 2014 - The second day of the Meeting of Diverse Spiritual Traditions in India opened with the second plenary session on the theme 'Environment, Education and Society'. Moderator Arun Kapur opened discussions with the suggestion that we seem to live in competition with nature. People and nature are not distinct from each other, he said, therefore it is a mistake to try to compete with or conquer nature.
He called first on Dr Shayama Chona to speak. She recalled Gandhi's dictum that as far as natural resources are concerned there is enough for everyone's needs, but not enough for everyone's greed. With regard to education she said that without ethics it has no value, when it only makes you employable it is of limited value, but when it also gives you spiritual and ethical values it is complete.
Mahamadaleshwar Swami Kailashnand Brahmachari remarked that His Holiness the Dalai Lama was to be commended for initiating the gathering. Noting that participants were being asked to discuss ways to improve humanity and preserve the environment the important starting point was for our thoughts to be free of hatred and anger. Shaista Amber, who, in her efforts to help patients at a nearby hospital, founded a mosque that is still the only one in the country looked after by a woman. Addressing the position of women in society, she lamented that they are generally left behind. They are ignored, neglected and killed in the womb. She asked what kind of attitude is it that treats women in this way. She suggested that the gap between rich and poor would be significantly changed if women were given proper education and access to equal opportunities.
Noting that too often the education system is geared only to enabling people to earn more, Shree Sugunendra Theertha Swami recommended setting better goals such as peace of mind. He expressed appreciation of having the opportunity to participate in a conference looking at how to lead a better life. Dr Bhalchandra Mungekar acknowledged that we have basic wants, but insatiable greed gives rise to natural calamities. He observed that while education should be an effective mechanism for improving society, in India education has to a large extent been privatised, so has become a means to generate profit rather than inculcate values.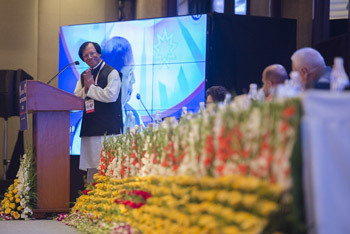 Fr Dr MD Thomas speaking during the second plenary session of the Meeting of Diverse Spiritual Traditions hosted by His Holiness the Dalai Lama in New Delhi, India on September 21, 2014. Photo/Tenzin Choejor/OHHDL

In his remarks Fr Dr MD Thomas began by saying that being part of this meeting was a wonderful opportunity for all to restore their faith. He complimented His Holiness for his initiative. He went on to say that he wished to address the gap between rich and poor since a third of the population are living below the poverty line. He said these people seek food, clothing, shelter and the dignity enjoyed by other human beings. He suggested that each church, temple, mosque and so forth could ensure that the poor in their vicinity were looked after.
Prof Jitendra Babulal Shah mentioned the ancient origins of the Jain tradition that was at least contemporary with the Buddha. It is a tradition that asserts the need to know good from bad, wholesome from unwholesome, and constructive from destructive. He said that people who have no idea of such distinctions will not know how to lead a happy life. The important thing is not to harm others or disturb their peace. He also expressed appreciation of the opportunity His Holiness was providing in convening the conference.
The gathering broke up into discussion groups again. Having visited two groups yesterday, His Holiness visited the other two today and contributed to the discussions: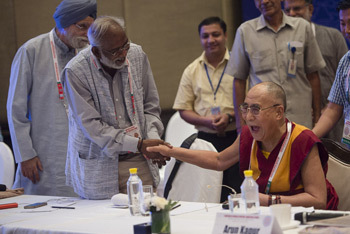 His Holiness the Dalai Lama during the groups discussions on the second day of the two day Meeting of Diverse Spiritual Traditions in New Delhi, India on September 21, 2014. Photo/Tenzin Choejor/OHHDL

"When natural disasters take place I think people generally feel helpless. We need to look at things from a wider perspective, acknowledging that we are part of nature."
About education he said:
"It seems to me that modern education focuses too much on materialism, while it is religion that deals with inner values. However, what we need to pay attention to today is the secular ethics that are the basis of religious traditions.
When asked the definition of a good teacher he said:
"Someone who not only has more knowledge, but who also shows concern for the student's entire development."
The second discussion group were talking about climate change and a scheme for people to plant trees on their birthdays to offset the wood that would be required to cremate them when they die. His Holiness told them how impressed he had been with an approach Baba Amte had adopted of simple burial in a cotton shroud with a tree planted over the grave. He repeated to this group too his sense that existing education systems are inadequate to deal with the moral crises that confront us. He reiterated the need for secular ethics and for women to take up more active leadership roles. Since the values of this or that religious tradition will not suit all 7 billion human beings alive today, secular ethics present a more effective solution.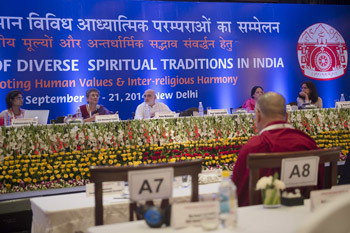 His Holiness the Dalai Lama listening to the presentations during the third plenary session of the Meeting of Diverse Spiritual Traditions in New Delhi, India on September 21, 2014. Photo/Tenzin Choejor/OHHDL
The 3rd plenary session after lunch was dedicated to refining a report of the meeting and proposed action plan. The moderator for this session, Rajiv Mehrotra stressed the desire to ensure that every delegate's voice was heard. He called on rapporteurs from each discussion group to summarize what they had talked about. This was followed by a reading of a draft declaration. Comments were invited from the floor, after which the gathering broke for tea, while a final document was prepared.
Dr Kiran Bedi was the moderator for the concluding session of the meeting, telling the representatives of the nine spiritual traditions that the question before them was, "How do we make a better human being?" She was strict about the few minutes each of them had to speak. For Judaism, Rabbi Ezekiel Isaac Malekar mentioned that India is perhaps the only country where Jews have faced no discrimination. He had learned not to gossip or speak ill of others. Dr Bella for the Baha'is spoke of an ongoing education programme his community are piloting that they hope will meet some of the questions raised in this meeting. Dr Homi B Dhalla for the Zoroastrians praised the meeting and stressed the need for follow up. He added that education was important, but music and sport should be included too.
For the Sikhs, Giani Gurbachan Singh highlighted equality, love and affection as qualities on the basis of which society could be improved. HG Archbishop Dr Felix Machado reminded his colleagues that all people, no matter to which religion they turn for solace are equal before God. The question that needs to be answered he said is whether they want to be equal before each other. Dr Syed Kalbe Sadiq for Islam pointed out that people are the same in terms of what they are made of, no matter what size, colour or shape they are.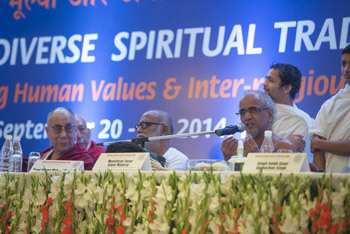 Tarun Sagar Maharaj, a Digamber Jain, speaking during the Closing Ceremony of the Meeting of Diverse Spiritual Traditions hosted by His Holiness the Dalai Lama in New Delhi, India on September 21, 2014. Photo/Tenzin Choejor/OHHDL
Tarun Sagar Maharaj, a Digamber Jain, expressed his admiration for His Holiness's success in convening such a gathering, suggesting that no one else could have pulled it off. He compared the exercise to weighing a collection of frogs, implying that for anyone else the frogs would be jumping off and escaping. Sant Shree Morari Bapu, an exponent of Ram Charit Manas, asked how we can make this earth a more befitting place to live and answered his own question by suggesting that the essential qualities are truth, love and compassion.
HG Archbishop Dr Anil Joseph Thomas Couto read the final declaration to the meeting in English and he was followed by Prof Geshe Ngawang Samten who read out the Hindi version. In the preamble the participants recognize India's ancient civilizational heritage celebrating the diversity of spiritual and religious traditions that enrich each other through dialogue, while retaining their own individual characteristics and practices. They recognise that the values of altruism, self-discipline and compassion are common to all faiths and are the bedrock of the shared future of diverse local communities, Bharat and an interdependent world. They acknowledge that their own happiness and progress are dependent on that of others and so on. What follow are recommendations for action that arise directly from the two days discussions.
Kiran Bedi then invited His Holiness to make his final remarks and he laughed as she told him he had only 25 minutes.
"Respected brothers and sisters, all of you have participated in this meeting over the last two days. There has been nothing hypocritical or corrupt in our proceedings. My long-term friend Tarun Sagar Maharaj here is completely naked, a sign that he's truthful. I have great admiration for his determination. He reminds me that our proceedings have been completely transparent with nothing concealed.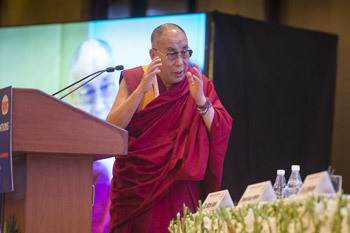 His Holiness the Dalai Lama speaking during the Closing Ceremony of the Meeting of Diverse Spiritual Traditions in New Delhi, India on September 21, 2014.
Photo/Tenzin Choejor/OHHDL
"This country's thousands of years old tradition of religious harmony is very precious. In the past, when I have taken part in meetings of spiritual teachers like this I often describe myself as a student of ancient Indian knowledge, which means the Nalanda tradition. We Tibetans regard ancient Indians as our gurus, while we are the chelas or disciples. But I often stress we are reliable chelas because we have maintained the knowledge we received from you intact. Religious harmony and ahimsa depend on karuna. I consider myself be a messenger of these qualities"
He said that there is a growing need to take action to counter conflict in the name of religion, because good words and good motivation are no longer enough. He continued that if everyone made an effort, then these efforts would multiply. Humanity, after all, is a collection of individuals, so a start should be made on an individual level.
"All religions talk about karuna or compassion and that's the basis on which we can try to make this century a century of peace and compassion. And a secular approach on a similar basis is how we can present this to non-believers. This is all that I want to say. Thank you."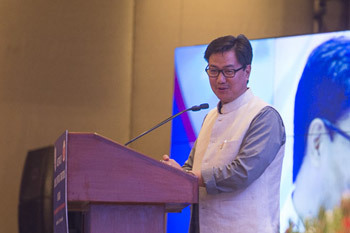 Chief Guest Kiren Rijiju, Union Minister of State for Home Affairs and an MP from Arunachal Pradesh speaking during the Closing Ceremony of the Meeting of Diverse Spiritual Traditions in New Delhi, India on September 21, 2014.
Photo/Tenzin Choejor/OHHDL
The Chief Guest, Kiren Rijiju, Union Minister of State for Home Affairs and an MP from Arunachal Pradesh was invited to address the gathering. He observed that as Home Minister, if and when there is communal unrest in the country he can send in the police or if necessary the army to calm things down. However, he felt that a message from spiritual teachers might be more effective. He was full of praise for the way His Holiness the Dalai Lama had brought so many celebrated spiritual teachers together. He said he had no more to add, feeling that the message of the Dharma gurus would be enough to see him home. He undertook to read whatever documents the meeting had produced, and to support the meeting's aims in whatever ways he can.
The occasion was brought to a rousing conclusion when TIPA performed the song 'Thank you India", followed by the Indian National Anthem.