Bangalore, Karnataka, India, 6 January 2014 - His Holiness the Dalai Lama was accorded a warm welcome on arrival at Christ University, not only by the Vice Chancellor Thomas Mathew who escorted him into the building from his car, but also by the students who thronged balconies and stairwells to see him. He also met for a brief chat with old friends Baselios Cardinal Cleemis Catholicos and Chancellor Rev. Dr Fr Thomas Aykara before the Chancellor led him into the Christ University Auditorium.
To start with all present stood while the Christ University choir sang the National Anthem. Christ University Dance Troupe then gave a magnificently agile display of classical Indian dance. His Holiness and other spiritual leaders were invited onto the dais to light the lamp and those who were going to speak took their seats. When His Holiness was invited to give the keynote address he began in his customary manner, greeting his brothers and sisters, telling them how happy he was to be able to speak to them.
"Those of us here over the age of 50 belong to the 20th century, while those of you who are not yet 30 truly belong to the 21st century. In my case I was born in 1935, just as the Sino-Japanese war was about to break out. That was followed by tension in Europe that eventually erupted as the Second World War which brought immense violence to Europe and parts of Africa and Asia. Next was the Korean War in which ever more powerful weapons were used against waves of soldiers and after that the relentless Vietnam War. Some historians say that 200 million died through violence in the 20th century.
"If that tremendous violence had ultimately left the world a better place, perhaps it could have been justified, but that doesn't seem to have been the case. At present as a result of fighting in Syria and Sudan women, children and old people are suffering. This is a hangover from the 20th century and the notion that problems can be solved by force, and that your victory is won in the destruction of your enemy. When communities or nations were simply self-sufficient this may have made some sense, but the reality is that we are now interdependent on a global level so the concept of the war is out of date.
"Violence only brings suffering and pain. Yet we have factories dedicated to weapons production. Is the manufacture of weapons that will destroy others' lives a responsible way of doing business? Shouldn't we be thinking of making this a century of peace? Even if we do, it doesn't mean there won't be any problems, there will. Population is set to rise, natural resources are going to become scarcer, and climate change will give us trouble. To deal with these problems we must apply non-violence. Some think that non-violence is a sign of weakness, but Mahatma Gandhi, Nelson Mandela and Martin Luther King used it to good effect. "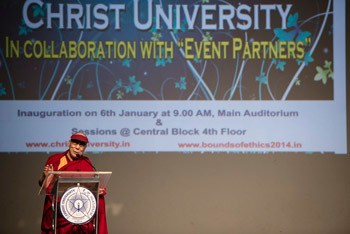 His Holiness the Dalai Lama addressing the inaugural session of the conference on "Bounds of Ethics in a Globalized World" at Christ University in Bangalore, India on January 6, 2014. Photo/Tenzin Choejor/OHHDL
His Holiness said that after the violence of the 20th century, the 21st century should be an era of dialogue. He said that ethics are very important; they can apply to any human activity. Crucially, he emphasised that ethics are not a luxury, but a question of human survival. Science has had wonderful achievements, but they include the immense destructive power of nuclear and chemical weapons. This is a sign that scientists need to be guided by ethics.
His Holiness suggested that ethics are related to motivation, because whether an action is positive or negative depends on the motivation for it. It depends on whether the motivation is compassionate and concerned for the welfare of others or moved only by self-centredness. When you are only concerned with yourself, what is there to restrain you from exploiting, manipulating, bullying, deceiving and, at an extreme, killing others? The question relates to our mind and emotions.
Whether something helps humanity or not depends on ethics. Even religion, which is supposed to be a source of peace, can be the cause of conflict, as squabbles between Catholics and Protestants, Sunnis and Shias, Buddhists and Muslims reveal.
"May I point out," His Holiness mischievously enquired, "that these days it seems that even the religious can be corrupt? Look at the story of the German bishop reprimanded by the Pope for his indulgent lifestyle. It seems that sometimes even religious people lack any guiding ethics. Recently at the Pontifical University in Mexico, I wondered whether we are only religious while we're wearing our robes, but not when we hang them up. Acceptance of faith is a personal choice, but if you choose it you should be sincere. The prospect of religious people with no ethics is disastrous and potentially damaging for religious tradition.
"When I was still in Tibet, I used to assume that Buddhism was best, but since I've been able to travel and meet practitioners of other faiths and learn of their experiences, my admiration has opened up. I've become aware of the many millions who have benefited from the Christian tradition down the centuries. I've become aware of the tremendous contribution that Christian brothers and sisters have made to education across the world, inspired by their faith.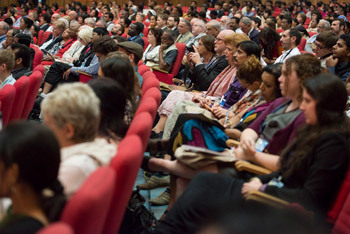 Members of the audience listening to His Holiness the Dalai Lama's address during the inaugural session of the conference on "Bounds of Ethics in a Globalized World" at Christ University in Bangalore, India on January 6, 2014. Photo/Tenzin Choejor/OHHDL
"However, where we may once have felt confident that there was one truth and one faith, while that remains true on an individual level, on a community level the reality is that we have several truths and several faiths. All our religious traditions convey a common message of love, compassion, tolerance, forgiveness and self-discipline. But, because of this multiplicity of faiths, no matter how good this or that religion may be, neither will ever be universally applicable. I've read that among the 7 billion people alive today, 1billion declare themselves non-believers. Frankly speaking, many among the 6 billion apparently religious are not really sincere. With so many people beyond the reach of religion, there is a growing need for secular ethics. In the Indian context the word secular is not dismissive of religion, but accepting and respectful towards all religions, and those who have none, without bias."
His Holiness said he has talked with scientists who are non-believers but believe in the need for ethics. Some scientists have investigated the effect of ethical attitudes on our general well-being. Self-centredness leads to fear, distrust, suspicion and loneliness. On the other hand, a compassionate attitude, warm-heartedness increases our self-confidence and general well-being. This is not a matter of the next life, heaven or nirvana; it's about this life here and now.
"The global economy has made our world one. We need a corresponding sense of the oneness of humanity. If we are realistic, truthful and honest, we can communicate with anyone and everyone. Secular ethics are not opposed to religion but inclusive of those with faith and those with none. We have to recognise others as human beings like us. Everyone wants to be happy and everyone has a right to fulfil that goal. This is why, in the context of 7 billion human beings, our need is to introduce secular ethics."