Gondia, Maharashtra, India, 10 January 2014 (PTI) – Tibetan spiritual leader the Dalai Lama today arrived here on a three-day visit to meet the members of the Norgyeling Tibetan Settlement Camp in Gothangaon of Arjuni Morgaon tehsil in the district.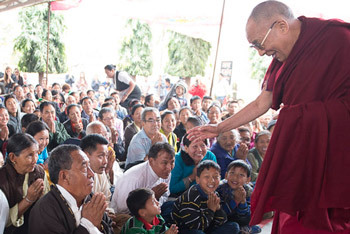 His Holiness the Dalai Lama greeting well-wishers during his visit to Norgyeling Tibetan Settlement Camp in Maharashtra, India on January 10, 2014. Photo/Tenzin Choejor/OHHDL
The Dalai Lama, who is here after a gap of ten years, was accorded a warm traditional welcome by the Tibetan refugees in the camp.
Settlement officer Dorjee Rinzin, secretary Phuntsok Topgyal, Buddhist monks and their Tibetan compatriots received the spiritual leader.
On Saturday, the Dalai Lama will attend various religious and cultural events. He will then pay a visit to Ngagyur Drupgye Choephelling Monastery, an old people's home and Mentsekhang, among other places. He will also perform 'Avalokiteshvera' worship in the camp.
On Sunday, the Nobel Peace Prize laureate will attend cultural programmes and then visit Gothangaon dam and address the local people.
He will leave for Raipur on Monday morning.