New Delhi, India, 20 March 2014 (Hindustan Times) – Tibetan spiritual leader, the Dalai Lama, pledged his support for leprosy-affected people on Thursday and promised to donate Rs. 10 lakh to the Kasturba Gram Kusht Ashram – a complex for leprosy patients in Delhi's Tahirpur.
"People who spend money in a luxurious way are foolish. They should spend money on people who are needy and poor. This is the best way to serve God," the spiritual leaders said.
In India, 1.35 lakh new cases of leprosy were reported between April 2012 and March 2013. The Dalai Lama expressed his willingness to help leprosy patients over the next five years using the royalty his trusts receives from the sale of books written by him.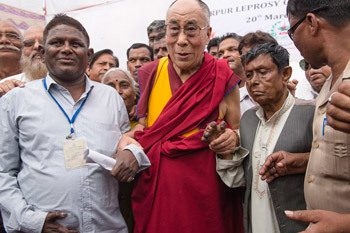 His Holiness the Dalai Lama with residents of the Tahirpur Leprosy Complex in New Delhi, India on March 20, 2014. Photo/Tenzin Choejor/OHHDL
"A smiling person is always better than the one who is rich and healthy because they have forgotten to smile. Even if a person has physical difficulties, he is smiling and his brain is functioning properly. There is no reason to feel disheartened. Self-confidence and dignity is very important in a person's life and if he has that there is no need to feel sad," said the spiritual leader.
For residents of the complex, the visit was a delight.
"He asked me if I was fine. He blessed me and asked me to stay well. I told him I have some problem with my eyesight. It felt really nice having spoken to him," said P Virkkan Yash Bavadel, 60, who has been living in one of the colonies in the leprosy complex for almost 25 years.
According to 55-year old Jhali Devi, residents like her have been living in the complex for the past 30-40 years but the lack of facilities is still a problem. "We make a living by begging," she said.
* * *
Visit to Lady Shri Ram College

Tibetan spiritual leader the Dalai Lama, on Thursday inaugurated two new facilities – a new academic block and a center for peace.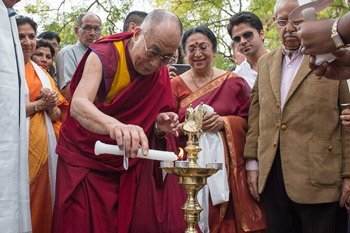 His Holiness the Dalai Lama lighting a lamp to inaugurate a new academic wing at Lady Shri Ram College in New Delhi, India on March 20, 2014. Photo/Tenzin Choejor/OHHDL
The Bharat Ram Academic Complex is the latest addition to the college's classroom area with some new features. It has 16 lecture rooms with a capacity ranging from 25 to 100 students along with seminar halls with a capacity of 100 each. The building has three floors.
The second addition – the Aung San Suu Kyi Center for Peace – will cater to research and learning.
The Dalai Lama spoke to the students about success, ethics and happiness after inaugurating the center.
"My generation, whether it was good or bad, is gone. It is your time now. You have the opportunity to create a better world. A lot of problems in our life are our own creation. Out existing education system is geared towards material wealth. This is not enough. We need to constantly promote love and compassion," he said.
"All these concepts are enshrined in Indian traditions. I am a messenger of ancient Indian thought and tradition," he added.
The spiritual leader also encouraged the students to pay more attention to inner wealth, as material wealth fails to bring happiness. He encouraged women students of the college to take on a more active role to build a more compassionate society.